Kiss Me Kate – 20 December 2019, Sheffield Hallam Students Union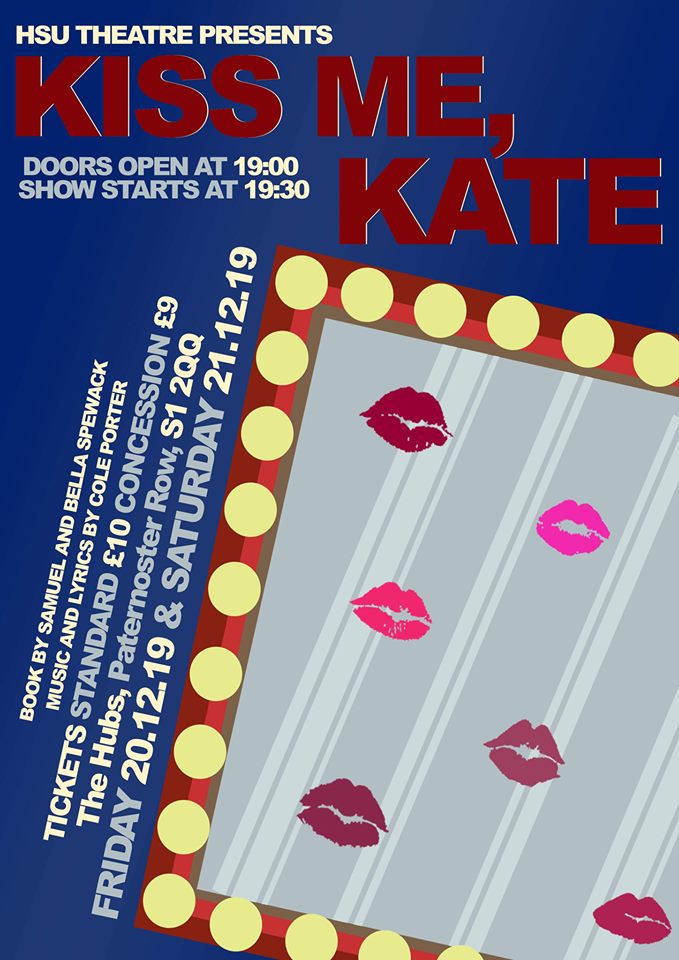 Reviewer Leah Rhodes-Burch.
"Performed at HUBS Hallam Union, I was very intrigued how they could utilise the performance space for such a big musical show. We were welcomed to the show by Musical Director George Bowley whose introduction was engaging and full of pride and achievement for the show which we were about to watch.
Kiss me Kate is written by Bella and Sam Spewack with music and lyrics by the legendary Cole Porter. It is based around divorced pair Fred and Lilly who have agreed to star in a musical version of 'Taming of the Shrew'. The show follows the couple as they fight each other, and equally their unresolved feelings for each other, with their antics on and off stage paving the way for some very farcical moments.
The stage was sparsely set, giving a blank canvass for the setting of the show. This worked particularly well for the 'offstage' scenes, making the audience feel that they were part of the show's environment. The audience's focus was occasionally drawn by cast members running through the audience due to lack of space off stage ready for cues, however the engaging performances onstage were quick to draw focus back to where it belonged.
The opening number began and we were treated to 'Another Op'Nin' Another Show' sung exceptionally by Emma Young, who played Hattie. Her voice was wonderful and she was full of character throughout the whole performance.
Another treat performance of the evening was from comedy duo Hannah Hendley and Kyle Baker, who played the Henchmen. They stole the show with their performance of 'Brush up your Shakespeare', which deservedly had a cheeky encore. They had excellent chemistry and quick-witted timing, which was delivered with punch and pizazz.
Matt Skelton and Annabelle Pincheman not only played the lead characters Fred and Lilly with excellent tension, comedy timing and natural chemistry, but they also successfully took on the direction of the show after the original Director had to step down.
The choreography of the show was the creation of Nikita-Marie Bridgeman, which was slick, and fun. I particularly liked 'Too Darn Hot' drawing the audience into the second act with anticipation.
I have to give special mentions to SHU president Amy who played Lois Lane with sassy attitude and beautiful vocals, and ensemble performer Rob Eagle who played many roles throughout and stole the show in several scenes.
The society have a real comradery and this was evident from front of house to the stage, and I left the theatre with a belly full of laughter and a big smile on my face.
Congratulations to all. "
Your last chance to catch Kiss Me Kate is on Saturday 21 December at 7.30pm at Sheffield Hallam Students Union. For further information and to book visit www.eventbrite.co.uk/e/kiss-me-kate-tickets-83311744671?fbclid=IwAR2SMD2-fI1atJaIc9eXyLIJpbFDPM3RecjymhFLswELv3uSxKGapSH6_DQ
Run entirely by students, HSU Theatre are one of the largest non-sporting societies at Sheffield Hallam University Student Union. For further information including their forthcoming shows visit https://hsutheatresociety.wixsite.com/theatre.