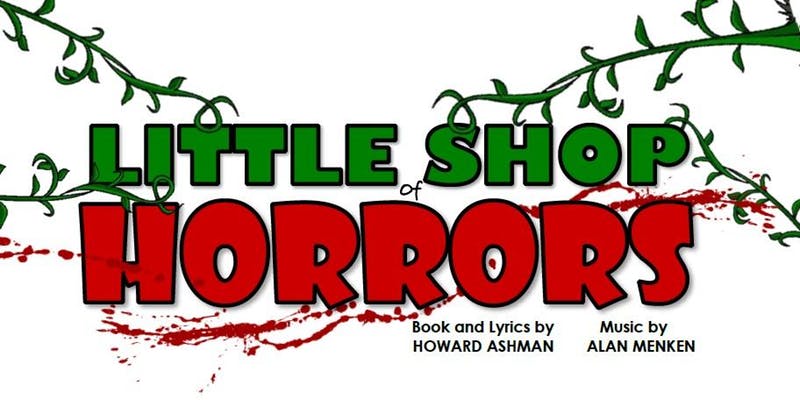 Little Shop of Horrors – 22 October 2019, Theatre Deli, Sheffield. Review by Callam Fellows.
"Little Shop of Horrors is a show that you can really sink your teeth into and it's refreshing to see more done with this production by Southey Musical Theatre Company.
The puppets were impressive, though the Act II puppeteer may want to consider an outfit that will make him appear less visible when operating the monstrous fly-trap, though I can not criticise his ability to puppeteer such a large and amazing creation.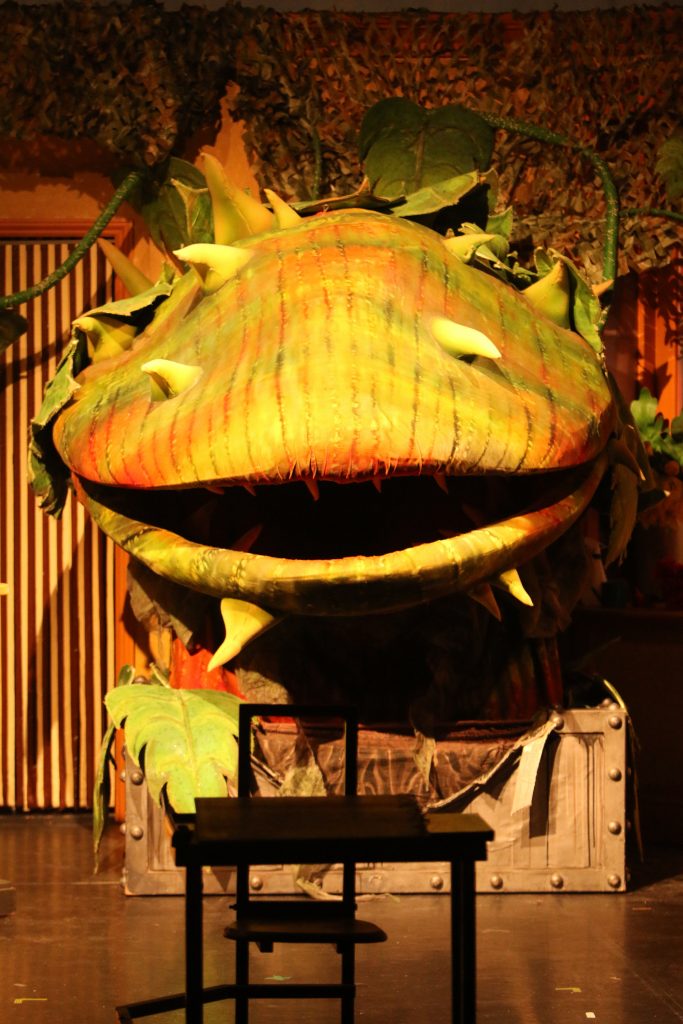 The sets superbly present both the graffiti covered streets of Skid Row and Mushnik's flourishing flower shop. Although it's hardly surprising once you discover the sets providers are called Little Shop of Hires; they were made for this. There were one or two mishaps with props, but whilst the props might have broken the actors never broke and carried on, quickly amending any issues without it interrupting the flow of the performance.
The spray painted streets of Skid Row serve as the home to some unusual new residents from a drunk cop to a job-searching clown. All the ensemble have been given their own unique characters with their own storylines happening in the background of the plant-based drama, which was an interesting concept and was performed to great effect by all the ensemble performers.
Of course no run-down back alley would be complete without a trio of glamorous singers to provide some musical accompaniment to Seymour's miserable life. Here they were performed by Karen Wilkins, Abbie Oldfield and Elsa Russell, who were all very talented singing who added some great harmonies to the otherwise spine-chilling story. Speaking of musical accompaniment, I must credit the band who, whilst hidden behind graffiti covered construction boards, provided great renditions of Alan Menken's music.
The stand-out performances came from Robbie McGann and Ellie Needham. McGann as Orin, the leather-bound dentist, suited the role down to a tee. He is clearly someone who revels in playing such a perverse and psychotic character, giggling and cackling giddily throughout. During the interval I was disappointed upon realising that this character would not be returning for the next act. However, there was definitely a big surprise waiting in Act II, and I'm not just referring to the giant man-eating plant.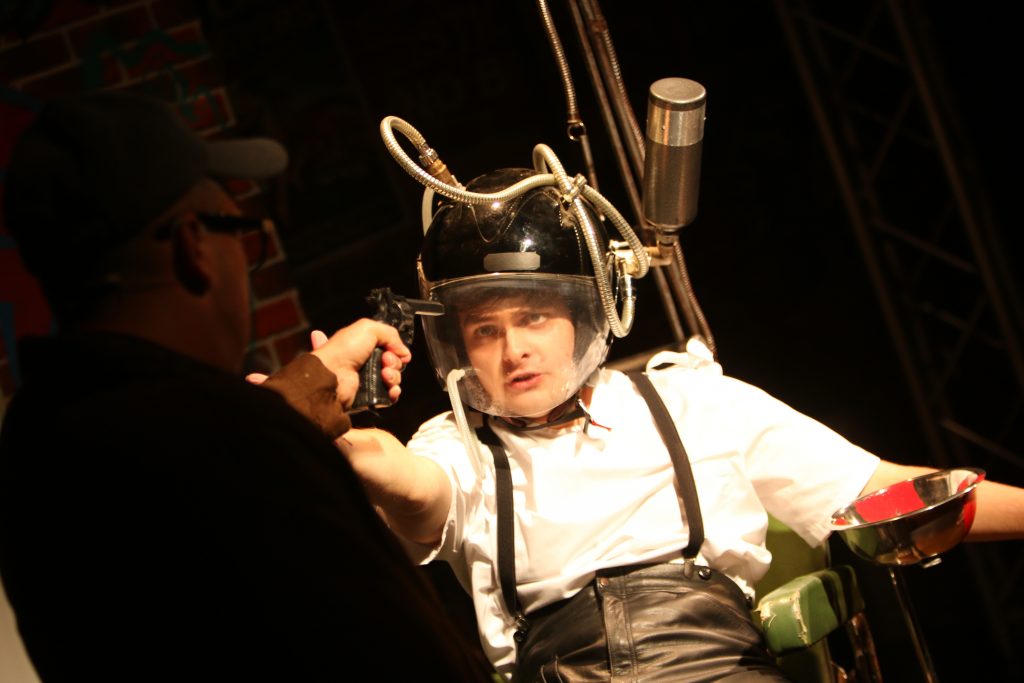 Ellie Needham gave a strong performance as Audrey with great character acting. The song "Somewhere That's Green" was not only well-sung but also very emotional, as Needham's eyes filled with tears as she described each detail of the idyllic life she dreams of.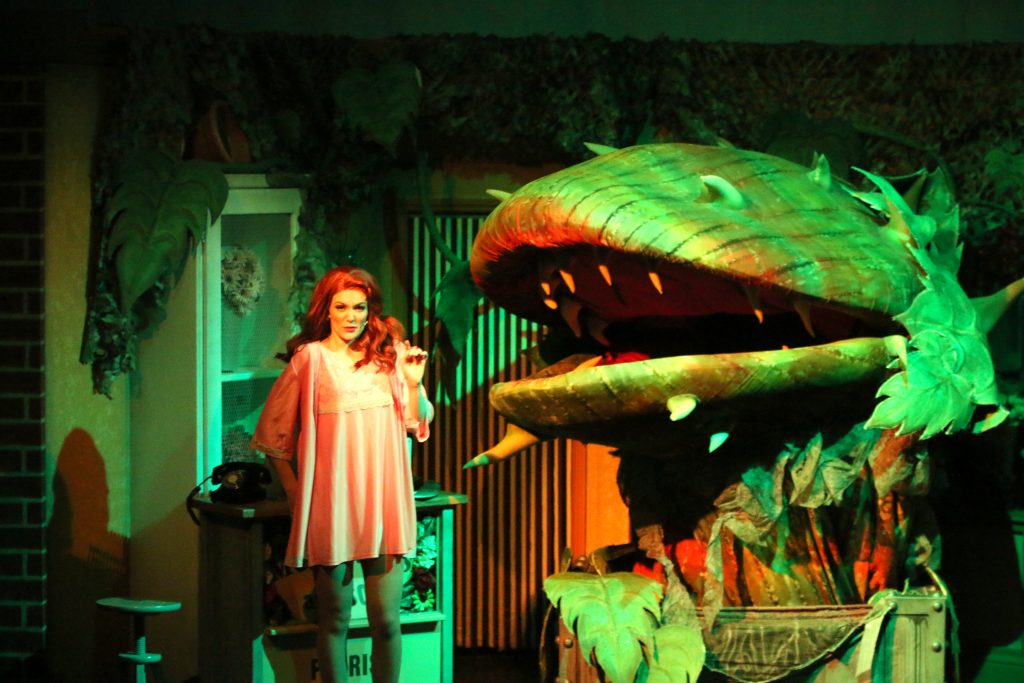 Theatre staff were very helpful at getting me to my seat. The building, Theatre Deli, is vibrant and colourful, though it was particularly cold and draughty, causing myself and others to opt to keep our coats and jackets on throughout the performance. I unfortunately found the seats rather uncomfortable and, from what I've heard, I was not alone in my discomfort. However, this building remains a welcoming one, and I must mention their inclusion of a giant chalkboard which welcomes audience members to write messages for the people involved in the productions. I found this to be a very creative and sweet gesture.
Overall this was a well-done, enjoyable show without a weak-link in the cast and some new and surprising additions. Many fans of Little Shop of Horrors will be aware that whilst the film's conclusion ends on quite a light note, the musical's climax is far more bleak. Southey's production has managed to find the best of both worlds with a unique ending that I have not seen elsewhere. All the more reason to go and see the show for yourself. But remember… Don't feed the plant!"
Little Shop of Horrors will be performed at Theatre Deli, Sheffield until Saturday 26 October. To book visit www.eventbrite.co.uk/e/little-shop-of-horrors-tickets-61093784153
Southey Musical Theatre Company is a Sheffield based amateur theatre company producing everything from full scale shows to intimate concerts. For further information visit www.southeymusicaltheatrecompany.co.uk.