Southey Musical Theatre Company's Flowers for Mrs Harris – 27 April 2022, The Montgomery Theatre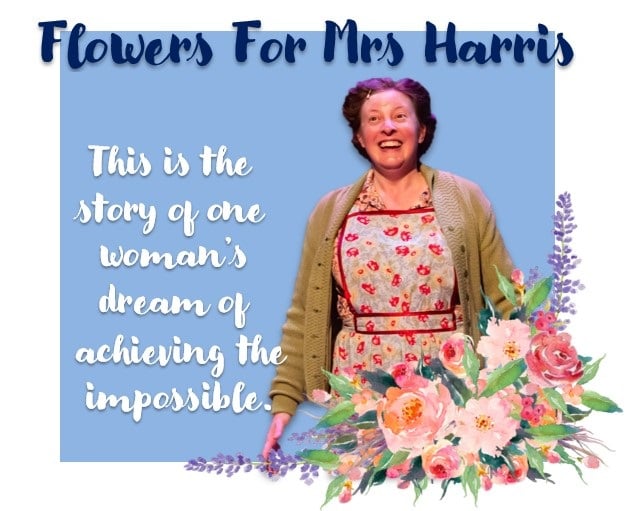 Review by Jacob Bush.
Flowers for Mrs Harris first started life at Sheffield's Crucible Theatre and became a beloved show in the city. Southey Musical Theatre Company have now brought the musical back to Sheffield, this time at the Montgomery Theatre, for its South Yorkshire (and world!) amateur premiere.
Flowers for Mrs Harris tells the story of cleaner Ada Harris who stumbles across a Christian Dior dress in one of her clients' wardrobes. She sets her heart on getting one of these dresses for herself, so she starts to collect extra work and save up so she can go to Paris to get her very own Christian Dior dress.
The musical itself, written and composed by Rachel Wagstaff and Richard Taylor, is very different. It doesn't have many big songs and most of the time, the dialogue flows into the music seamlessly. However, this does mean a lot of the songs are forgettable and you don't go away humming the tunes. The first act keeps moving at pace because the stakes feel high, despite the show being about an item of clothing! The second act, however, does feel a little slow towards the middle because we feel like Mrs Harris has got her dress so there's no tension to be resolved.
Ian G Walker directs this production, alongside Adam Walker. The piece is very complex, sometimes with up to six scenes happening at once, and they do a very good job at staging this. However, the decision to place Mrs Harris' kitchen on an extension to the stage is slightly odd. It means a lot of the important action is happening off to the side, rather than front and centre. A little more creativity with some of the musical numbers wouldn't have gone amiss either as there are a few too many 'stand in the spotlight and sing' numbers. The use of some very modern images in the projections is also slightly jarring!
Where this production lacks grandeur in its set and costumes at times, it boasts grandeur with a sensational orchestra. The band, under the direction of Tom Owen, sound beautiful creating the impression there's a huge orchestra, when in reality there's a band of nine.
This production boasts an outstanding cast. Sarah Morrell, making her Sheffield stage debut, leads the cast incredibly as Mrs Harris. Her vocals are powerful and her characterisation is warm and believable. She has a lovely chemistry with Phil Brownhill, who plays Mr Harris. Brownhill's vocals are equally strong and the sound the two performers create together is a delight to listen to. Gina Holmes plays Violet Butterfield with a lovely warmth and likeability. The rapport between Holmes and Morrell is truly heart-warming that when the relationship between Violet and Mrs Harris gets a bit rocky, it does tug on your heartstrings a little.
Anya Bristow also makes her Sheffield debut as Pamela and Natasha. Her voice is simply stunning and she brings the two characters life very well. She is great opposite Chris Webster who plays Andre and Bob. Their chemistry is believable, especially as Natasha and Andre. Webster does a very good job at bringing to life two very different characters.
Ria Westhead delivers some strong vocals as Countess Wyszcinska whilst Danni Hibbert taps into the complex nature of Madame Colbert. It is a shame Madame Colbert doesn't get developed further in the script though. Hibbert also does a fantastic job at bring to life Lady Dant, a character who is very different in some ways to Madame Colbert. Richard Bevan completes the supporting cast the Major and Monsieur Armand. His performance is enjoyable to watch and his wealth of experience in theatre really comes through.
Southey Musical Theatre Company do a terrific job at tackling a piece of musical theatre has more challenges than one. It is heart-warming and puts a smile on your face, which is exactly what audiences are looking for at the present time.
Flowers for Mrs Harris runs at the Montgomery Theatre until Saturday 30th April – be sure to get your tickets for the return of this musical that has Sheffield running through the heart of it.