Butter Side Up Theatre Company's Twelfth Night – 1 April 2022, The Montgomery Studio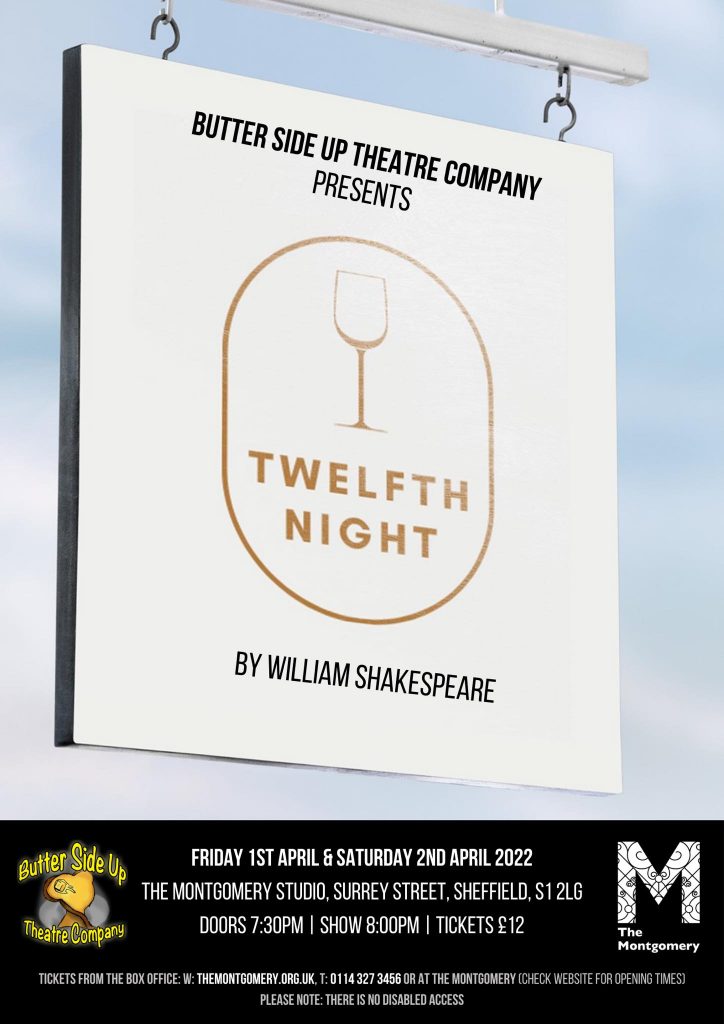 Review by Daniel O'Key.
400-odd years gives ample chance to adapt a classic, to the screen and to the stage. From suspicious Best Picture victor Shakespeare in Love, to the frankly legendary She's the Man. It was hard to picture a new lane for William Shakespeare's Twelfth Night, but Butterside Up Theatre's (BSU) rendition is fresh, well-performed and maybe the highest quality show the company has produced since it's 2017 founding. Directed by Harry Lynch-Bowers and performed at The Montgomery studio April 1st-2nd, we are reminded that it's the gender-swapping debauchery, and not just the free rights, that allow Shakespeare's classic to entertain in 2022.
A well-loved, familiar farce: Viola is stranded in Illyria (an 80's expensive-looking cocktail bar here) and adapts the male disguise of "Cesario", before falling into the service of the Duke/mixologist Orsino. Viola falls for Orsino, but the would-be dalliance is derailed as Orsino tasks her to woo the mourning, melodramatic Olivia. Upon meeting Viola and hearing her non-boorish, non-male flirtations, Olivia drops her grief like a hot potato and falls for "Cesario", oblivious as to their real gender. The third side of the love triangle is Sebastian, the presumed-dead twin brother of Viola, who mistakenly begins a relationship with Olivia in Viola/Cesario's name. Concurrently, Viola's uncle Tony Belch and his friend Sir Andrew Aguecheek spend their days drinking like fish, wench-wanting, and passionately belting Soft Cell, much to the chagrin of Olivia's puritanical servant Malvolio, who frequently berates them. Fed up with Malvolio's complaining, Tony and Andrew ally with Olivia's servant Maria and resident bear-baiter Fabian, to con Malvolio into losing his favour with Olivia and to get institutionalised(!) There is a lot going on, and BSU wisely trim some superfluous dialogue from the script, and landed laughs from the occasional modern turn-of-phrase as well. The Malvolio letter scene did not need the "c…u… next… you-know-the-rest, given the wittily worded beats neighbouring it, but the script modifications overall made the night welcomely compact and accessible for BSU's audience.
The production is rife with good performances, with genuine comic-timing and camaraderie between the characters. As the gaslit Malvolio, Kate Spivey perfectly plays her characters arc: from disgust at the everyday drunken nonsense surrounding her, to her unrequited adoration of Olivia, and to a hilariously pained-looking Cheshire cat grin as she modelled her bumblebee crossed garters. The gender-swapping of the role is a great idea, as Spivey pines for Olivia with a comedic intensity that befits a dramatic, closeted queer person. Jamie Wainwright, Andrew Wilkinson, Kyrie Mitchell and Sian Meredith are a great time as Tony, Andrew, Fabian and Maria respectively. Wainwright and Wilkinson bounce off each other brilliantly, from their raucous energy, synchronized disco spins and to their convincing drunk acting. Mitchell and Meredith are great anchors for the loud characters they play opposite, with Meredith's dry delivery and Mitchell's pitch-perfect facial expressions getting laughs of their own. From a Countess in Shakespeare's Ilyria to an influencer in BSU's, Alice Connolly also captured the superficiality and obliviousness of her character with aplomb.
Llynch-Bowers and Stage Manager Grace Murphy have envisioned and designed a stylish, lived-in depiction of Illyria. The main bar itself is embellished with ivory and fairy lights, giving a regal Shakespearean feel beyond a typical pub setting, empty liquor bottles are tastefully placed for decoration, with various well-chosen signs on the wall creating a cohesive setting that feels like a real, trendy venue. The music marries the 80's setting with the authors era, in the background 80's bangers can be heard but with Greensleeves-esque instrumentation. The costuming was also mostly successful, Olivia looks like an 80's pop culture sensation en route to a meet and greet, and the twin costuming of Viola and Sebastian communicates their relationship for even the most gormless of audience-goers. Their outfits could have created a stronger male illusion, by using different accessories and baggier trousers instead of leggings, but most of the outfits are cohesive to the setting and script. The social dynamics of the characters within the setting are also well thought out: in place of a stone-pillared hall, Countess Olivia chinwags with her entourage in a cordoned VIP area, red carpet and all, while the servant characters work bar and clean glasses. Instead of emptying a chamber pot, servant Maria takes Instagram-worthy pictures of her mistress as Olivia holds two champagne glasses against her torso and poses like a TOWIE star on steroids. There is a clear point of view to this Illyria, in the foreground and back, and it looks a right laugh.
Llynch Bowers, the cast and crew have produced an irreverent and funny show. From the immersive set design to the entertaining performances and tech choices, this is a refreshing adaptation that made an alcohol-free venue feel like a faraway cocktail bar for the ages.