SUPAS' Sister Act – 25 November 2021, Sheffield University Theatre Studio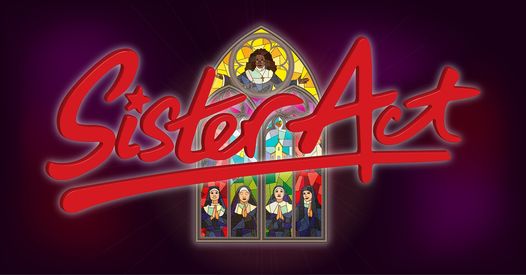 Review by Jacob Bush.
Sister Act is a hugely popular musical for amateur theatre companies to perform and has been performed several companies in recent years in Sheffield, including Croft House Theatre Company in 2015, Easy Street Theatre Company in 2017 (in which I played Monsignor O'Hara) and Splinters Theatre Group in 2019. This week, Sheffield University Performing Arts Society take to the stage with their interpretation of the hit musical.
It is somewhat unsurprising that so many companies choose to stage this musical because it is a brilliant show. Sister Act is based on the film of the same name and tells the story of Deloris, a night club singer, who finds herself in a somewhat sticky situation. When she goes to the police to get their help, she has to hide in a convent as a nun. Not only does this experience grow and challenge Deloris but she brings new life to the music at the convent which enables the church to remain open. The musical has a great score with music by Alan Menken and lyrics by Glenn Slater. This is an all-original score, so you won't find the songs from the film here, but there is a mix of heartfelt ballads and big company numbers, with a few comedy songs thrown in for good measure.
Having been a part of the musical before, I know how challenging the show is with a huge number of locations and set changes and some very difficult roles to play. Will Leggetter as Director, with Harry Reeves as Production Manager, do a great job considering the limited time they had to put the production on. Most of the time the jokes land perfectly and the staging is full of life despite a very simple set. The musical boasts a huge band under the musical direction of Olivia Needham. They sound excellent and create a huge and full sound. At times, however, the vocals were a little drowned out by the band. Jonathan Payne's lighting design is great, adding colour to the piece, and the use of follow spots (something a lot of student theatre companies don't have) really adds to the production.
The leading role of Deloris Van Cartier is a mammoth of the role, with huge songs to sing and complex character development to portray. Kim Benyure takes on the role for SUPAS and she leads the company admirably. She really settles into the role as the show progresses and she brings a beautiful vulnerability to Deloris, which isn't always seen. Her vocals are strong, with Raise Your Voice and Sister Act, the title song, being particularly impressive.
Grace Fryer is spot on as Mother Superior. Her vocals are stunning and her comic timing is fantastic. Maddie Carling also demonstrates her gorgeous vocals as Sister Mary Robert, with a beautiful rendition of The Life I Never Led. Her characterisation is great, portraying the character's growth in personal confidence very well. Liv Slater is a highlight of the production as Sister Mary Patrick. She brings a huge amount of energy to the production and her characterisation is perfect.
Nathan Sloane plays Curtis, the main villain of the show. He does a great job and is just sinister enough, whilst not becoming a panto villain at all. Ross Metcalfe, Jacob Beasley and George Maher as Joey, TJ and Pablo respectively are a fantastic comedy trio. Lady in the Long Black Dress is fantastically staged, getting as many laughs as possible. The trio have a brilliant rapport and great fun to watch. Fergus Foord-Jeal gives a truly great performance as Eddie. He has a wonderful vocal tone, giving a strong rendition of I Could Be That Guy. He is warm and likeable, although it is a shame we don't get to see more of Eddie and Deloris' relationship blossoming as it does feel somewhat out of the blue.
SUPAS have done an admirable job at staging a huge and very challenging musical, with a terrific sounding band and a strong cast. It's great to see amateur theatre returning to the city after 2 challenging years and Sister Act is the perfect tonic is the bleak world we find ourselves in.
Sister Act runs at Sheffield University's Drama Studio until 27th November and tickets can be bought here: https://www.ticketsource.co.uk/supas