Wrongsemble's The (Not So) Big Bad Wolf – 11 August 2023, Sheffield Amphitheatre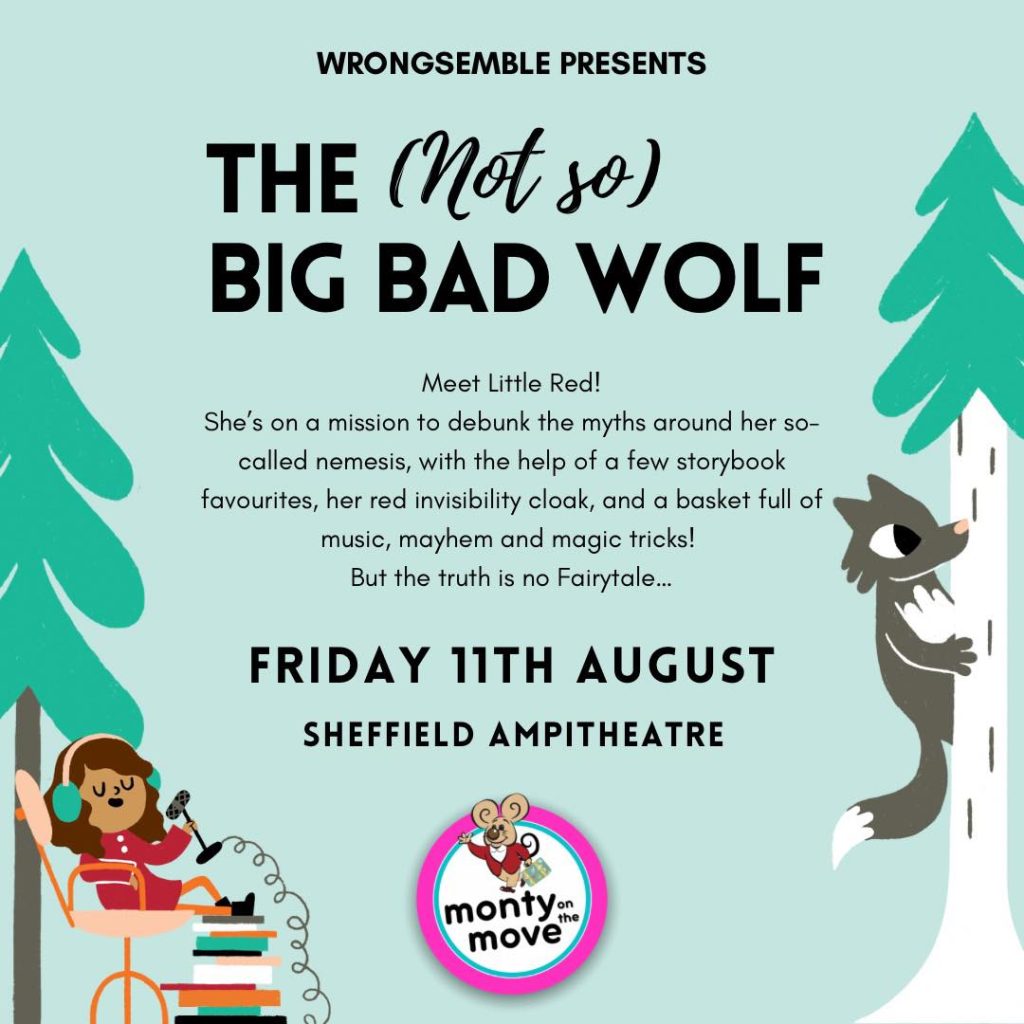 Review by Claire Taranaski.
We are already missing the Montgomery Theatre, whilst it's closed for refurbishment, so are glad for "Monty On The Move" especially as it meant could spent an hour this afternoon in the sunshine to see are first show at the Sheffield Amphitheatre, located on the hill behind the train station and a perfect location for more shows this summer.
Presented by Wrongsemble, an award winning theatre company making performances for children and young people, this was a re-imagining of our favourite fairy tales featuring everyone's favourite misunderstood wolf that will delight those like ourselves who grew up with "Revolting Rhymes" and their next generations, although my (four in three weeks) daughter may have been slightly too young for it (this time next year I think it will be just up her street).
For me though as a mum and and a champion of the benefits of introducing children to the world of theatre I loved it (the show would also fit in perfectly with the family shows at the Edinburgh Fringe), with a fun spin on the concept, comedy for everyone, memorable songs and a clever set that would fit even the smallest of venues. The pay what you can format also made the show accessible during the holidays for families on all budgets.
The two performers, playing a range of roles between them, including private detective Little Red, could deliver a fantastic one person show each but together were a tremendous two person show, bringing the characters and plot to life with passion, enthusiasm, attitude and choreography (sometimes wish rewinding was that easy in real life). The male was also a master of accents (who knew the boy who cried wolf was a Geordie) and can add being able to successfully play all three pigs at the same time to his CV.
The show was a delight, a wonderful way to stay connected and continue to support the Montgomery and a great opportunity to discover a local family friendly company that had not come across before and look forward to seeing more of in the future.
The only downside was that it was for one afternoon only, though the show is on tour throughout the rest of the summer holiday ending in Rotherham on the first weekend of September (click here for tour dates). Monty is also on the move once more with the Fabularium's Reynard The Fox at Endcliffe Park on Friday 1st September (click here for more information).