25 Years of Reeves & Mortimer – 30 January 2016, Leeds First Direct Arena
---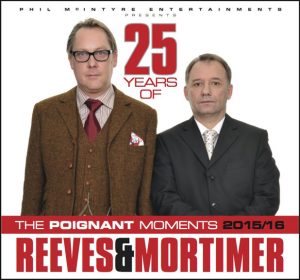 As part of my Christmas present from my lovely boyfriend I got two sets of tickets (plus a lovely box of homemade macaroons) including to celebrate 25 years of surreal comedy partnership (their first live tour in 17 years) at Leeds First Direct Arena for their first date of 2016 on Saturday 30 January.
I may have pretty much skipped "Smell of…" and "Shooting Stars" but loved "House of Fools", Vic's (aka James Moir) musical contribution "Dizzy" and head of the family role in "Hebburn" and Bob's (aka Robert Renwick) ability to split an apple in half with his bare hands, and as a huge fan of British comedy can't help appreciating their quarter of a century contribution whilst remaining fresh to all the poignant moments promised in their tour title. As the daughter of a father who had a heart attack six years ago I also wanted to see for myself that Bob was okay following his triple heart bypass in November (leading to the cancellation of their Sheffield gig) and wedding half an hour earlier.
The show promised to include elements of the duo's television careers including "Vic Reeves Big Night Out" and "Shooting Stars", and featuring some of their most popular character creations, including Judge Nutmeg, the Stotts and Man with Stick.
The show kept it's promises leaving me laughing out loud and with a grin on my face from the black & white footage featuring highlights of their TV career as the introduction to their finale of their song below at the end, with two hours of daft humour, songs. magic, dancing, walks and falls in between, including the famous desk, musical instruments, frying pans, fire extinguishers and fart noises, as well as a talking Labrador.
Loved by those in the audience who were new to their characters and comedy as much as those who knew their back catalogue off by heart (I think we were sitting next to one of their biggest fans), after a quarter of a century of working together their friendship and comedy chemistry shone through, even when Bob went wrong on a Glasgow/Motherwell joke.
Amongst the many highlights for me, in a show were everything seemed to cost £65,000, were Man with a Stick; Novelty Island; Judge Nutmeg punishing an audience member via the Dove from Above; and Mulligan and O'Hare and the falling breasts. We were also entertained during the very quick costume changes with pre-recorded video footage of the twosome including a hilarious advert for Geordie Jeans (not sure how that will be received at their Newcastle gig on Monday).
Vic has to be congratulated on doing Bob's surgery, resulting in Bob being okay as long as his heart rate doesn't go above one thousand. Though this doesn't let him off for lying about the delivery of boiled potatoes and (for the continentals) boiled tomatoes as some audience members were disappointed when they failed to find them during the interval.
With most shows already sold out, including the London dates in less than 15 minutes, fans may have to wait for the DVD release (not confirmed yet but I'd be shocked if it's not in the planning) but if you are lucky to get tickets the absurd twosome will be at Edinburgh Playhouse tonight (31 January), Newcastle City Hall on 1 February, O2 Apollo, Manchester on 2 February, De Montfort Hall, Leicester on 4 and 5 February, New Theatre, Oxford on 6 February, Regent Theatre, Ipswich on 7 February, Cliffs Pavilion, Southend-On-Sea on 8 February,  Victoria Hall, Stoke-On-Trent on 11 February, Cambridge Corn Exchange on 12 February, Nottingham Royal Concert Hall on 13 February, Brighton Centre on Valentines Day (14 February) and ending their tour at London's Eventim Apollo on 15 and 16 February.