Easy Street Theatre Company "Treasure Island" – 28 January 2016, Sheffield Library Theatre
---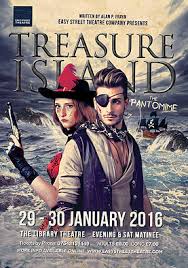 What do you get when you mix one of the oldest forms of comedy theatre, a classic novel and one of Sheffield's best youth theatre companies? If the title of this blog didn't give it away, it's Treasure Island the pantomime, performed from tonight to this Saturday at Sheffield Library Theatre by Easy Street Theatre Company.
The show, which will appeal to children and adults alike and is based on the novel by Robert Louis Stephenson, tells the story of Jim Hawkins (played by Alistair Machin), who lives with his inn keeper mother Rosie (James Godfrey). When pirate Billy breathes his last breath at the inn, Jim inherits a treasure chest containing a treasure map.
What do they do next? The only thing any good adventurers would. They set sail on a voyage of discovery, accompanied by the Squire (Thomas Baycroft) and his daughter Penny (Anthonia Santos Cropper) to an island of sand, sea and skeletons. But it's anything but plain sailing for them though as the villainous pirate Long John Silver ("boo!") (Sam McElhattan) is hidden within their ship's crew on a mission to get to the treasure before they do (whilst trying to remember to hop on his wooden leg).
As an audience we were almost on the edge of our seats, whilst laughing at classic pantomime humour, as we waited to discover who would get to the treasure first. Though like all classic tales we got the happy ending we were hoping for as good defies evil on the high seas.
From the opening number (that if the audience didn't realise it was a panto when the curtain went up they soon did) to the Katrina & The Waves finale, the show entertained us with a vast behind; tongue twisters; cheesy jokes; camp, blind, Scouse and spitting pirates; tap and samba dancing; parrot puppetry; water pistols; and songs ranging from musical showstoppers to classic power ballads; laving us thoroughly entertained and able to let the sound team off for any technical errors that occurred (resulting in an audience clap-along during the first half).
Stand out performances for me included James Godfrey, who mastered heels and dresses without the need to over dame it; Alistair Machin with his boy band quality singing voice; Harriet Wade as the narrating, rhyming, ballet dancing Spirit of the Sea; and Becca Lee who was outstanding singing my favourite "Oliver" song in her role as Potty Patsy. I also have to declare Claudia-Prados Peach (aka Sea Shake Sally) as my favourite pirate and have to give a shout out to the short but sweet cheese obsessed Barney Ben/scary ghost (Thomas Ferris) who helped bring out the classic panto line "he's behind you".
Founded in 2009, Easy Street Theatre Company offers professional theatrical training to Sheffield's young creative talent. The company perform two shows a year. For further information on the company including how to apply to join the company this summer visit www.easystreettheatre.com.
With only a short run don't miss out. Treasure Island is being performed at the Library Theatre at 7.15pm on tomorrow (Friday 29 January) at 7.15pm and on Saturday (30 January) at 2.15pm and 7.15pm. Tickets are only £9 (£7 for concessions) and are still available to book by calling 07542 131449.