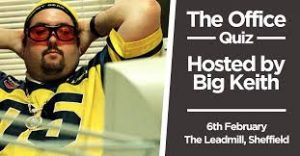 Ewen MacIntosh (aka Big Keith from The Office) – Interview
Fans of The Office, and I know there are millions of you, will be delighted to know that Ewen Macintosh (aka Big Keith) will be hosting The Office Quiz at the Leadmill in Sheffield on Tuesday 6 February.
Ewen will be quizzing the audience on their knowledge of The Office to discover who truly is the show's biggest fan and, according to the venue's website, if there is a tiebreak, seeing who can throw a shoe over the Leadmill. Prizes on the night will include Leadmill gold cards and VIP cards, drink vouchers, gig tickets, a stapler in Jelly, David Brent press pictures and more. Tickets are £6 each and are available from http://leadmill.co.uk/events/the-office-quiz-hosted-by-big-keith.
But ahead of The Office Quiz, I was delighted when Ewen agreed to be quizzed for this website.
Me: What can fans expect from The Office Quiz and you as it's host?
Ewen: They can expect plenty of Office-based fun, some tricky questions, and maybe even the odd Scotch Egg. I will be holding everything together with consummate professionalism!
Me: What are you looking forward to most about coming to Sheffield and The Leadmill?
Ewen: I am looking forward to some great Yorkshire hospitality. I will also be stocking up on Henderson's Relish…
Me: 14 years after it finished why do you think The Office remains such a cultural phenomena?
Ewen: I don't really know is the honest answer! I think it has aged quite well, you still see characters like Brent, Gareth and Finchy knocking about. Plus the scripts still feel really fresh.
Me: Apart from your questions on the night, what is your favourite question about The Office?
Ewen: Probably 'How much of it was filmed in Slough?' Answer- None.
Me: You must meet a lot of fans of The Office, but who was the most memorable fan you've met and why?
Ewen: I would have to say Matt Groening. I'm sure you don't need to ask why!
Me: A big part of The Office was staff finding ways to keep themselves entertained whilst working in a mundane workplace, what's the most mundane place you have worked and how did you keep yourself entertained whilst working there?
Ewen: I worked as a temporary car park attendant for the Tall Ships Festival in Edinburgh years ago. There was nothing to do except sit around staring into space.
Me: What's coming up next for you during the rest of 2018?
Ewen: Two films to look out for that I am in. 'The Bromley Boys' and 'Game Over'.
Me: Did you, and your character Keith, have the same facial hair as Ricky Gervais / David Brent because you secretly wanted to be him?
Ewen: No it was a total coincidence. I guess goatee beards were just kind of 'in' around that time.
Me: How many scotch eggs did you have to eat whilst filming The Office, how many have you eaten since and do people think it's funny when they serve them to you at buffets?
Ewen: I only ever had to take a bite before the scene cut so probably no more than 2 or 3 in total. Since the show it has been a bit ridiculous. Everyone wants me eating scotch eggs all the time. I should start my own range.
Me: Your character used to promise women at least one orgasm, what do you promise people?
Ewen: I promise people a great night out if they come to The Office Quiz in Sheffield! See you there.
P.S. A big thank you to the two biggest fans of The Office I know for contributing the final three questions and apologies for slightly re-wording them.