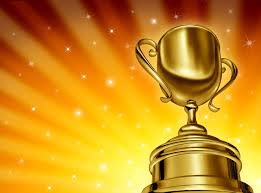 Last Night I Dreamt Of 2017 Awards
I have been delighted to review a lot of wonderful live performances in Sheffield in 2017 and so have decided to end the year by celebrating my favourites in the first of www.lastnightidreamtof.co.uk annual awards. The awards are focusing on amateur, student and youth productions in Sheffield, many of which more than rival their professional counterparts, and selecting the winners has been tough out of so many incredible shows and individual performances, so if your favourite does not appear it doesn't mean I didn't love them too.
Best Musical (amateur company): STOS Theatre Company's My Fair Lady
"My Fair Lady is not only the best musical I have seen by this consistently outstanding company but also the best musical I have seen at the Lyceum, full of beautiful choreography, fabulous musical arrangements, excellent casting, stunning sets and superb voices and dancers, which together blended into a warm hug of musical, perfect for an autumn evening. I truly believe that all of the cast and crew have the talent to pursue professional careers in musical theatre."
Best Musical (student company): Sheffield University Performing Arts Society (SUPAS)'s The Producers
"I couldn't imagine a professional touring company being able to pull off a production of "The Producers" that was better than there's."
Best Musical (youth company): Splinters' Theatre Group's West Side Story
"Brilliantly casted and with flawless direction, choreography, acting, accents and vocals throughout, I could not imagine a greater stage production of West Side Story."
Best New Musical: Colla Voce Theatre's Buried: A New Musical
"I wish this superb show good luck and the sell out audiences at the Fringe it thoroughly deserves and can see this show running and running and the cast and company going far."
Best Actor in a Musical: Adam Walker as Tony in Splinters' Theatre Group's West Side Story
""Maria" perfectly displayed the full fabulous range of Adam Walker (Tony's) voice and his amazing stage presence, making you consider changing your name to Maria so he could sing about you."
Best Actress in a Musical: Keeley Kilby as Joyce Chilvers in Ellesmere Musical Theatre Company's Betty Blue Eyes
"Keeley Kilby as Joyce Chilvers who demonstrated her West End worthy singing voice and proved that she was definitely a somebody."
Best Supporting Actress in a Musical: Katherine Rice as Mother Superior in Easy Street Theatre Company's Sister Act
"Katherine as the Mother Superior highly successfully playing a character beyond on her years with wisdom, stubbornness and formality hiding a genuine fear of change and being out of control. Katherine also has the stand-out solo number of the show with her performance of "Haven't Got a Prayer" whose clever lyrics she sung movingly, beautifully and emotionally but also with comedy."
Best Supporting Actor in a Musical: Jack Skelton as Cosmo in Manor Operatic Society's Singin' in the Rain
"The absolute star of the show though is Jack Skelton as Cosmo Brown, who in one of my favourite songs of the musical "Make 'em Laugh" performed with amazing piano playing and even more amazing comedy, dancing, singing and the essential walking up walls."
Best Opera: Opera on Location's Carmen
"This production is one of the best shows I have seen, well and truly opening my eyes to the world of opera, which shouldn't be missed by those new or old to opera and lovers of musicals and dark romantic tales"
Best New Play: Sheffield University Theatre Company (SUTCo)'s My Mate Dave Died written by Mike Alexander
"I am more than happy to declare that My Mate Dave Died is the best new play I have seen and I would happily watch it again and again"
Best Play (amateur company): Tudor Players' Goodnight Mister Tom
"This production was a beautifully a performed and presented adaptation that is destined to melt the hearts of any audience members, leading me to overhear several audience members declare it "the best play they have ever seen" as they left the theatre. "
Best Play (university company): (SUTCo)'s Journey's End
"Journey's End is the most moving, thought-provoking and best acted performance I have seen from SUTCo"
Best Actor in a Play: Roger Bingham in as Tom in Tudor Players' Goodnight Mister Tom
"The main focus of the play is the relationship between Tom and William, which was so beautifully acted and felt incredibly natural, full of deep love and devotion, perfectly capturing the emotions and characteristics of their characters that fans of the book will instantly recognise. The other great love of Tom's life is his dead wife Rachel and his reminisces of her were performed with genuine grief leading you to believe that she is deep within his heart."
Best Pantomime: Manor Operatic Society's Sleeping Beauty
"The professional standard pantomime production offered two and a half hours of a feel good show to audience members of all ages on a winter's day, and a fantastic introduction to live theatre, musical and comedy for children."
Best Pantomime Dame: Nick Challenger in Wales Methodists Pantomime Player's Cinderella
"Probably the best panto dame i have ever seen perform (and not because I want his igloo frock)."
Best Puppetry: Alex Dickenson in HSU Theatre Company's Avenue Q
"Alex Dickenson as Princeton was my stand-out performance of the night and proved himself as an amazing all-rounder, displaying throughout a Broadway worthy singing voice and fantastic stage presence, with his acting and puppetry skills so great you almost forgot Princeton was attached to him."
Stand-out star of 2017: Mike Alexander
From playing the lead in SUPAS's Fiddler on the Roof and Hector in SUTCo's The History Boys to writing the dark comedic play My Mate Dave Died, Mike's talent has shone through in everything he has achieved in 2017. I can't wait to see what he does next and truly believe he has an amazing career in the performing arts ahead of him.
One to Watch in 2018 and Beyond: George Evans
It might have taken until October for me to first come across him, but George's outstanding performances in both My Mate Dave Died and Journey's End, showcased the incredible range of his acting skills and made me to eager to watch all the shows he acts in next.
Finally, I would like to thank everyone who I have supported with a review in 2017 and I look forward to continuing to supporting you in 2018 and beyond and wish you, and all the visitors to the website and all the audiences for live performances in Sheffield, past, present and future, a wonderful New Year and an amazing 2018.