Interview – Jo Caulfield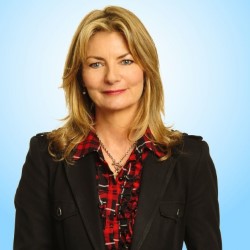 With seven weeks to go to this year's Edinburgh Fringe I was delighted to interview one of this country's top female comedians and festival regular, Jo Caulfield.
Me: Tell us more about yourself and your forthcoming Edinburgh Show Killing Time?  
Jo: It's a stand-up comedy show. There will be NO bells or whistles. There will be jokes, observations and opinionated nonsense. I am right about everything. I will also be wearing a new top.
Me: How would you describe your comedy in ten words? 
Jo: Acerbic, opinionated, sarcastic, "not mean-spirited", "a celebration of anger".
Me: As a Fringe regular, what's your favourite thing about performing at the festival? 
Jo: Not travelling! I live in Leith so I can walk to the venue and walk home. Sleeping in my own bed. Catching up with comedian friends I haven't seen for years. It's the strange thing about the UK comedy circuit, you can be on the same bill with one comedian every week for a couple of months and bond with them, then not see them again for several years. The mix of the audience. All ages all races, all different walks of life, all coming together for comedy. It's like you know the tune you're going to play but you don't know what instruments you're going to have till the show starts. That is a great analogy until you know that the only instrument I can play is the drums…..and not even very well. I love that I can do a new hour every year and that people will come back again and again. There is no bigger compliment for a comic than people saying "See you next year" on the way out.
Me: Who else are you looking forward to seeing perform live at the festival? 
Jo: Along with my stand-up show at 7.40pm, I'm doing a play every lunchtime ('Brexit' – a political satire), so there'll be very little time to catch many other shows. When I do get a spare couple of hours, I like to take a chance on something different, pick someone I don't know and just be open to a new experience. This has lead to me seeing some terrible shows, it's not a reliable method, but I have also been pleasantly surprised. On my day-off I will definitely go and see Eleanor Tiernan (1.40pm, Banshee Labyrinth) and Joke Thieves (8.30pm, Cabaret Voltaire). It's a bit of a busman's holiday for a comedian to watch other comedians but these two shows always make me laugh loud and hard.
Me: We both grew up in Leicestershire before escaping. What are your fondest memories of growing up in the county and leaving it? 
Jo: I ended up in Leicestershire or more correctly Rutland. I usually say Leicestershire as most people don't think Rutland is a real place. I grew up in the Air Force, well not me, my Dad was in the Air Force; that means you move every two years.  My most formative years, 14-17, were spent in a village near Oakham. Yes, read that sentence again and feel the teenage despair. The nearest big town was barely a small town. Luckily I had a mate with a van, this meant we could get to Nottingham and Leicester for gigs. I remember we went in the van to see the B52's, I hadn't asked where they were playing. I was 15 and still at school. We were half way there when I realised we were driving to London. They were on at the Hammersmith Palais. I can't stress the importance of having a friend with transport… well, one friend had a van and one had something uninsurable that was always breaking down. This opened up a whole world of music gigs, parties and cider drinking.  An old friend recently sent me some photos of that time. She put "Jo as usual in an outfit she has made herself that is falling apart". I used to buy all my clothes from charity shops and hand sew things, very Molly Ringwald; but my outfits would start to unravel and fall apart as the night went on.
Me: What was the best thing about being a television warm-up and if you could have anyone, living or dead, warm up for you, who would you choose and why? 
Jo: TV warm-up is a strange thing. The audience aren't there to see you. You're servicing the show. You can be halfway through a joke, just about to hit the punchline, when the producer cuts you off coz the scene is ready. You have to keep everything short and sharp and punchy. The best thing was doing the warm-up on The Graham Norton Show. I ended up getting asked to join Graham's writing team. Five series later I was still there. It was an amazing job: the show went to New York and LA. I racked up a mountain of air-miles! Oh – that and the sandwiches in the Green Room. They're always good. If I had a warm-up I'd pick Jack Dee….for no other reason than he makes me laugh.
Me: Your extensive CV appears to cover all aspects of working in comedy I can possibly think of but are there any comedy ambitions you are yet to fulfil? 
Jo: Simple = To get better. You're never fully-formed as a comedian. There's no end result in comedy. So my ambition is to keep being funny. I've done all sorts of different things on radio and TV, and I'm always open to any work that I think is worth doing, but I'm quite choosy about what I accept. I couldn't imagine not being a Stand Up. It's me talking about me, and that's my favourite subject. I was on Celebrity Mastermind last year and I suggested 'Jo Caulfield' as my specialist subject. The producer laughed. To this day I still have no idea why he found that funny.
Me: What's coming up for you next after the Fringe? 
JO: No rest for the wicked! I'm straight into recording another series of 'Stop The Press" for BBC Radio Scotland in early September. After that I'm hoping for a couple of weeks of lying down and not talking. Last year I ended up in Hamburg, then Lisbon. (I highly recommend both if you haven't been)… then it's Christmas, then it's New Year, then I start putting down notes for Edinburgh Fringe 2019!!
Jo Caulfield will be performing at this year's Edinburgh Fringe in Killing Time from 3 to 26 August at The Stand Comedy Club 3 & 4 and in Brexit from 1 to 26 in the Pleasance Courtyard. For more information and to book visit https://tickets.edfringe.com.
For further information on Jo Caulfield visit www.jocaulfield.com.