Spend Spend Spend – 13 June 2018, Montgomery Theatre, Sheffield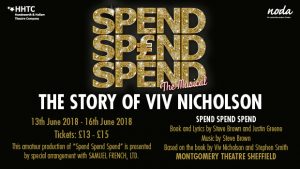 ***** Spend Spend Spend is a musical that I feel I should have seen already based on a real life story I feel I should know more about, so I was delighted to solve both problems by being in the audience for the opening night of Handsworth and Hallam Theatre Company's (HHTC) production of the show.
Premiering at the West Yorkshire Playhouse in 1998, Spend Spend Spend is a powerful musical based on the dramatic and tragic life of Castleford born Viv Nicholson, who in 1961 won £152,319 in the football pools. When a reporter asked her what she planned to do with her new fortune, she replied, "I'm going to spend, spend, spend!," which is exactly what she did. Her rags-to-riches-to-rags-again story took her through five husbands, expensive sports cars, fur coats, and jewellery, a battle with alcohol, and bankruptcy as, unable to cope with her new-found wealth and fame, she rapidly spiraled downward.
Rightfully so the truly outstanding performance on the night came from Danni B Hibbert as Viv Nicholson, who if she had turned around at the end of the show and announced that she was the real Viv I would have more than happily believed her. Breaking the fourth wall to tell her own story and looking like she was thoroughly enjoying looking back at, whilst wanting to protect her younger self, she seamlessly interacted with her past whilst displaying a stunning, passionate, West End leading lady worthy singing voice and stage presence that the likes of Elaine Paige and Barbara Dickinson would be truly jealous of.
Destined to have a long and successful career in musical theatre in front of her, Beth Atkin as Young Viv possessed a wonderful singing voice that not only perfectly complimented Danni's own voice but felt like it would truly mature into Danni's own, whilst perfectly capturing her character's youthful glee, enthusiasm for life, attitude and sexuality, whilst remaining truly likeable. At this point I must also congratulate the make-up and wigs teams for turning Beth into the double of the real life photographs of Viv, along the lines of a young Yorkshire Diana Dors.
Other cast members who highly deserve a special mention include Steve Mather as Viv's dad George, whose performance combined capturing the grittiness of the ill, drunk and abusive Yorkshire father and miner with an unexpectedly exceptional singing voice, showcased at it's best as he opened the ode to miners and miners wives "John Collier"; and Joseph Walker as Viv's second husband Keith Nicholson, who perfectly played the sweet boy next door, whilst displaying beautiful on stage chemistry with both Beth and Danni, and possessing a wonderful sweet singing voice that would not be out of place in many musicals.
Accompanied by a fantastic live orchestra, the 26 musical numbers offered something for everyone from the truly upbeat, full cast and ensemble performed, pools winning celebration "Spend Spend Spend" (I was singing the chorus all the way home); to the flirtatious tango accompanied "Sexual Happening" that contains every Yorkshire term you can think of for sexual relations and many you will have forgotten; and "Who's Gonna Love Me Now", which moved me to tears, showcasing beautiful, musical magic as Danni and Beth at their very best combined to perform one of the most moving musical duets I've heard, reminiscent of Elaine and Barbara's own "I Know Him So Well".
It is great to see a true Yorkshire musical, and in many ways a Yorkshire opera, for the people performed in Yorkshire by a Yorkshire company, and based on this production, I truly believe that this musical should knock Blood Brothers off its perch as being considered by many Britain's best musical. Spend Spend Spend brilliantly combines a terrific script, lyrics, plot and characters that wonderfully and honestly capture the language, period and life of Viv and the residents of the Yorkshire mining town of Castleford, supported by crisp and clever choreography, direction, amazing voices and laugh out loud comedy, that will leave audiences with big grins on their faces.
As my first experience of a musical by HHTC, this production has more than confirmed that the company is one of the very best in Sheffield if not in the whole of Yorkshire (including Castleford) for producing and performing superb musicals and I now plan to be in there audiences for a long time to come.
Whether you are looking for an outstanding musical or just like British comedy, drama, Yorkshire folk or a great story, I promise you this production should not be missed. And though rarely on stage, I cannot see on what level a professional company would be able to match this production of the show. And if you are put off by a title that suggests this is just a musical about overspending then you are very, very wrong, as at it's heart its truly a story of love, surviving and the cycles of life.
Spend Spend Spend is on at the Montgomery Theatre, Sheffield at 7.15pm until Saturday 16 June with an additional 2.15pm matinee on the Saturday. Tickets are £15. To book visit http://themontgomery.org.uk, telephone 07586 293546 or email hhtctickets@live.co.uk.
Formed in 2002 from the merger of Handsworth Amateur Operatic Society and Sheffield Hallam Operatic Society, HHTC aim to be the leading family amateur theatre group in Sheffield, providing good quality musical theatre by putting on two shows a year, a pantomime and a musical. For further information visit www.hhtcsheffield.co.uk.