The Castaways – 20 June 2018, Montgomery Theatre, Sheffield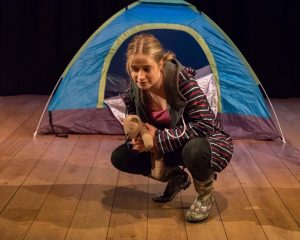 As part of Sheffield's Migration Matters Festival I was excited to be in the audience for White Tree Theatre's The Castaways, which promised to turn the international refugee crisis on its head.
Set in the not too distant future, where flooding and costal erosion have ravaged many parts of the UK, and scores of towns and cities have been destroyed, The Castaways tells the story of Sam, a young Yorkshire mother trying to protect her family and find a new home in a country on the brink of environmental devastation.
The combination of writer Rachel Price's excellent and well-researched script, Rebecca Thompson's direction and actress Charlotte Wood bringing the script, its situation and her character Sam and the characters around her superbly to life leads to one woman play of real emotion and vivid imagery, transporting the audience to a believable and not to distant future.
Rachel has created a modern, young Alan Bennett worthy talking head for the environment and migration supporting generation that will leave the audience thinking about (and hopefully campaigning for change to) the issues for a long time to come.
Charlotte's performance peeled the layers away of her character, expressing true pain and emotion along her journey, so that the audience see Sam and not Charlotte playing her and based on this outstanding performance I believe she has a long career ahead of her in theatre and television drama.
The clever use of broadcasts and songs on the radio provided a reminder that the so-called truth offered at a national level by professionals, the media, pop culture and politics will always differ and forget the real and personal stories of the individuals at the centre of the storm.
I hope that this moving and extremely powerful performance will lead audience members to never look at migration, flooding and UK politics in the same way again and, getting political, that anyone who has ever complained about migration in the UK, voted to leave Europe or has a "not in my back yard" attitude will see and change their views after seeing this production.
I also genuinely hope that I will never be in Sam or any migrants situation but that if it does happen I will fight and survive with as much strength as Sam does.
White Tree Theatre aims to create well-crafted theatre to challenge and entertain, believing that theatre rooted in story and character – the fundamentals of storytelling – allows us to perform with skill and flair. It looks to perform stories centred on universal themes and issues. It doesn't matter if the story is new or old as long as it engages. For further information visit www.whitetreetheatre.co.uk.
The Migration Matters Festival, which celebrates sanctuary in the Steel City takes place from 19 to 23 June 2018 across the city and across a range of art forms including exhibitions, book clubs, workshops, music, dance, food, talks, film, storytelling, audio walks and theatre. For further information on the festival, including the full programme, visit www.migrationmattersfestival.co.uk.