Interview – Maddie Rice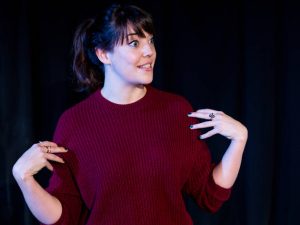 After seeing the incredible production of Fleabag at the Studio Theatre, Sheffield on Tuesday (read my review here) I was delighted when Maddie Rice, who plays Fleabag, agreed to an interview.
Me: For those who haven't come across Maddie Rice before tell us more about yourself?
Maddie: I am an actor and writer based in London. I've just been in Australia doing Fleabag, but I am so pale that I wore factor 50 every day and I don't have a tan. I write lots of comedy with surreal group zazU and sketch group Lead Pencil. I am also taking my debut play to the Edinburgh fringe, it's called PICKLE JAR and I will write and perform the piece.
Me: What was it like working with Phoebe Waller-Bridge on Fleabag, and with Phoebe being so well known for her performance, how easy was it to make the Fleabag your own?
Maddie: It was a fantastic experience. I had heard a lot about Phoebe and seen her perform numerous times before my audition so I was really excited to work with her. It was obviously quite daunting to take on a role that she has made so famous, but it is so rare that you get to play these parts as a female actor and the excitement outweighed the pressure. The director Vicky Jones and Phoebe encouraged me to find new things in the script and make it my own. We keep comparing it to taking on a famous Shakespeare role like Hamlet or being the next bond, It is the same character of course but with a different actor in the role it is always going to be fresh and different.
Me: Why do you think Fleabag has captured the hearts of audience members?
Maddie: Oh there are so many reasons! I think that Fleabag as a character is the type of person that doesn't usually arrive on our stages and screens because she is ragged and flawed and she doesn't conform to what society is saying she should be as a woman. She is honest and funny and sometimes cruel and that is the kind of person that we recognise in real life. We are flawed. The people we love aren't perfect. We all make mistakes. Fleabag shows us that and we can all relate. It also resonates with a generation of people who are living anonymously in cities, feeling lonely and struggling to pay rent whilst maintaining some kind of social life.
Me: I think we all have on some level, but do you think you have anything in common with Fleabag and did that help in preparing for the role?
Maddie: I really connected with Fleabag's relationships with the women in her life. She relies a lot on her sister, she relied a lot on her mother and best friend Boo and she needs these people. I also understand that feeling of not wanting to conform to the old fashioned female stereotype of a yielding, girly, polite woman who doesn't voice opinions or make mistakes. Fleabag ends up reacting to this by acting the exact opposite and using her sexuality as a power tool, but in the process she loses the connection and it all becomes meaningless.
Me: What was your favourite thing about coming to Sheffield?
Maddie: I love Sheffield. The audiences at the Crucible have been fantastic! I have been for lots of walks round the Botanical Gardens- I could live in there.
Me: What would you like to happen to Fleabag next?
Maddie: Phoebe is writing the second series of the TV show as we speak and I can't wait to see what is in store for her. I love to watch her reacting to anything that women are 'supposed to do.' What is Fleabag's attitude to marriage, babies, work etc. etc. She is a human and an honest one who'll tell us the truth about the comedy and tragedy in any stage of life so let's wait and see! I'm excited.
Me: What's up next for you after the Fleabag tour?
Maddie: Next up I am going to Edinburgh Fringe with three shows! My debut play Pickle Jar is a dark comedy about the affect keeping a secret can have on your life. It is another solo show and I can't wait to perform it at the Underbelly. So if any Sheffielders are up in the Burgh, come and find me. I'll also be doing sketch show Lead Pencil and comedy quiz show zazUtinany.
Me: And finally, if you were to set up your own animal themed café which animal would you choose and why?
Maddie: OOOO, good question. Ok, glow worms. rogue I know but I found one in a forest when I was little and it was my first pet! It actually died because it didn't get enough sunlight inside , woops, but it was cute and called Glowy.
Presented by DryWrite and Soho Theatre, Fleabag will be at the Studio Theatre until Saturday 2 June at 7.45pm, with all productions in Sheffield already sold out. After Sheffield, Fleabag ends its tour at The Old Market in Hove from 5 to 9 June. To book visit http://theoldmarket.com/shows/fleabag, call 01273 201801 or visit The Old Market box office in person.