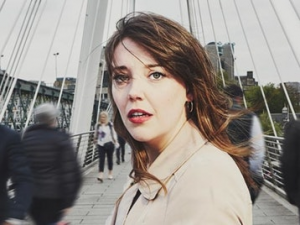 Fleabag – 30 May 2018, Studio Theatre, Sheffield Theatres
***** Like Anna from This Life two decades before, Phoebe Waller-Bridge's cult BBC creation Fleabag is both a character I can see parts of myself in and am fascinated by and who I also know I would hate if I met in real life, so I was intrigued by how she would be converted to the stage in the intimate venue of Sheffield Theatre's studio theatre.
For those unfamiliar with the BAFTA winning creation, Fleabag may seem over-sexed, emotionally unfiltered and self-obsessed, but that's just the tip of the iceberg. With family and friendships under strain and a guinea pig themed café struggling to keep afloat, Fleabag suddenly finds herself with nothing to lose. Stumbling through a maze of social anxiety, disastrous job interviews and meaningless sex, Fleabag serves up an uproariously funny and true account of some sort of a female living her sort of life.
Queues to get in and a sell out audience of all ages showed both how superb PWB's writing and creation is and how much we need Fleabag in our lives before Maddie Rice, who performed the title role even appeared on the stage.
When she did, Maddie's performance proved that she is one of the most talented actresses in the country who is surely destined for Olivier and BAFTA wins, as she both perfectly brought to life Fleabag whilst making the character truly her own, blending intensity, emotion and laugh out loud humour alongside great physical acting,beautifully performing both her own character, her day-to-day life and the workings of her inner mind, whilst creating extraordinary verbal visions of the other characters she interacts with (aka sleeps with/flashes her breasts at).
PWB's script (which should have won her an Olivier and not just a nomination) seamlessly and superbly combines material from the BBC series with new material, whilst making all of the contents and language appear fresh and exciting and proving that with the right actress (which Maddie more than proved to be) there is no need for anyone else to be on stage.
Fleabag is the one person monologue play for the 21st century, that gives Alan Bennett's Talking Heads more than a run for their money. And whether you are already a fan of Fleabag or are new to PWB's creation, this outstanding production should not be missed by theatre fans and those looking for a dark, hilarious and moving female icon for the 2010s, who is destined to make top 10 best character lists for decades to come.
This intense hour will fly by for audience members as they become deeply immersed into Fleabag's world, whilst learning the important lessons that life, and trying to take selfies of your private parts, is never as easy as it should be.
Presented by DryWrite and Soho Theatre, Fleabag will be at the Studio Theatre until Saturday 2 June at 7.45pm, with all productions in Sheffield already sold out. After Sheffield, Fleabag ends its tour at The Old Market in Hove from 5 to 9 June. To book visit http://theoldmarket.com/shows/fleabag, call 01273 201801 or visit The Old Market box office in person.
P.S. Read our interview with Maddie Rice about Fleabag and her forthcoming trip to the Edinburgh Fringe here.