Sheffield Comedy Festival – Interviews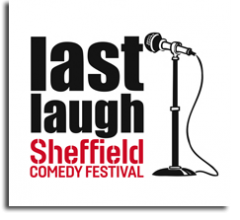 Despite being on the Last Laugh mailing list I came very late to this year's Sheffield comedy festival but that hasn't stopped me interviewing some of the fantastic comedians still to perform at the festival, including Ro Campbell and Lou Conran.
Me: What can we expect from your new stand up show?
Ro: Plenty of laughs and a fairly global perspective. I do comedy all around the world and it is reflected in what I talk about.
Lou: This is my Edinburgh show – I Love Lou C, which tackles the subject of baby loss. It is a comedy by the way…
Me: What are you looking forward to most about performing at the Sheffield Comedy Festival and in Sheffield itself?
Ro: Well I'm performing at the Lescar which is a brilliant pub with a comedy pedigree, great audiences and an amazing selection of ales so what's not to look forward to?
Lou: Driving over the Snake pass in shit weather. I like the element of risk.
Me: Why do you think comedy festivals are important?
Ro: In comedy clubs you only get 20mins of a comedians POV whereas a Festival show affords them the freedom of an hour to take you on more of a journey. It's the difference between seeing a dolphin at Seaworld or seeing one in the wild.
Lou: Comedy Festivals are important because some of us like to talk longer than 20mins
Me: How would you describe your comedy in five words?
Ro: Solid no gimmicks stand up .
Lou:  A masterclass in long form comedy.
Me: What's coming up next for you?
Ro: I'm supporting the most excellent Tom Stade on tour in November and then headlining a tour throughout South East Asia in December.
Lou: Let's get Christmas over and done with then I'll think about it.
Ro Campbell is performing on 19th October at 9.30pm at The Lescar. Tickets in advance are £5 or you can pay what you want (give generously) at the end. For further information on Ro Campbell visit www.rocampbell.com.
Lou Conran is performing on 22nd October at 9.30pm at The Lescar. Tickets are £6 (£5 NUS). For further information on Lou Campbell visit www.louconran.com.
For further information on the Sheffield Comedy Festival, on until 28th October, visit http://lastlaughcomedyfestival.co.uk.