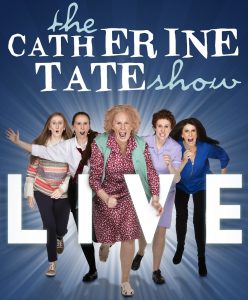 The Catherine Tate Show Live – 3 November 2016, Sheffield City Hall
---
I have been a massive fan of Catherine Tate and her sketch show for over a decade with her "Sam and Paul" sketches being my go to comedy from when I want a guaranteed laugh and instant cheer up so when I was emailed details earlier this year for pre-sale tickets for "The Catherine Tate Show Live", the first time she has ever performed her sketches live I was absolutely delighted and had to immediately book for her show at Sheffield City Hall on 3 November, which led to one of my colleagues constantly hoping that my boyfriend wouldn't want his ticket and he could come instead (didn't happen).
The show promises brand new sketches featuring many of Catherine Tate's best loved characters including 'Nan' Taylor, Irish nurse Bernie, Geordie Georgie, my favourite Essex girl Sam and the return of a certain argumentative teenager Lauren, who Catherine had previous killed off in the series and is probably hopefully still not "bovvered". Catherine is also being joined on stage by Nan's grandson/Lauren's boyfriend Matthew Horne and Lauren's other best friend Nicky Wardley and new face to the show Brett Goldstein,
From the packed venue, catchphrase t-shirts and programme containing an interview of Nan by Catherine Tate to the entertaining pre-show and interval announcements by a Tom Baker soundalike "Little Britain" style we the audience knew from before the show even started that we were in for a fun evening and this was proved over and above from the moment Bernie jitterbugged on to the stage to Catherine's appearance as herself in the encore campaigning for Ginger rights.
Surprisingly the Sam and Paul sketch wasn't my highlight of the evening (though congratulations to Brett for mastering Lee Ross's Essex voice), with that award being split between Geordie Georgie's latest fundraising activity, John Reilly's Northern Irish Mum's audience interaction, the "I can do that" woman's interpreting skills, the appearance of Derek Faye's friend Leonard, the return of Lauren (in her words "you can't kill off a fictional character"), Janet and Ray's disgust at their weekend away (Brett's performance of the night) and Nan's arrival and (after a special guest appearance) singalong.
The chemistry and comic talent of Catherine, Matthew and Nicky shone through in all their sketches, which were updated with current and Sheffield related references and separated by the cast dancing on and off stage and pre-filmed segments, featuring Radio 1, what was happening behind the scenes in the sound department and appearances by beloved characters not brought to life on stage, including another of my favourites the Aga Saga Woman. Catherine also did an amazing job of getting over moments of line forgetting corpsing by not panicing, staying in character and turning her mistakes into part of the two hours of laugh out loud comedy.
Although the programme at one point suggests the idea of a best of live show next year, I'd recommend fellow Catherine Tate fans everywhere not to miss this show,  not only so you are up to date on the new sketches everyone else will be quoting, but so you don't miss out on a brilliant and hilarious evening of comedy. There are 27 dates left of the tour, though many are sold out or only have a few tickets remaining so if you are as big a fan as me you will need to get in quick. Details are below:
4 November – De Montfort Hall, Leicester
5 November – Cliffs Pavilion, Southend-on-Sea
7 November – Edinburgh Playhouse Theatre
8 November – SECC, Glasgow
9 November – Newcastle City Hall
10 November – Warwick Arts Centre
11 November – First Direct Arena, Leeds
13 and 14 November – Eventim Apollo, London
15 November – Plymouth Pavilion
16 November – The BIC, Bournemouth
17 November – Motorpoint Arena, Cardiff
18 November – Derngate Theatre, Northampton
19 November – Guildhall, Portsmouth
21 November – De Montfort Hall, Leicester
22 November – Empire Theatre, Liverpool
23 November – New Theatre, Oxford
24 November – Brighton Centre
25 November – Theatre Royal and Royal Concert Hall, Nottingham
28 November – Cliffs Pavilion, Southend-on-Sea
29 November – Regent Theatre, Ipswich
30 November – The Barclaycard Arena, Birmingham
1 December – Venue Cymru, Landudno
2 December – Wolves Civic, Wolverhampton
3 and 4 December – Colston Hall, Bristol