Little Shop of Horrors – 7 November 2016, Lyceum Theatre, Sheffield
---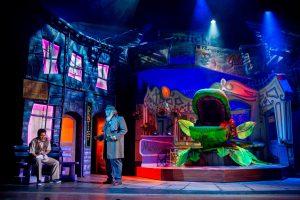 I have wanted to see a live version of Little Shop of Horrors since falling in love with the film musical version when my boyfriend introduced it to me a couple of years ago so when I heard the 2016 tour of the show was coming to the Lyceum Theatre, Sheffield from 7 to 12 November we had to be there for the opening night.
For those of you who are not familiar with the hilarious cult musical, it tells the story of Seymour Krelborn (played by Sam Lupton), the assistant at Mushnik's (played by Paul Kissaun) Flower Shop in downtrodden Skid Row, who becomes an overnight sensation when he discovers a strange and exotic plant. He names it Audrey Two (puppeteered by Josh Wilmott and voiced by Neil Nicholas) in order to impress glamorous Audrey, the colleague he's secretly in love with (played by Stephanie Clift).
Audrey Two quickly starts to wilt, putting Seymour's job and dream future with Audrey at risk. Accidentally pricking his finger, Seymour discovers Audrey Two needs a little more than plant food to thrive. The plant grows into a bad-tempered, foul-mouthed carnivore whose voracious appetite becomes increasingly difficult to satisfy. The audience will discover how far will Seymour go for the woman of his dreams and how sadistic the dentist boyfriend (played by the "X Factor's" Rhydian Roberts) of the woman of his dreams can really be.
The show was entertaining from the radio style announcements before curtain went up to the dark ending that fans of the film musical will not be expecting via fun choreography, charming and hilarious lyrics and script and a quirky set, that almost makes you want to live in Skid Row and if you have a fear of heights like me forget you are high up in the stalls, in a show that was not afraid to tackle abusive relationships, poverty, adoption, the tragic side of fame and fear of dentists whilst maintaining a great sense of humour and its very own musical style.
The show was also packed full of amazing voices from the Ronettes meet TLC style of Cassie Clare, Vanessa Fisher and Sasha Latoya, to the rat pack meets Fiddler on the Roof style of shop owner Paul Kissaun, the operatic meets inner Steve Martin of Rhydian Roberts showing why he deserved to be in the competition and of course the Barry White tones of a certain man eating plant. Praise also needs to be given to Sam Lupton and Stephanie Clift whose naive/ditsy chemistry shone through and who made the ballad "Suddenly Seymour" and the resulting kiss melt the heart of audience members and put the song up there with my other musical highlights from the show "Skid Row", "Dentist" and "Feed Me".
Behind the scenes I must especially congratulate puppeteer of Audrey 2 Josh Wllmott, Mark Crossland and Dustin Conran for show's fantastic music, Matthew Cole for the quirky, varied and innovative choreography and of course the show's director Tara Wilkinson.
Little Shop of Horrors, which I can best describe as a B movie musical, includes music by Alan Menken and is being toured by Sell a Door Theatre Company and Damien Tracey Productions Ltd. It's playing at the Lyceum Theatre until 12 November before moving on to the Theatre Royal Glasgow from 14 to 19 November and ending at the Grand Theatre, Blackpool from 22 to 26 November.