I Want My Mummy – 29 October 2019, Montgomery Theatre, Sheffield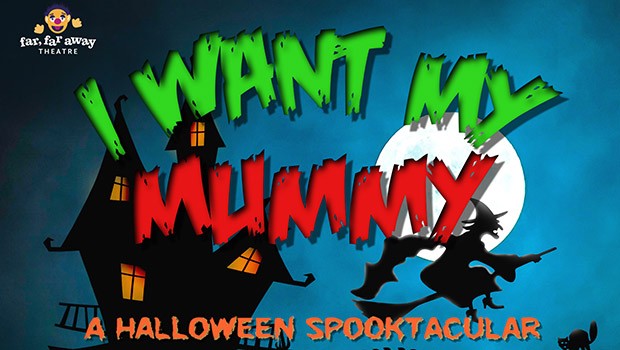 Review by Claire Chapman.
"For my first review and return to the theatre since giving birth to my first child, I not only chose a children's show but also one whose title I prayed was not a summary of my boyfriend's evening of looking after our baby daughter.
Promising to be a musical Halloween treat, perfect to entertain the whole family in the half term holiday, the production introduces the audience to Baroness Frankenstein, who has opened her castle doors to monsters of the world struggling to fit into society. Unbeknownst to her guests, the kind baroness is looking after the castle for a wealthy American widow who arrives unexpectedly to inspect the premises leading the guests to pose as servants and the audience to discover what could possibly go wrong.
From the opening tango (with a hint of Egyptian thanks to Geordie mummy played by Peter Holliday, reminiscence of I'm Alan Partridge's Michael) introducing the residents of the castle to the final megamix of Halloween themed songs from "The Monster Mash" to "Ghostbusters" via The Addams Family theme tune, which was the perfect mini soundtrack to any Halloween party, the show featured catchy numbers that were destined to become audience ear worms and fun choreography throughout.
My favourite performances of the night came from Steve Wainwright as Igor, who played the part superbly with sweet immaturity and school yard over enthusiasm and delight; and Denise Cooksey as the wealthy American widow Mrs Hoople, who had perfected the American accent and who played the role with just a hint of Bette Midler.
I must also praise two characters who got no where near enough stage time but shone when they appeared, the puppet narrator performed by Montgomery Farr who reminded me of Sesame Street's beloved vampire Count von Count; and Matthew Dabbs as the Werewolf, who possessed the best comic timing of the entire show, especially his fight sequence with Roger, The Invisible Man, played by Grace Dabbs; and give special mention to the final act, which put a whole new comedic and audience participation twist on one of the most well known horror fiction scenes of all time.
Jenna and Matthew Dabbs set reminded me of everything I loved about the sets of the ghost trains and haunted house rides of my childhood and the costumes, also thanks to Jenna, who also adapted, produced, directed, choreographed and played the lead of Baroness Frankenstein, for all the characters were great whilst also feeling easy to adapt for audience members for their own Halloween celebrations, apart from Roger, The Invisible Man, whose costume was so good not even the cast could see him.
I must also give a special mention to all of the children in the production, who were word, lyric and choreography perfect, with their natural talent shining throughout but at its very best when they had the stage to themselves without the adults, including in their outstanding musical number "My Dad's Scarier Than Your Dad".
I Want My Mummy was not only the perfect introduction to theatre for the children in the audience and an excellent alternative to trick or treating, well written, full of likeable characters, adorable children and hilarious halloween humour, but also the most family friendly, rather than straight child orientated production, I have seen by the company so far. Off the back of this, I can't wait to see how the company tackle Roald Dahl's Fantastic Mr Fox from 18 to 20 June next year and look forward to introducing my daughter to the company's shows when she gets a bit older.
I Want My Mummy will be performed at the Montgomery Theatre, Sheffield by Far Far Away Theatre on Wednesday 30 October at 1pm (with BSL signing) and 3.30pm and on Thursday 31 October at 11am and 2pm. To book visit https://themontgomery.org.uk/TheMontgomery.dll/Home
Founded in 2017, Far Far Away Theatre is a new Sheffield based, professional, family theatre company that aims to bring theatre to everyone. For more information visit www.farfarawaytheatre.co.uk.