Billy Ocean – 1 March 2019, Sheffield City Hall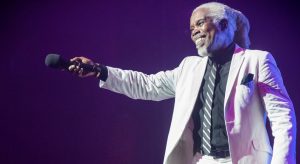 I'm happy to confess to being a massive fan of Billy Ocean since first hearing "Get Out of My Dreams, Get Into My Car" during my 1980s childhood so when tickets for his 2019 tour show in Sheffield went on sale I was one of the first to book.
The soul music icon and biggest selling black recording star Britain has ever produced, following his sold out tour in 2018 Billy Ocean announced a UK headline tour for Spring 2019, where he will perform the best of his greatest hits and favourite tracks. Due to phenomenal ticket demand nine new dates were added to the tour for March 2019, kicking off in Sheffield.
Opening the show for Billy Ocean and hyping the audience up for his set, was Amsterdam singer Sarah-Jane, who possessed an amazing voice and amazing hair and, with a hint of disco, should be checked out by anyone who loves Beverley Knight and female late 90s RnB singers. Though I will admit when her the drummer of her three piece band walked on stage, I was slightly nervous that we would have Rizzle Kicks as the support act.
However we were all there for the legend that was Billy Ocean and he did not disappoint with the voice, charisma, charm and dance moves (including his own unique version of the robot at one point) that would put the likes of James Browns 1970s live performances to shame. Focusing on his more upbeat numbers (though I don't think the audience would have allowed him to get away without singing his biggest ballad "Suddenly") he and his band (including a saxophone player, which is guaranteed to improve any concert for me and Billy own daughter amongst the three superb backing singers), Billy created a party atmosphere from the first note to the last, encouraging the audience to accompany him throughout and confirming he still loves every second of performing live and remains at the top of his game.
In terms of Billy's set list, by singing one of his biggest hits "Love Really Hurts Without You" early in his set, rather than other artists who may have left it to the encore, he got the entire audience on their feet early so by the time he reached my favourite everyone was joining in with his audience anticipation harmonies and dancing away; and whilst the likes of "Stay the Night" and "Loverboy" proved that he still has the power to seduce any woman in the room (with enough kiss selfies with women in the front row to prove it) one of his unexpected best numbers for me came from his moving cover of Bob Marley's classic "No Woman, No Cry" that turned into the powerful anthem of the night.
Are You Ready
Upside Down
Pressure
Nights (Feel Like Getting Down)
Love Zone
Love Really Hurts Without You
The Colour of Love
Stay the Night
No Woman, No Cry
Red Light Spells Danger
Suddenly
Loverboy
Get Outta My Dreams, Get Into My Car
When the Going Gets Tough, the Tough Get Going
Encore:
Caribbean Queen (No More Love on the Run)
With a sell-out audience of all ages confirming it, I highly recommend fans of Billy Ocean old and new go out of their way to see him perform live and will definitely not be disappointed when they do.
Although most of Billy Ocean's forthcoming UK tour is already sold out, tickets are still available for his shows on 4th March at the Cambridge Corn Exchange; 8th March at Plymouth Pavilions; and 11th March at De Montfort Hall, Leicester.
For further information on the legend that is Billy Ocean visit www.billyocean.com.