All My Sons – 27 February 2019, Sheffield University Drama Studio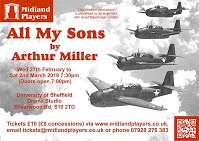 ***** It's been over two years since I saw Midlands Players perform but when I was invited to see the opening night of their production of Arthur Miller's play All My Sons it felt a good time to revisit the company.
First produced in 1947, All my Sons offers a powerful reflection on society and the impact of behaviours motivated by a lust for wealth, questioning the place of morality in a world where the selfish survive best and exploring the relationship between capitalist culture and human decency. The play views these issues though a family lens, considering the actions and impacts on individual families in a small community, challenging the audience to consider a redefinition of family to something beyond our own garden fences.
This is a superb professional quality production that made me wish I had returned to the productions of Midland Players ages ago. Ahead of the Old Vic in London and Broadway new versions of the production coming soon, this provided a chance to see a top quality production of the show at a fraction of the price, with it's cast, direction and set not being out of place in the planned major productions. As a play it should not be missed by fans of Arthur Miller's work or those like myself or are new to the work of the playwright.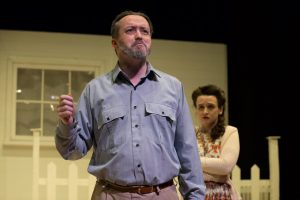 With the excellent direction of Ruth Deller helping to bring the very best out of them, the entire cast was outstanding, perfectly capturing the American accents, tone, body language, attitudes, emotions, passions and chemistries of the all-American, post war suburban families and neighbours and Arthur Miller's script.
Although I cannot fault any of the cast, I especially want to mention Joe Otten as Joe Keller who I see destined for a career in theatre and reminded me of and I can imagine easily having the same theatrical success as Matthew Kelly; Oliver Jenkinson as Chris Keller who would not have been out of place as one of the young advertising executives in Mad Men; Sabrina Celia Senior as Ann Deever who reminded me of a young Vivienne Leigh and with her natural talent and classic looks and posture would not be out of place in any staged or filmed costume epic; and newcomer to Midlands Players Richard Delroy as George Deever who reminded me of a young Christian Slater.
Behind the scenes I must especially praise everyone involved in their set design for their triumph recreation on stage of the classic American suburban home, complete with porch and front yard; everyone involved in costumes, hair and make-up for perfectly capturing the look of the era and helping to immediately transport the audience across the Atlantic and to the late 1940s as soon as the curtain opened; and the lighting team for not only perfectly capturing the changing day light but also for their superb lighting of Joe Otten and Oliver Jenkinson's monologues.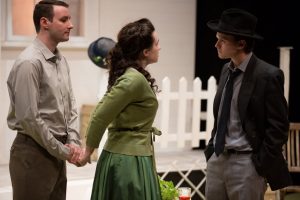 I left the theatre fully looking forward to seeing what Midland Players perform next and hoping that more companies in Sheffield tackle the work of Arthur Miller.
Midlands Players will perform All My Sons until Saturday 2 March at 7.30pm at Sheffield University Drama Studio. Tickets are £10 full price and £8 for concessions. To book visit www.midlandplayers.co.uk/next-show.
The Midland Players amateur dramatic society has been active in Sheffield for over 40 years, performing two plays each year in the University of Sheffield Drama Studio. Originally formed from Midland Bank staff, they are now an open group welcoming all comers. For further information visit www.midlandplayers.co.uk.