Dan Sealey from Merrymaker – The Interview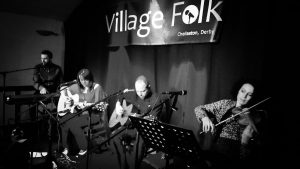 Following they're fantastic gig organised by Village Folk at The Lawns Hotel in Chellaston, South Derbyshire on 28 January, Dan Sealey lead singer of Merrymaker and former bass guitarist of Ocean Colour Scene (aka OCS) agreed to be interviewed for our website.
Me. How did Merrymaker come about?
Dan. We came about when Simon Fowler (OCS singer) decided we wanted to pursue our folky roots..but after 2 albums things became a bit political between Merrymouth (the group we formed) and the OCS camp, eventually making it unworkable, so myself and Adam decided to start afresh without Simon. We didn't want to stray to far from the Merrymouth sound so mouth became maker and here we are!
Me. You seem to have a lot of fun on stage, what's the funniest thing that happened to you as a band since you formed?
Dan. Funny moments go hand in hand with our performance style. We are mate first and foremost and the fun we have off stage just seems to find its way on with us when we play.. Think its become a really important part of what we do.. Couldn't pick one moment as there are just too many!
Me. "This is England" was inspired by a customer at your local pub, have you been brave enough to play it to him and if yes what did he think of it?
Dan. This is England is a song written through the eyes of 86 year old Roy who sits in the corner of our local pub keeping a bewildered eye on the comings and goings in the pub.. A comical chap too.. Myself and Adam look after him as much as we can.. We have made a video for the song which we are editing currently.. Roy is in the video although I'm not completely sure he knows what its for! He seems to like the song tho.
Me. Apart from Chas & Dave (we loved your song about Sundays and relationships) who are your musical influences?
Dan. We love bands that aren't afraid to think outside the box when subject matter is concerned.. i.e. The Kinks.. My dads band was called 'Cosmotheka' and were a big band on the folk scene playing mainly songs from the Music Halls.. Again some very funny songs.. so that was an influence too.. We also like harmony singers like the Everlys and Simon and Garfunkel.
Me. What was the best thing about being part of the 90s Brit pop scene and do you think the period still has an influence on your current sound?
Dan. Playing in OCS was a crash course in the dos and don'ts of surviving the music industry! A bumpy ride most of the time but an incredible experience.. I'd definitely say that the music influences our sound.. We produce and record our own music and I learned how to do that while I was with OCS so there's bound to be a bit of a crossover in styles.
Me. You have performed twice gigs twice now for Village Folk. Why do you believe organisations such as theirs are important for the music scene?
Village Folk is a non-profit making live music organisation specialising in folk and acoustic roots music in South Derbyshire, including organising monthly gigs including Merrymaker at The Lawns Hotel in Chellaston, South Derbyshire. For more information on Village Folk visit www.villagefolk.org, like them on Facebook at www.facebook.com/villagefolkgigs or follow them on Twitter at https://twitter.com/villagefolkgigs.