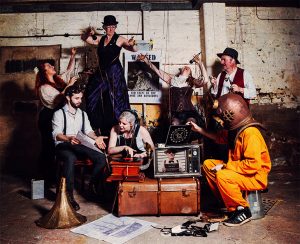 Steamchicken – Interview
Ahead of seeing one of my favourite live bands in recent years for a second time at Derby Guildhall on 23 February and the band performing twice in Sheffield over the next few weeks and to promote their new album Look Both Ways, which was released on 10 February, I was delighted to interview Steamchicken.
Me: Tell us more about Steamchicken included where the name came from?
Steamchicken: The name, as with any good band name, was decided in the pub after several pints! Steamchicken have been evolving for over 25 years as this mad, brilliant, rolling collective – and about four years ago, this line-up we have now started concocting something a bit new – this album is the result – some kind of theatrical folk/jazz/funk hybrid creature!
Me: What are you most looking forward to about performing in Sheffield?
Steamchicken: It's a home-town gig for most of the band, a Sheffield audience never disappoints. We've got all this flashy new stuff to play, Becky's got her golden Doc-Martins on, Amy's brought her cape, who could ask for more!
Me: Describe your new album "Look Both Ways" in five words?
Steamchicken: Folk, and yet – not folk.
Me: You have released five albums of content so far but for those new to you, which of the songs best sums up your sound and should they start with one of the songs containing the word chicken?
Steamchicken: We're proud of all the albums, but "Look Both Ways" is such sharp change of direction that's it's the one to start with, and the first one that Amy's sung on. If you just wanna dance – whack 'Jericho' on. If you wanna dance but you're lacking that greek-mythology in your life, try 'Foot-Falling'. If you wanna cry into your red wine and pretend you're in a bond film, try 'Gypsy'. We have a bastardised folk-song for every mood!
Me: One of your many multi-talented band members recently cut off her long hair for charity, were you worried she was going to have a Samson moment and loose her musical powers?
Steamchicken: We're all very proud of Becky, she shows us how to be good humans whenever we forget. She also takes music into Yorkshire hospitals with Brightside Music. And seeing as she is a goddess of wind, she could never lose her musical powers.
Me: You have a lot of fun performing on stage but what's the most fun the band has had together off stage?
Steamchicken: We couldn't possibly say! Our mums might be reading this!
Me: What's next for Steamchicken after your current tour?
Steamchicken: We'll be back into our little chicken coops with our writing pens and our instruments putting together the next album – then we get to come out and play! We've got a summer of festivals including Bearded Theory, Warwick, Maui Waui and Bromyard!
Me: And finally, apart from steamed, what are the band's favourite chicken dishes?
Steamchicken: Cover the children's ears, we're not cannibals! (We take our eggs in the AM with a kiss).
Steamchicken will be performing at Derby Guildhall on 23 February; the University of Sheffield on 24 February; Milton Rooms, Malton on 25 February, Shakespeare's, Sheffield on 2 March; a free gig at Drapers Bar and Kitchen, Coventry on 3 March; a sold out gig at Harbury Village Hall, Leamington Spa on 4 March; Trinity Theatre, Tunbridge Wells on 8 March; The Music Room, Maidstone on 9 March; The Slaughtered Lamb, London on 10 March; Arlington Arts, Newbury on 16 March; The Fleece Inn, Evesham on 17 March and Lister Hall, Chantry Centre, Dursley on 7 April.
For further information on Steamchicken, including to book for tour dates and to buy their new album Look Both Ways visit www.steamchicken.co.uk. Steamchicken can also be found on Twitter at https://twitter.com/steamchicken, Facebook at https://facebook.com/steamchicken, Youtube at https://youtube.com/gwsteamchicken, Instagram at https://instagram.com/steamchickenband as well as Spotify and iTunes.