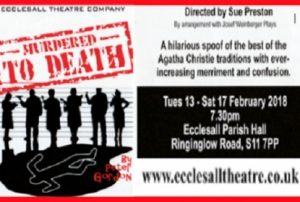 Murdered to Death – 13 February 2018, Ecclesall Parish Hall, Sheffield
As someone who loves both a good comedy and a good fictional murder, I was delighted to be in the audience for Ecclesall Theatre Company's production of Murdered to Death at Ecclesall Parish Hall, which promised to be a hilarious spoof of the best of the Agatha Christie traditions mixed with ever increasing merriment and confusion.
Set over one autumn weekend in a country manor house in the 1930s, the play follows a group of friends whose jolly house party turns out to be more disturbing, mystifying and farcical than they had expected.
The best performance of the night came from (in the Chief Inspector's very own words) the "idiot in charge of the investigation" Graham Millar as Inspector Pratt, borrowing his look from Pink Panther's Inspector Clouseau, whose hilarious insights into crime solving included "a great detective can spot a criminal from long range close up" and "you must always keep a cool, clear, empty head"; as well as sporting the second best moustache of show (read on to see who sported the best), he displaying a hilarious capacity at all times for not being a "stickleback for detail", misunderstanding, mispronunciation, clumsiness and comic timing that resulted in the biggest laughs of the night.
Other stand-out performances on the night came from Gerald Brown as Colonel Charles Craddock, who reminded me of a cross between Windsor Davies and the fictional pilot Biggles, whilst sporting a fantastic moustache and a stutter worthy of Open All Hours' Arkwright when under police integration; Gary Jarvis who brilliantly pulled off the dim, bumbling, aging, sherry drinking, axe wielding butler Bunting and whose drunk acting in the second half provided the best physical comedy of the night; and Meg Crook who, as well as having the most entertaining handshake I have ever seen, reminded me of Carry On actress Esma Cannon in her role as Joan Maple.
I must also mention the duo of Sian Butler-Walsh and David Cheetham, in their roles as glamorous snob full of backhanded compliments Elizabeth Hartley-Trumpington and wheeler-dealer, art forger, French accent mastering Pierre Marceau (reminding me ever so slightly of Nicholas Lyndhurst), whose acting talents shone through even more when they revealed their true identities; "old girl" Margaret Craddock played by Lyn Armstrong as the Colonel's wife who was not as innocent and obliging as she led the audience to believe and came into her own in the final scene; and of course Phil Ashton as the observant, straight-talking, cheerful, classic village bobbie, who even with a shot foot would probably have solved the murder far quicker if he had been left to his own devices.
As well as writer Peter Gordon and director Sue Preston for bringing this comic crime caper to life, I must also thank David Crook and his set team for the set which immediately transported the audience to the 1930s country house and I especially hope that whoever had to balance the plates on the picture rail did not have a fear of heights.
Murdered to Death offers up a very pleasant evening of laugh-out loud comedy, wit, sarcasm, farce, the odd murder and enough twists in its final scene tail to baffle all, that will be thoroughly enjoyed by anyone who enjoys a good old-fashioned English murder mystery, Ealing comedy or both; with Ecclesall Theatre Company continuing to prove their ability for presenting good quality productions of classic British stage comedies.
Murdered to Death will be performed at Ecclesall Parish Hall at 7.30pm until Saturday 17 February. Tickets are £7 for adults, £5 for children with group bookings buy six tickets and only pay for five. To book visit http://sivtickets.com/event/murderedtodeath.
Founded in 1938 Ecclesall Theatre Company are an established and flourishing amateur theatre company. They are a friendly and welcoming group with a good community following, aiming to produce drama of the highest quality for their audience. For further information visit www.ecclesalltheatre.co.uk.
P.S. If you only take one lesson away from this show, it is to always be wary of the elephant in the room getting to close to the fire.