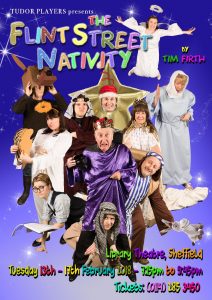 The Flint Street Nativity – 13 February 2018, Library Theatre, Sheffield
All good things come in twos, which is why for the second time in six days in February I was delighted to find myself in the audience for a comedy production about a nativity play, this time for The Tudor Players production of The Flint Street Nativity at Sheffield's Library Theatre.
The production focuses on Mizzis Horrocks' class of seven year olds, who are about to perform their nativity play at Flint Street Junior School for their proud mums and dads, and the occasional social worker. Myself and the rest of the audience discovered what happened when squabbles arose when Gabriel wants to play Mary, the Star grumbled that he's not a proper star like they have at NASA, Herod won't stop waving to his mum and dad, the subversive Innkeeper is determined to liven up the traditional script, and the stick insect escapes.
The cast perfectly captured the childlikeness of their characters, from their voices to their body language and attitudes, through a script whose lines could have come straight out of the mouths of babes ,with the stand-out performance for me on the night came from Charlie Russell as the Mary wannabe Gabriel, who fantastically conbined stroppiness, bossiness and attitude, summed up the vulnerably of child friendships (with Hayley Anne Sadler as the Angel and Andrea Howard as Wise Gold) and in her solo number "Away in a Manger" balanced beautifully her inner angel with her bigger inner devil and her green-eyed monster whilst Mary played the recorder and danced in the background; and John Fereday as Joseph/Herod who provided an ongoing, side-splitting one-man (or should I say one-boy) performance of a "Question of Sport" off stage and parental struck, line-forgetting stage-fright during the nativity performance itself (look out for his unintentional suggestive holding of the stuffed donkey); and the sweetly likable, naïve and very honest, junior Northern comic in the making Ass played by Phil Gascoyne.
Other stand out performances for me on the night came from Edwina Gascoyne as the goodie two shoes, teachers' pet Mary; Josh Cooper as the know-it-all star desperate to impress his father and uncle and got to end the nativity show itself with a science lesson in stars; and Charlie Gascoyne as the narrator who innocently tried to do her best amongst the chaos and a desperation not to let things get to her with a performance that almost let me forget she wasn't a child herself.
Up until the final scene, the only suggestion of an adult character was when the children spoke straight to the mythical Mizzis Horrocks at the back of the auditorium, but this all changed when the audience got to see the children's parents in the final staff room scene, with the cast members playing the parents of their child's character, and delivering a true insight into why both the children and parents are how they are and confirming that parenting is never easy for anyone but we all try our best in difficult situations; a scene that will leave all parents and future parents in the audience to think about their own parenting styles.
The songs throughout the show were cleverly comic re-workings of classic carols, sung brilliantly with child enthusiasm and purposely out of tune voices, through clever blends of the original words and new lyrics giving an insight into the characters feelings and lives, including Marcus Newman, as the Innkeeper's, solo in "Hark the Herald Angel Sings" which gave the audience an insight into why as the class bully he behaves as he does; Hayley Anne Sadler at the Angel's great impression of a child doing an impression of an adult in "O Little Town of Bethlehem"; Jenn Aspinall as the Shepherd sung "Why Shepherds Watch Their Flocks by Night" with a folk singer voice that revealed her character knew far more about life, biology, travellers and agricultural policy than a child should know; and the beautifully sung trio of "We Three Kings" performed by Andrea Howard,  Hayley Anne Sadler and Charlie Gascoyne.
However in a show of great musical numbers, the musical highlight for me was Phil as the Ass and Bill Darwin's as Wise Frankenstein's, cleverly musically arranged, rendition of "Ding Dong Merrily on High" which cleverly combined the Ass's list of what you can get away with when you're a donkey (offensive but very, very funny) with Wise Frankenstein's sweet account of what it's like to be a kid with a speech impediment.
As well as director Phil Gascoyne and musical directors Jill and Steve Hepple for their wonderful direction and musical arrangements, I must also praise Hansel D'Roza and Janet D'Roza for the oversize classroom sets and nativity costumes that added to the shrinkage of the adult cast to child size.
Combining laugh out loud comedy throughout with childlike fun and dark insights into the minds of kids today and why they grow up far quicker and know more than you expect, The Flint Street Nativity is the funniest play I have seen so far this year, which I would recommend to anyone who can remember what its like to be a child and is looking for an entertaining show to fill a cold February evening. Though I guarantee you will never be able to watch a nativity play in the same way again or hide the smiles from your faces. I left the theatre completely understanding why previous audience members of Tudor Players productions were desperate for them to revive this comedy gold.
The Flint Street Nativity will be performed at the Library Theatre at 7.15pm until Saturday 17 February. Tickets, priced at £9 for adults and £8 concessions, can be ordered by telephoning 0114 285 3450 or emailing tickets@tudorplayers.net.
A leading Sheffield amateur theatre company for over 50 years, Tudor Players, named after Tudor Way where the Library Theatre is located, present three full length plays a year. For further information visit www.tudorplayers.net.