The Proclaimers – 25 October 2015, York Barbican
---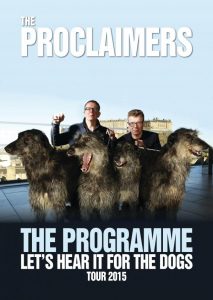 I would walk 500 miles to see The Proclaimers but luckily didn't have to as after missing them perform in Sheffield had the pleasure of being in the audience for this musically talented pair of identical Leith born twins, Charlie and Craig Reid at York Barbican yesterday evening.

From their lyrics such as "You can have a dog as long as it barks" (Lets Get Married) and "And if I haver, hey I know I'm gonna be. I'm gonna be the man whose havering next to you" (I'm Gonna Be 500 Miles), which are guaranteed to make me grin to the film musical based on their three decade career "Sunshine on Leith", my favourite British romantic comedy of all time, Craig and Charlie have earned their place in my comedic heart.
Support on the night came from Black Country born singer Pete Williams, best known for forming new wave soul group Dexy's Midnight Runners with an old school friend, but this evening focusing on his solo career with autobiographical songs and a sound that mixed Morrissey with early Bowie, supported by his new band including a very talented mouth organ player.
But the evening was all about the twins, featuring songs from across their 11 studio album career, including their most recent 2015 album "Let's Here It For The Dogs", and all but one of the songs that formed the film soundtrack, including every one of my favourites including "Make My Heart Fly", "Then I Met You" and "Over And Done With" as well as crowd pleasers "Letter to America", "I'm On My Way" and a certain song about walking a certain distance that got the entire sell-out crowd on their feet (apart from myself as my fear of heights kicked in from our seats on the balcony).
As an audience member it was clear the brothers love performing and their fans love them, with audience dedications read out loud, clapping and cheering and dancing in the aisles. Long may their performances and their fans love for their cheerful lyrics, joyful singing and enthusiastic performing continue.  
Missed them in both Sheffield and York, The Proclaimers tour continues at the Lyceum Theatre, Crewe on 27 October; Philharmonic Hall, Liverpool on 28 October; O2 Guildhall Southampton on 29 October; The Anvil, Basingstroke on 31 October; Regent Theatre, Ipswich on 1 November, St David's Hall, Cardiff on 2 November; Cambridge Corn Exchange on 4 November; O2 Shepherd's Bush Arena on 5 November; The Corn Exchange, King's Lynn on 6 November; Alexandra Theatre, Birmingham on 8 November; De Montfort Hall, Leicester on 9 November; Bath Forum on 10 November; and Dublin Vicar Street on 20 November.

P.S. On leaving the venue we over heard two audience members be shocked at how Scottish the Proclaimers are. Born, breed and living in Scotland for over 50 years does that to you in a great way.