STOS Theatre Company's "Legally Blonde" – 17 November 2015, Lyceum Theatre, Sheffield
---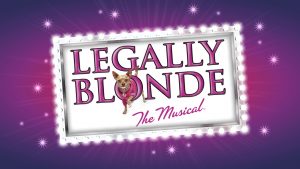 With theatre vouchers from my leaving gift from my old work place, this evening my boyfriend and I escaped into the fabulous work of all things pink, small dogs, beauty parlours, law school, perm advice, love and friendship as we sat in the audience enjoying Legally Blonde: The Musical, performed by STOS Theatre Company at Sheffield Theatres' The Lyceum Theatre.
Based on the romantic film comedy of the same name, this high energy musical was a hit on Broadway and in the West End, telling the story of sorority girl Elle Woods, who on being dumped by her college boyfriend, decides to follow him to Harvard Law School to win him back. With Bruiser under her arms she instead discovers new found confidence, friendship, good friends and that being blonde doesn't make you dumb.
Taking on Elle's role (performed by Reese Witherspoon on screen and Sheridan Smith in the West End to critical acclaim) is Abi Welgold. Her co-stars include Gina Townsend as her beautician/soon to be best friend Paulette Bonafonte, the two men in her life Warner Huntington the III "boo" and Emmett Forest "cheer" (played by Nick Plummer-Walsh and Richard Granger) and of course two four-legged stars (Bruiser played by Lola/Dora and Paulette's Rufus played by Odin/Murphy). 
The musical was written by Laurence O'Keefe and Neil Benjamin, who provided the brilliant music and lyrics, helping it win Best Musical 2011 at the Olivier Awards. This version is directed by Mark Feakins, alongside musical director Emma Magenty and choreographer Claire Harriott, the trio behind STOS Theatre Company's previous hit show Our House (based on the songs of Madness). STOS aims to produce and perform top musicals made by and for the residents of South Yorkshire and have been watched by over 15,000 people in the last three years alone.
Full of "clicks" and "bend and snaps", for me the show can only be described as "gleefully chirpy" (whilst never crossing the line into "annoyingly chirpy"). In particular praise must be given to Abi Weigold (who is destined to be a West End star), Helen Kempton as maid Judy (whose inner Julie Walters from "Acorn Antiques" shone through), Catherine Harban who nailed the look and attitude of Elle's love rival Vivienne Kensington and not forgetting the UPS man in his very tight shorts, performed by the brave Martin Scattergood.
Performing with crisp choreography (plus an Irish jig for good measure), I can guarantee audience members won't be able to get "Omigod You Guys" and "Gay or European?" out of their heads (I can't) and praise has to be given to several cast singing voices including Nick Plummer-Walsh (who was boy band material), Gina Townsend (especially for the track "Ireland") and two members of Elle's Greek Chorus, Heather Taylor and Rachel Hemstalk.
Performing at the Lyceum until this Saturday (21 November) tickets cost £12 to £23 and can be booked online here, on 0114 249 6000 or in person at the box office in the Crucible Theatre, and will prove the perfect cure to this weeks wet and windy Sheffield weather.
P.S. The show is also proof that you should never work with dogs (however cute they are they don't want to walk in the right direction) or skipping ropes.