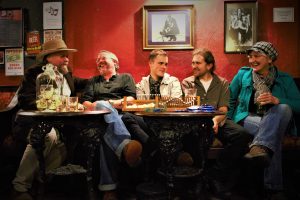 The Silver Darlings – Interview
When one of your colleagues is also a talented musician and a member of a great band with a new album recently released, you have to interview them, so I was delighted when my colleague Andy Whitehouse, singer, songwriter and guitarist in The Silver Darlings agreed to an interview.
Me: For those who haven't come across The Silver Darlings before, tell us more about the band, its members and how it came about?
Andy: The band is a metamorphosis from two previous line ups that have had personnel and some material in common, going back 20 years. I came late to gigging so it was only in my early 30s that a band called The Glorious stumbled together around my songwriting. Amongst others, that band included Lindsay Callaway on bass and Richard Masters on guitar. There are one or two songs we still do now that were born then. That band became Honey Barbara and continued to feature Lindsay Callaway who began to add backing vocals. After a hiatus when I ran a therapeutic arts project and venue that ate my life, The Silver Darlings emerged, and in time Lindsay came back and so did Richard. Sheffield gig goers will know Richard as the front man of The Bell Hagg Orkestar and he, like Lindsay is a gifted songwriter – they both have releases of their own to their credit. We have had a few comings and goings too. Now the band also features James Howe on cahon (his dad played accordion with the first line up of this band!) and keyboard player Harry Corps (my partner's son!) who also fronts indie band The Meadows, who you really should catch when you get the chance. Maybe the band works so well at the moment because there are so many people who write for themselves within it, so they understand that the song comes first. I always feel that the band are thinking about how to augment the song rather than how to showcase themselves.
Me: What can we expect from your new album Something of the Sound, released on Monday 5th March?
Andy: I think it sounds quite spacious, Keith Angel (percussionist with The Angel Brothers/Kate Rusby/Martin Simpson), is an amazing producer. He has a great ear for what a band is trying to create, and a great sounding studio to create it in at Wavelength in Doncaster. There are a lot of influences from the 60s in there and Keith really understands those sounds and textures. I think it is a confident album. I can't over-estimate the role that Paul Littlewood has played in encouraging me and the band from the point at which he invited us to be part of Anklebreka Records. It's down to him that it is such a confident sounding collection. I'd buy a used car off Paul – he has given me a lot of self-belief because of his love for what we do, and the thoughtfulness with which he has kind of curated us over the last couple of years. I feel like I have finally found the sound I was always looking for in terms of my guitar and voice. It feels really comfortable with the delay and the warmth of the Epiphone and the valve amp. The daft thing is that the guitar sound is almost exactly the one I had when I was making recordings in bedsit land in the early 80s – it has only taken me 30 odd years to get back to it – a slow learner!
There are all sorts of influences but it is quite lyric orientated. I saw a programme about French chanson and someone said that American popular music was a tune with words whereas French popular music was the other way about. I think we are closer to the latter. I only realised when I was collating the songs that they are short – nothing much over five minutes and several under four, even under three. Set the scene, tell the story, close it out! I wish I could write less literally than I do, be as vague as a Syd Barrett or Nick Drake or Laura Veirs, where you feel there is some internal code and iconography at work, but there isn't – they are just straight songs.
The band bring so much, Richard really stretches the sound out and adds sub plots to the stories with his guitar lines. Lindsay creates very sensual bass lines that draw you into the song, and the young guys, James and Harry, play with a sensitivity that always astounds me. Simon Joy is no longer in the band but his violin provides one of my favourite moments in the instrumental section of Freight, and Keith has added some perfect percussion – he plays like someone passing sand from hand to hand. Seriously slinky.
Me: What's your favourite song off the new album and why?
Andy: Hmmm… I haven't got a favourite. They are ALL favourites! I usually find the latest thing I am working on the most exciting. These songs have had a little life and been played live and evolved and so on. They are still changing now as they evolve with the live band. I think Thrown has the best poetry, I love the concertina on Almost Home, Star Of The County Down makes me laugh and I love the lead guitar. I like the ambiguity and rattle of the lyrics in the title track. Cherry Blossom is special because for once I felt I had really nailed what I wanted to say – and I got to play lead guitar for once. I'll be donning lycra strides before I'm done.
Me: What's the best thing about being part of the Sheffield music scene?
Andy: I don't really feel part of it to be honest! I'm pretty busy outside playing, so I don't really have time to do anything other than play and, to a lesser extent, promote. I'm making an effort to get out more as an audience member. I love the fact that there are so many people out there giving it their all because they love it rather than because it is going to make them rich or famous. There are some incredible artists who I would love to see gain greater recognition – I thought the last King Capisce album was extraordinarily good, and the likes of Matt Howden and Neil McSweeney deserve to be really treasured. If they came from somewhere else we would be gobsmacked by their soundchecks, never mind their performances. And then there is such a strong participatory folk scene alongside the gifted professionals that live here. I haven't even got as far as the Hawleys, Arctic Monkeys and all that stuff – lucky aren't we? Lots of great little venues emerging again too, with people promoting for the love of it. Grand!
Me: If you could collaborate with any silver (or not so silver) darlings from the music world, who would you choose and why?
Andy: I love working with the band as it stands, I'm excited by how we are developing. I always used to be very rigid and a bit intimidated by the idea of working with others, but I might be better at that now. Sieben aka Matt Howden and I have gigged a lot together over the last year or so, which has been a privilege. Matt has suggested some collaboration which would be great, but we are both super busy. I've got a real urge to do something with a full string section some time – maybe that will be what works out with him. The greatest musical experience I have ever had was spending the day playing with Chris Wood, who contributed so much to the arrangement of Cherry Blossom. To spend time playing with a master craftsman like that was a bit nerve wracking as I was well out of my depth, but I learned so much, and the song was so much better when we were done! I hope we get the chance to do that again some time. I couldn't have been more thrilled to work with Joni Mitchell or Jimi Hendrix. He was generous enough to invite me and Kate to join him on stage for a couple of number that night too. How good is that?
Me: One of the main things that appeals to me about your songs are your lyrics. How do you find your inspiration for them?
Andy: My sister asked me something similar once and I said something like it was because I was forgetting to think about all the things I should actually be thinking about! Anyone who works or lives with me for any length of time knows how absent minded and easily distracted I am. I just have images and words that swirl up to the surface of my mind from time to time, or a melody or rhythm suggests a phrase and away I go. I used to get bored of ideas very quickly, so if a song didn't get finished straight away it would get lost. I'm more patient now. I give them chance to emerge in their own time more often.
I guess there are certain themes that preoccupy me. A friend once said that one of the many paradoxes about me is that I am always writing songs with maritime metaphors yet live about as far from the sea as you can get in England. If I was a better writer I am sure I would be less predictable.
I wonder a lot about hope and optimism and how we summon them up when life can be so bleak and unwelcoming at times. I don't mean purely in the obvious world trouble spots, but just ordinary people coping with sadness and distress. People hang on to hope in such difficult circumstances sometimes. Almost Home is about how we manufacture hope, and how important the music and art that inspires us is in encouraging us onward.
The title track of the album came from buying a battered and slightly out of tune anglo-concertina. All the dinks and scratches and dirty marks fascinated me and made me want to know all the stories of the tunes that had been played on it, and who by and where. It struck me that with our own lovers we can be so jealous about that our partners' pasts, and yet in pretty much everything else those stories of past encounters are what attracts us to old guitars or old houses or whatever. I wrote the song on that very concertina, so my sweat and fingerprints are in there too now.
I'm a real loner in many ways, and yet I have a huge urge to experience connection with others and that conflict is there in some songs, and I suppose Cherry Blossom brings together loads of these thoughts with the theme of how you can feel such connection to an artist through their work, whether it's a Bill Evans or some anonymous cave painter using his hand as a stencil and creating a wave that travels through time and greets you.
Me: You work in the voluntary sector. Why do you think the sector attracts so many musicians and creative people?
Andy: I think artists of all kinds are looking to make a connection with someone, looking to communicate. There is a compassion there I find, a desire to enhance but also empathise and understand the experience of others, or reflect back to people their own experience. You know, how many times do you have that experience of hearing a song and thinking – that's me! I feel like that! It could be the same with a poem or a novel or a picture or whatever. The artist is offering and also looking for that empathy I suppose. So, jobs that provide opportunities to meet with people in the context of their own lives, rather than with some business orientated aim, are always going to appeal.
Me: What's up next for you both as a band and as a solo musician?
Andy: Well, I'm absolutely delighted that we are working now with Gail Cooke at Laughing Dog Music. I'm hopeful that this partnership will lead to being able to play to new audiences and make some new friends. All I want really is to get to a point where we can have an income that equates to our outgoings. If we can afford to make more albums and play more gigs without anyone being out of pocket, that would be plenty for me, but it might surprise people how hard it is to achieve. I've been out of action for nearly a year due to ill health, and our comeback gig is at Regather on the 28th April, with support from Sieben. I can't wait to play to people again. I'm not sure how much solo performing or recording I will do. I've just had open heart surgery and I'm supposed to be limiting what I do so I give my body chance to recover, so that might be a while away. Other than that, I'm already looking forward to completing the writing for and recording of the next album. I would love to do something that was orchestrated some time. I wonder if that will happen soon?
For further information on The Silver Darlings, including to purchase their new album and find out about forthcoming gigs visit www.thesilverdarlings.co.uk, like on Facebook at www.facebook.com/TheSilverDarlings, follow on Twitter at https://twitter.com/TheSilverD and download a digital copy of their new album Something of the Sound at www.thesilverdarlings.bandcamp.com.
The Silver Darlings will next be performing at Regather on Saturday 28th April and I highly recommend seeing them live. Tickets are £8 in advance and £10 on the door. To book tickets visit www.eventbrite.co.uk/e/the-silver-darlings-tickets-42601631627.