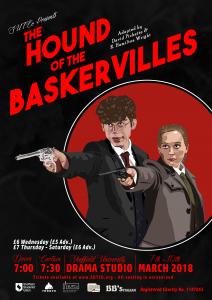 The Hound of the Baskervilles – 7 March 2018, Sheffield University Drama Studio
Although I love a good crime mystery, I must admit I'm not a Sherlock Holmes fan but that didn't stop me from being in the audience for the opening night of Sheffield University Theatre Company's (SUTCo) production of The Hound of the Baskervilles to see if they could change my mind about the fictional detective.
Called upon to investigate the death of a venerable landowner, the play follows the eccentric detective Sherlock Holmes and his stalwart friend Dr. John Watson as they are forced to confront a terrifying mystery. What could have frightened Sir Charles Baskerville to death? Is a curse truly plaguing the family? And will Sir Henry, heir to Baskerville Hall, be the next victim of a supernatural hound from hell? Holmes and Watson pursue the truth from 221b Baker Street, through the heaving crowds of Victorian London, and onto the windswept moors of Devonshire in Sir Arthur Conan Doyle's greatest, wittiest and most beloved adventure.
Of course I can't review The Hound of the Baskervilles without mentioning Sherlock Holmes, complete with deerstalker hat, and Dr Watson. Jake Bastable as Holmes combined a young Eddie Redmayne with the lack of social skills of Sheldon Cooper to portray the original know-it-all geek whilst displaying his wide range of acting skills when later he portrays the eager, enthusiastic Rev Desmond; whilst Caitlin Johnstone wonderfully  portrayed the intelligent, likable and eager both to please and to learn of Watson. Visible throughout and especially in the final moments of the play, the clear friendship and working relationship chemistry between Holmes and Watson especially shone through.
However my standout performances of the night came from Emily Bowles as Beryl Stapleton, who not only perfected the perfect stage faint, but beautifully played the frightened, haunted and desperate to be heard woman who appeared unable to resist Sir Henry's desire and in the finale proved she is definitely not what she seems; and Michael Saliba as Sir Henry (call me Hank) Baskerville, who had perfected the Canadian accent, charm and attitude for his fish-out-of-water role, as well as providing an entertaining impression of Holmes and Watson bickering.
Other cast members who highly deserve a mention, include Pippa Le Grand as both Mrs Barrymore / Mrs Hudson and Kate Alhadeff as Barrymore who balanced being put upon servants with a need to please and knowing more than their master believe; Alex Coscarella for his portray of the eccentric protective brother of Beryl and butterfly enthusiast; Katy Leigh as the authoritative, inquisitive and limp mastering Doctor Mortimer; Charles Upton for providing the best Devonshire accent of the night as Franklin, head of the rival family who believe they have the true right to the land; and Nora Murphy who pulled off a variety of roles but was especially memorable for her portray of the wild, escaped criminal Selden, including pulling off the classic black and white stripped prisoner uniform.
As well as thanking the production team of director Jack Cadman, producer Aaron Saint John and production manager Kane Lawrence for producing this superb production, I must also mention set designer Jack Hewitt for his clever use of screens and wallpaper panels to change locations; sound designer Conal Gallagher for the brilliantly timed harrowing howls; and light designer Simon Alford for his visualising of the hound's terrifying eyes.
The Hound of the Baskervilles might not have converted me to Arthur Conan Doyle, but this high quality production will appeal to fans of Sherlock Holmes, those new to him who are looking for a great introduction, or any theatre fans who enjoy a classic British mystery, that also manages to beautifully capture the class and urban/rural divides of Victorian England, with the strong cast wonderfully capturing the tone, respectability and, in the case of the Dartmoor located characters, the Devonshire accents. The show also continues to showcase SUTCo's talent to adapt successfully and effortlessly to a wide range of drama styles.
The Hound of the Baskervilles is on at Sheffield University Drama Studio at 7.30pm (doors open at 7pm) until Saturday 10 March. Tickets are £7 on the door and £6 in advance. To book in advance visit www.sutco.org/tickets.
The award winning SUTCo perform four shows a semester. There forthcoming shows are Memories of a Clockmaker from 18 to 21 April at the Railway Playhouse and Spring Awakening from 2 to 5 May at Sheffield University Drama Studio. For further information visit www.sutco.org.
Hound of the Baskervilles TRAILER

Hound of the BaskervillesWednesday 7th March – Saturday 10th March 2018University of Sheffield Drama Studio, Glossop RoadDoors open 7.00pm Curtain at 7.30pm £5 Wednesday£7 (£6 adv.) Thursday – Saturday Tickets available from sutco.org/tickets (NO LONGER AVAILABLE FROM STUDENTS' UNION BOX OFFICE).

Posted by Sheffield University Theatre Company on Monday, 26 February 2018