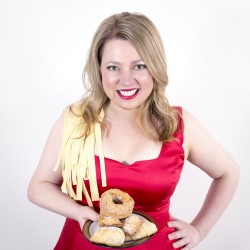 Interview – Michelle Pearson
One of our favourite shows from last year's Edinburgh Fringe was Michelle Pearson's Comfort Food Cabaret (see our review here), so when we spotted she was bringing the show, and her new show Just Desserts, back to the Fringe this year, we were delighted when she agreed to an interview.

Q. For those who haven't come across you before tell us more about yourself and your show Comfort Food Cabaret?

Michelle: My name is Michelle Pearson and I'm from Adelaide, Australia. I have been a singer for longer than I can recall – since I was a young child but now I also cook. A couple of years ago I decided to combine my passions for music and cooking and I created Comfort Food Cabaret, which is a musical piece that involves storytelling, cooking demos, personal recipes, lots of song and the best bit – people get fed.
Q. Why do you think there has always been such a strong connection between food, stories and music?

Michelle: I think that food and music of both mediums that connect people and move people. Many of my fondest memories involve cooking and singing with my grandparents so both things remind me of really joyful experiences and I think a lot of people feel the same. The combination of the three is also the ultimate dinner and show but taken to a whole new level. Dinner and show experiences were so popular in my grandparents era but they've lost popularity most likely due to cinemas, technology and other entertainment. I guess I'm trying to bring it back.
Q. Who inspires you as a chef and as a cabaret artist?

Michelle: I have always loved Jamie Oliver and Nigella Lawson. I love them for their rustic, home-style way of cooking and they don't appear to be pretentious. I'm more inspired by singers and performers of pop and rock which have very much influenced my style of cabaret. People like Chrissy Amphlett of the Divinyls, bands like Midnight Oil and Cold Chisel and then pop singers like Whitney Houston and Maria Carey.
Q. Are there any dishes or stories you had to rule out from your show?

Michelle: Definitely – I usually share everything so we don't hold back very much with stories (I am an over-sharer) but sometimes the dishes I love to cook at home are too difficult to replicate for large numbers. For example Gnocchi is almost impossible to do for 100+ people and make sure it's hot. With the help of chefs we can do anything but when it's myself and my assistant cooks it does get hard.
Q. What are you looking forward to most about cooking and performing at this year's Edinburgh Fringe?

Michelle: I'm looking forward to taking it all in this year – last year I found it a little overwhelming and felt a bit lost in a big space of talent and I was quite grief stricken as well after losing my father, my pop and my grandpa within five months prior to the festival. This year I really want to enjoy the experience and meet new people and explore a little more (especially explore some new restaurants) and leave my doubts and insecurities somewhere else. It truly is an amazing festival and I am very grateful to have another opportunity to attend.
Q. What food do you miss most from Australia when you're in Edinburgh and, the other way round, what Scottish foods are you looking forward to revisiting whilst at the Fringe?

Michelle: Last year I came home to Aus craving brocollini (obviously my body needed it) but usually I miss Vegemite. I can't wait to devour some Mexican from El Cartel when I arrive. Yum!
Q. When researching you, the only Michelle Pearson who comes up on Wikipedia is an Olympic swimmer, who is also Australian. If you could win an Olympic medal in any event which would you choose and why?

Michelle: Haha – I so wish I had the same presence as Olympic Swimmer – I'm actually quite a good swimmer. Does it have to be sporty? If so I'd say swimming as I'm not brilliant at other sports. If creating seating charts and putting up pull-up banners was an olympic sport I would be ready to take out the medal. I have worked in events for many years so it's something I'm pretty good at.
Me: What's coming up next for you after the Fringe?

Michelle: Well…. I do plan to tour a bit more throughout the year (most likely in Aus) but in all honestly I will be seeing how that goes as I am pregnant. Hopefully I can keep going up until the end of the pregnancy. By the time I get to Edinburgh I will be well into my second trimester so I'll do what I can after the Fringe but early next year Comfort Food Cabaret will have a new baby contributor.
Me: And finally, what would be your ultimate last supper, who would you share it with and what would the soundtrack be?
Michelle: It would have to be pancetta pasta – aglio olio style with chili and parmesan cheese shared with my husband Stuart and our our two dogs, Ralphy and Grundy. We'd be listening to a mix of Calexico, Cold Chisel and Norah Jones. It's our ultimate comfort food.
Michelle Pearson will be bringing her show Comfort Food Cabaret to the Imagination Workshop, Kings Hall, at the Edinburgh Fringe on 4, 6 to 9 and 11 to 13 August. For further information and to book visit https://tickets.edfringe.com/whats-on/comfort-food-cabaret.
In addition, Michelle will be bringing her show Just Desserts to Belly Button, Underbelly, Cowgate at the Edinburgh Fringe from 2 to 4 and 7 to 11 August. For further information and to book visit https://tickets.edfringe.com/whats-on/just-desserts.
For further information on Michelle Pearson visit www.michellepearson.com.au/.