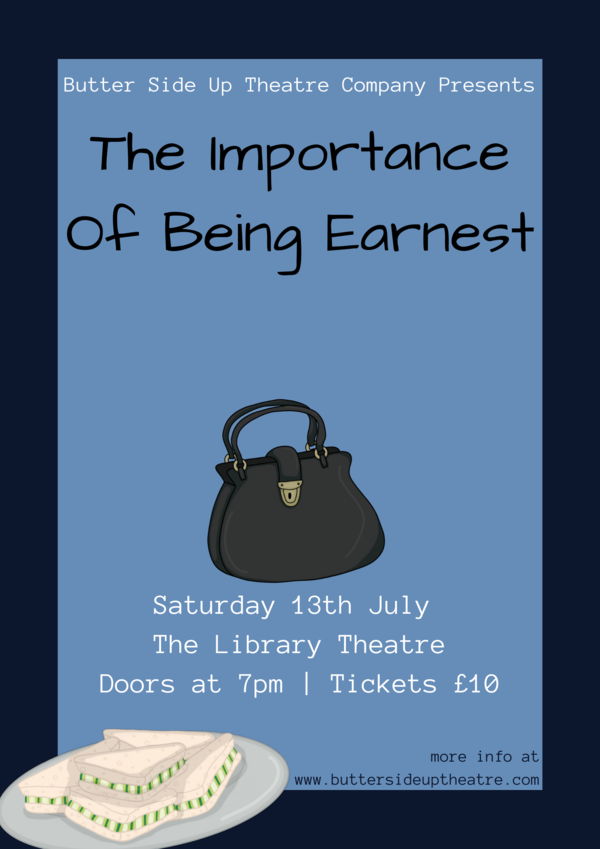 The Importance of Being Earnest – 13 July 2019, Library Theatre, Sheffield
Our reviewer Callam Fellows is having a packed weekend for the website reviewing two shows for us in 24 hours, but when the second company of the weekend, who we have supported from near the beginning, asked us to review their one night only production of The Importance of Being Earnest we could not say no.
The classic Oscar Wilde farcical comedy, set in late Victorian England, introduces the audience to Jack and Algernon, who both pretend to be Jacks' brother 'Earnest', a wild dandy. 'Earnest' is a concoction of Jack's that lets him lead a rambunctious life in London and go back to being respectable Jack when in Hertfordshire countryside. However, things become complex when he plans to marry Gwendolyn under the guise of Earnest, and Algernon finds out. Algernon borrows the 'Earnest' alias so as to infiltrate Jacks' countryside life and woo the lovely Cecilia.
"With most theatre groups wanting to leave their mark, Butter Side Up has this covered immediately with personalised stamps, printing their logo onto show goers' hands and leaving a good impression. It's a brilliant idea to advertise the company through word of mouth, as people leaving the theatre are likely to be asked why they have an image of a slice of toast on their hand.
Daniel Higgins set the tone of the show and relaxed the audience by prompting the first laughs of the evening with his character Lane. Lane is described as the "perfect pessimist" and Higgins plays him as such, presenting a long suffering servant with an evident cynical attitude. It felt a shame that this character does not return for Act II, but Higgins's comedic skills remain evident when doubling as Merriman.
I did detect some disappointment from some Ernest fans in the audience that the iconic line of "A handbag!?" was not announced with the same amount of shock and warble used by Edith Evans, and instead opted for a more matter-of-fact tone.
However, the show still offered a full cast of colourful characters portrayed by strong performers who succeed in executing Wilde's wit and delivering their lines clearly and charismatically. One of the most notable examples is Algernon played by Matt Skelton. Whether he is entering playing a recorder, meekly kicking a chair, or speaking through mouthfuls of cake and cucumber sandwich, he remains an eccentric gentleman who believes himself to be suave.
Becky Cleary and Heather Gibb shared great chemistry with each other as Gwendolyn and Cecily, bouncing off one another with backhanded compliments. I also send my praise to Sabrina Senior as Miss Prism for her deadpan delivery and remaining responsive to those around her, showing great facial expressions with pursed lips and raised eyebrows. Her relationship with Reverend Chasuble (Liz Lynch-Swift) would definitely garner Wilde's approval.
The costumes and furniture, arranged by Rhi Walker and Ellie "Airport" Madeira, suited the late Victorian period well and the scene change from Act I to Act II was a simple yet effective one. Congratulation to director Bethan Tanner, who has a clear understanding of Wilde's comedy. I regard this show as another success for Butter Side Up Theatre Company. I look forward to their next show, Bready or Not, a night of stand-up, and I eagerly await to find out what theatre production they plan on performing next. The suspense is terrible. I hope it will last."
Butter Side Up Theatre company is an amateur theatre group in Sheffield, specialising in original writing and collaborative works. It was set up as a group for those who wanted to enjoy theatre and performing in a fun and friendly setting. They welcome people of all levels of theatre experience, to get involved with writing, acting, directing, backstage, marketing and multimedia content, in a range of projects. Named after a running joke in Seussical the Musical, Butter Side Up is a fun but committed collection of people who want to create entertaining performances for the city of Sheffield. For further information visit www.buttersideuptheatre.com.