Karma Leon's Kabaret's Mischief – 1 April 2022, Picture House Social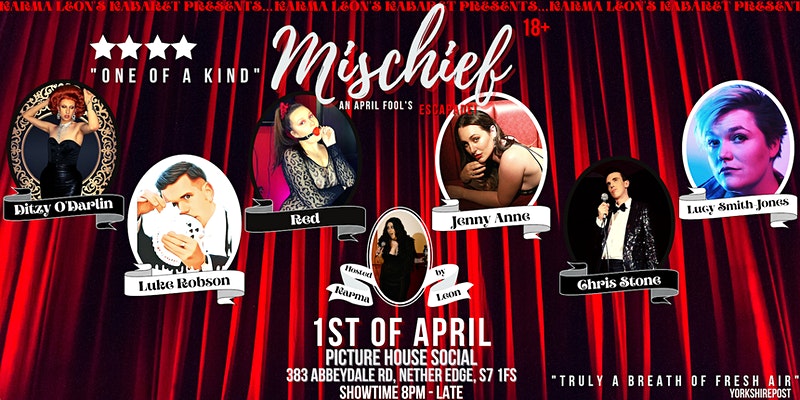 Review by Artisan Friendly.
For a raucous and riotous night of vivacious and varied entertainment there's got to be no place better to go in town than Karma Leon Kabaret's 'Mischief'. Featuring performers from a number of disciplines (burlesque, magic, drag, song, stand-up), there was something guaranteed for everyone in what Karma described in a confident and wickedly humorous introduction as a 'cabaret of oddities'. Dressed as 'deceased Cher', Karma promised to take us on a journey into hell. Taking place in a small 30 seat theatre, the explosive show could barely be contained.
Kicking off with Chris Stone, the audience was on side as he performed a playful rendition of 'Cheek to Cheek'. He certainly brought the sequin factor up by 1000% as both his black and gold jackets added further fizz, sparkle and pizzazz to his performance. Next up was Red who had a clever and amusing play on the tradition of 'striptease' and instead of undressing, got dressed and ready for a cozy night in bed with a cuppa. The audience absolutely loved the performance and instead of shouting 'get them off', cried with encouragement 'get them on, get them on'.
Magician Luke Robson displayed some deft technical skills both in terms of his ability at conjuring and also in the relaxed way he bantered with two audience members who were invited on stage to join in on a trick. In the second half of the show, he introduced his alter ego 'Marco Marcoletto'. Deeply orange of face, he was billed as having performed on all the stages from Monte Carlo to Skegness and Blackpool. His act? A man and dog performer without a dog (sadly deceased). He went through his routine as usual sans dog and the audience lapped it up! This was a wonderfully conceived piece of entertainment and comedy and was, for me, the highlight of the show.
Drag artiste, Ditzy O'Darlin treated us to two contrasting pieces which were full of attitude and swagger. She could have done with a larger stage as she burst out into the audience in a brave, no holds barred way. Lucy Smith-Jones who described herself as attracted to 'anyone who plays bass or looks like a heroin addict' provided some interesting commentary on gender and sexuality, especially bisexuality. In conclusion, Smith-Jones describes herself as 'technically pansexual'. Finally, Jenny Anne, after an entertaining preamble about bullying, blasted out
'Step into my Candy Store' from the musical, Heathers. So, you see what I mean by varied!
Throughout the proceedings, Karma kept the show together with their humorous and engaging interjections which had a natural flow and audience rapport, feeling both improvised and fresh. The venue was perfect for this piece of entertainment feeling both snug and intimate. The audience were so in support of the performers that they felt like part of the show. So, thank you for this 'Kabaret of oddities – weirdos…strangelings…people who don't fit in. It was a great night out!