Rik Carranza's Star Trek vs Star Wars – 25 January 2018, Leadmill, Sheffield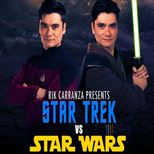 Being in a relationship with the former chair of Sheffield University's Star Trek society has turned me into more of a sci-fi fan than I can ever imagine, which is how I found myself with him and two of his ex-housemates at Rik Carranza's Star Trek vs Star Wars at the Leadmill in Sheffield on a cold January evening.
The audience were encouraged to prepare themselves for the ultimate showdown – Star Trek vs Star Wars, with geek culture colliding in the fight to see which is better, a galaxy far far away or the final frontier. Hosting this passionate, explosive and heartfelt panel show, Rik Carranza brings comedians from all over the country to this battle for sci-fi superiority. The comedy panel show promises once and for all to sort out which is better – Trek or Wars, Enterprise or Falcon, Kirk or Hans Solo? The panel enthuse, defend, debate – but the audience decide.
Representing Star Trek on the night was Red Redmond, a stand up comedian, comedy promoter and one of the UK's finest drag comedian's who has performed since 2008. Representing Star Wars was political comedian Chris Purchase, a finalist for What's On magazine's Best Comedian 2016, 2017 and 2018, finalist for the Laugh Factory's international joke of the year 2017 and recently picked to support Reginald D. Hunter.
As a relative newbie, I was more than happy to discover that the contents of the show could be thoroughly enjoyed by audience members with all levels of knowledge, providing multiple laugh out loud moments throughout via entertaining and well-thought out comedic debates, clips and enough cultural references to provide something for everyone, with the host and the shows representatives all performing strongly and being hugely entertaining in their own fabulous ways, and proving they were actual fans and not just doing the show to get a comedy gig. Also although there was audience involvement, there was no pressure other than to cheer for your favourite side, unless you were an absolute expert on one of the series (my boyfriend was delighted to get a question right in the final round that the panellists didn't) or looked like a cast or crew member.
On the downside, if you are not up to date on the latest Star Trek episode (we are an episode behind) you may want to hide in the toilets for the first few minutes of the final part to avoid spoilers. It's also worth planning your lonely heart advert in advance for a Star Wars / Star Trek character in case you don't have inspiration on the night (it's only when I got home that I came up with the text for Tilly and by then it was too late). The four people in the row behind us all walked out after the first act (everyone else stayed and had a great time), proof that if you are looking for a serious debate it will not be the show for you but if you are looking for a highly entertaining debate that doesn't take itself too seriously and is happy to make fun of what you love,  then I would highly recommend the show to you, comedy fans, geeks (on all levels of the geek spectrum) and sci-fans (and their other halves) everywhere.
Since bursting onto the UK comedy scene in 2009, Rik Carranza has built up a reputation as a solid act. As the only Scottish/Filipino comic on the UK circuit, his dual heritage gives him a wealth of funny stories from an intriguing perspective and experience. Engaging, likeable, sharp, and unique, Rik is rising the ranks fast. Rik has performed at the Edinburgh Fringe, making his solo debut in 2014 and is also the creator and host of Star Trek vs Star Wars, the comedy debate panel show that debuted at the Edinburgh Fringe in 2016, selling out most nights and, again, garnering great reviews. It has gone on to be performed at comic conventions and venues around the country. Rik has reached the semi-finals of the prestigious Scottish Comedian of the Year competition, the semi-finals of the Amused Moose in 2016, won numerous gong shows and has gigged across the UK (and beyond). For further information visit www.rikcarranza.com.
Rik Carranza will be presenting Star Trek vs Star Wars, not in a galaxy far far away but, at The Castle Hotel, Manchester on 30 January; the Backyard Comedy Club, London on 18 February; and Yesbar, Glasgow on 18 March. For further information on these and all of his forthcoming gigs visit www.rikcarranza.com/live.