Dick Whittington – 13 January 2018, Montgomery Theatre, Sheffield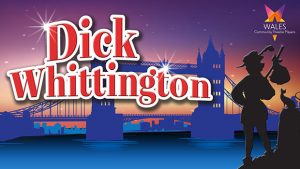 What a better way to start the New Year but with a pantomime, performed by the Wales Community Theatre Players, who provided me with my favourite pantomime dame of last year, and this year present the wonderful tale of Dick Whittington at Sheffield's Montgomery Theatre.
Promising to be a pantomime for all of the family to enjoy, the audience join Dick Whittington on his journey to London to see if the paths are paved with gold, helping him fight the villain Queen Rat and take a stormy ride on the ship Saucy Sally.
You know you are in for a good night when the audience is clapping along before the curtain even rises and that's what we got with this traditional and timeless pantomime performance that was performed and presented beautifully and was and will be enjoyed by audience of all ages and provided a delightful evening of entertainment.
The pantomime's old school humour, mixed in with a handful of local and contemporary references, made the entire audience laugh out loud throughout without the need to offend or result or adult humour, something many other comedians and comedy productions could learn from.
In terms of the pantomime's glorious array of musical numbers, the opening "Consider Yourself" showed off the wonderful ensemble, from very young children to those who have been performing with the company for decades; whilst the use of the "Open All Hours" and "Men Behaving Badly" theme-tunes took the adults in the audience back to their own sitcom gold.
The opening number of the second act confirmed "Go West" was confirmed as the song of this year's Sheffield pantomime season, with the cast and ensemble pulling off a performance and musical arrangement that would make the Pet Shop Boys proud; whilst "The 12 Days of Shipwreck" was a highly entertaining re-working of the traditional carol, though if you want to avoid getting wet 11 times by the two super-soakers, I suggest not sitting in the front right section of the stalls (lucky my notes for this review turned out to be waterproof).
It wouldn't be the Wales Community Theatre Players without a gorilla (or two) in it's singing bench scene, which ended with the "Benny Hill Show" moment of the night; before the "Pizza Hut" singsong took me back 30 years to when I was in the brownies, taking me sweetly back to my childhood and my first experiences of pantomime as a child.
Although I skipped the 3D glasses as they give me migraines, the 3D underwater scene went down well with those sitting around me and showed that the company is more than willing to move with the times and offer something different, whilst maintaining their sense of humour.
Standout performances came from Nicholas Challenger as Sarah the Cook who continued to prove to be my ultimate pantomime dame from the moment he started interacting with the audience in her very first scene to the penny sweet sketch in which he proved that she is able to recover and still display great comedy when the unexpected happens. Later on when the audience's children went on stage, including a former member of the company celebrating her 40th birthday, Nicholas not only proved he can handle a crying child but also showed off a figure that the majority of women would envy in a Union Jack sparkly slip dress that would give Ginger Spice's similar number a run for it's money.
I must take a moment here to congratulate the dame dresser Carly Challenger for all of Sarah's multiple costume changes, with my favourite of the night being the Tower of London dress, which even included the ravens.
Not looking old enough to have performed in pantomime's for 35 years, Alison Wade as Dick Whittington displayed a pure beautiful singing voice worthy of a professional theatre production in all her musical numbers and proves her love and talent for the art form only gets better and better, displaying great stage presence throughout.
In amazingly her first principal girl role in a pantomime, Hollie Riley as Alice Fitzgerald, not only perfected the joyful girl next door, fairy-tale love interest to Dick Whittington but in their duet displayed a lovely singing voice that perfectly complimented Alison's own. It was also clear that Hollie loves and has a talent for performing on stage and I look forward to seeing what she does next.
Joseph Baristow as Captain Kipper displayed an unexpected Gilbert and Sullivan worthy operatic voice in the sea shanty and throughout a booming town-cryer like voice that would make Brian Blessed proud; whilst Dave Froggart as the Sultan of Morocco perfected the accent and charm necessary for the role, whilst throwing in a pinch of Robin William's Genie.
Lynne Schofield as Fairy Bowbells provided everything you want from a traditional pantomime fairy, from the sparkly dress and wand, to a huge smile and perfect rhyming narration; whilst Ann Mann as the pantomime baddie Queen Rat let her inner Cruella De Vil and Disney Evil Queen shine through.
The friendship between Martin Crowther (who is the company's longest serving member performing with them for 50 years) and Philip Burgress as Billy the Blige Pump and Boris the Bosun shone through, with their comedy double act not having been out of place on "Sunday Night at the London Palladium" especially in their classic misheard comedy and the previously mentioned penny sweet sketch. Perfectly complimenting them and proving comedy double acts can be hilarious whatever their ages (although I wouldn't take maths or dating lessons from them, unless you want to dream of chocolate) were the younger Lee Philips and Dan Schofield as Sarah the Cook's sons Simple Simon and Idle Jack.
Last but definitely not least, I must mention Eve Rowles as Tommy the Cat, not only for her cuteness, perfect forward roll and sweet miaws, but for surviving most of the show on her knees on a hard stage,
In terms of the crew members, special mention should go to the wardrobe mistresses for the hundreds of costume changes, make up for all of the female ensemble's perfect buns, the chaperones for looking after all of the children between their scenes and, especially for the step ladder and inner tube, that led to the biggest laughs of the entire evening, John Cocker in props. But it's not just about the individual cast and crew members, as it was clear that the full cast and ensemble are one close, happy and supportive theatre family both on and off stage.
The Wales Methodist Pantomime Players was formed in 1945 by Roy Staniforth MBE, who at the age of 81 handed over the reigns of the company, including the role of panto dame/producer/director to his successor Nick Challenger. Dick Whittington is their 73rd pantomime. In 2017 they formed a new group, Wales Community Theatre Players, combining the efforts of their two previous groups Wales Methodist Panto Players and Wales Musical Theatre Company. For further information visit www.walesctp.com.
Dick Whittington will be performed at the Montgomery Theatre on Sunday 14 January at 12noon and 4pm, Thursday 18 and Friday 19 January at 7.15pm and finishes on Saturday 20 January at 2pm and 6.30pm. To book visit www.sheffieldtheatres.co.uk/whats-on/the-montgomery-dick-whittington/dates, telephone 0114 249 6000 or visit the Sheffield Theatres box office in person.