Message in a Bottle Monologues – 9 September 2022, DINA, Sheffield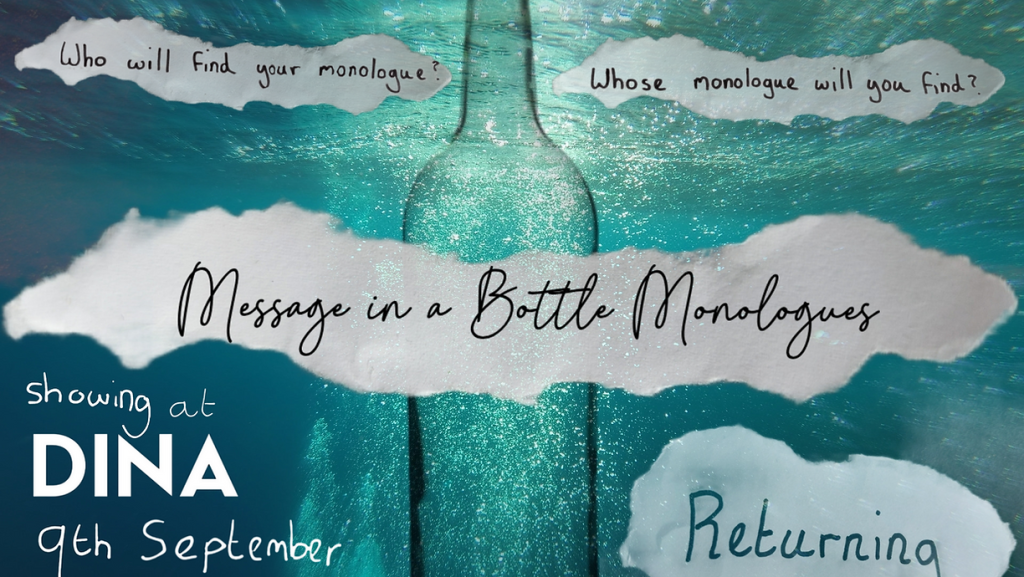 Review by Jacob Bush.
"After a sold-out show in the summer, Message in a Bottle Monologues returns to DINA with another eight monologues to show to a sold-out audience. The concept: eight writers have sent off a monologue and eight actors have received one to perform. The writer doesn't know who will be performing it until they appear on stage and the actor doesn't know who's written it until it's revealed after the monologue is performed.
Despite the venue's not particularly comfortable seating and less than ideal sight-lines, this was a very enjoyable evening showcasing some fantastic northern talent.
Alice Connolly, Ppoducer, returns to host the show. This time, she is joined by co-host Damian Luke McNeilly. The pair work well together and have a lovely warmth and rapport with the audience. They'd refined the way the show runs, making things a little bit slicker, and had come up with some creative ways of getting the audience to choose which message in a bottle would be delivered next.
This was very much the night of the super swing with many actors stepping in last minute to cover absences. The first of these was Gemma Windle, who opened the show with A Long Time written by Anthony Garbett. Windle's performance of Garbett's very relatable monologue was beautiful. The feeling of returning somewhere and thinking about how much the place has changed and how much you have changed is something most of us experience and can connect to.
Grace Halton's performance of Liz Buchanan's Your Dad's Other Child was great. Despite being a trained vet, Buchanan's writing is brilliant. Christy Fitzsimons' performance of Madeleine Tobin's monologue Those Damned Hazy Lines was lovely to watch. He played the hopeless romantic well and Tobin's words sounded almost like they were taken from a modern Shakespeare play.
Danielle Victoria's interpretation of Eve Connolly's Reflecting Back is a standout moment of the show. Victoria is an exceptional actor with her years of experience coming through clearly. Connolly's monologue is just outstanding. She also is very new to writing but she tells a beautiful story that, despite being fictional, feels completely raw and real.
Quiana Nicole is excellent in Lin Robinson's Finding Jane Smith. The character Nicole plays is wonderfully complex: likeable and well meaning, whilst still incredibly flawed and not always making the best decisions. Grace Fisher stepped in last minute to perform Can We Go Back To The Start?, written by Hannah Pamplin. Despite a lack of rehearsal, she gives a beautiful performance. As it was just a reading, the audience really focused on the words and the story being told.
The final two monologues were my personal favourites, providing a huge contrast to the previous emotionally heavy monologues. Damian Luke McNeilly stepped in two hours before the show to perform Returning by Matthew Weigold. From his performance, you would think McNeilly had always been supposed to do this. He is word perfect and completely hilarious. His comic timing and characterisation is impeccable. Similarly, Grace Fisher shows her versatility as an actor by giving a hilarious performance of One on Your
Own by Gemma Windle. It's a very personal monologue but packed full of laughs.
Message in a Bottle Monologues really is a great showcase of some of the best talent in and around Sheffield. Keep your eyes peeled for when the next one will be – there are even plans in the works to take Message in a Bottle on tour next year.