Woodseats Musical Theatre Company's The Wedding Singer – 13 July 2022, The Montgomery Theatre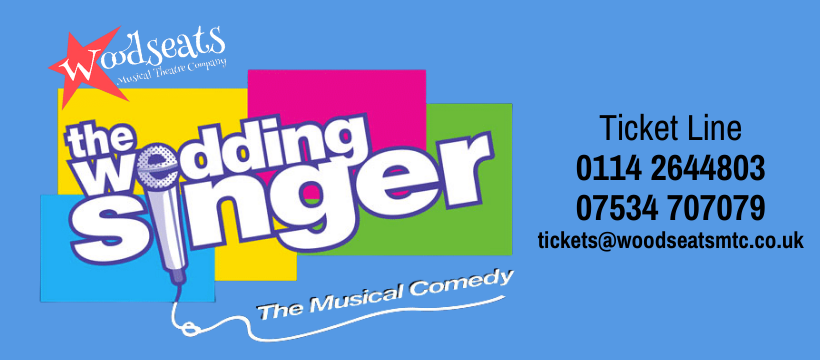 Review by Claire Chapman.
Doing what the company does best, after a three year break, of bringing feel good musicals to the Sheffield stage, Woodseats Musical Theatre Company's production of The Wedding Singer, could not have had better timing, providing the post lockdown party we all craved whilst slotting perfectly into the current 80s nostalgia of Kate Bush and Top Gun.

We sing our praises for Adam Walker everytime we see him perform (I get excited whenever I spot him in a cast list) as one of the leading performers on the Sheffield amateur musical scene and he continues to blow us away, from his opening number of "It's Your Wedding Day" that makes me want him to add Marty McFly to his musical theatre bucket list to his performances of the two songs everyone who knows the film were waiting for "Somebody Kill Me!" and "Grow Old With You", where if the audience had closed their eyes we would have thought Adam Sandler was in the room.

Adam also had great chemistry with all of the cast especially Georgina Hartley-Willows as Julia (not yet Guglia) which for me peaked and stayed their from their on screen connection during the shopping trip and musical number "Not That Kind of Thing". On the subject of Georgina, if she is not cast as Belle in the company's 2023 production of "Legally Blonde" with her onstage best friend cast mate Sarah Ward as one of her best friends I will be shocked as their obvious friendship and 80s pure pop princess voices, superb in "Someday/Someday" and "Right In Front Of Your Eyes", I will be shocked.

One of mine and I imagine many audience members favourite performances of the night came from the company's very own chair Mary Newey as Robbie's nan Rosie, whose wedding night talk and song and dance number "Move That Thang" with Boy George wannabe George, performed by Dylan Lambert, were two of my highlights of the show. Mary if you are happy to adopt me as my 80s Golden Girls wannabe nan I will happily move into your basement. Dylan's performance in the musical number "George's Prayer" also meant I couldn't help watching him rather than what was happening on stage.

From the production crew I must praise director Ian Walker, who brought his talent for direction and comedic timing from Tudor Players seamlessly to the musical stage and choreographers Amber Parry and Lily Abram whose choreography captured the period, with hints of everything from the robot and Thriller to Dirty Dancing and brought the very best out of the ensemble with the slick "All About The Green" routine.

The show, on at the Montgomery Theatre until Saturday 16th July, should not be missed by fans of musical theatre, the 80s, the original film or who like me are getting married in less than two months and wish we could book the wedding band "Simply Wed" to play at our reception.