Anatomy of Gray – 1 May 2019, Sheffield University Drama Studio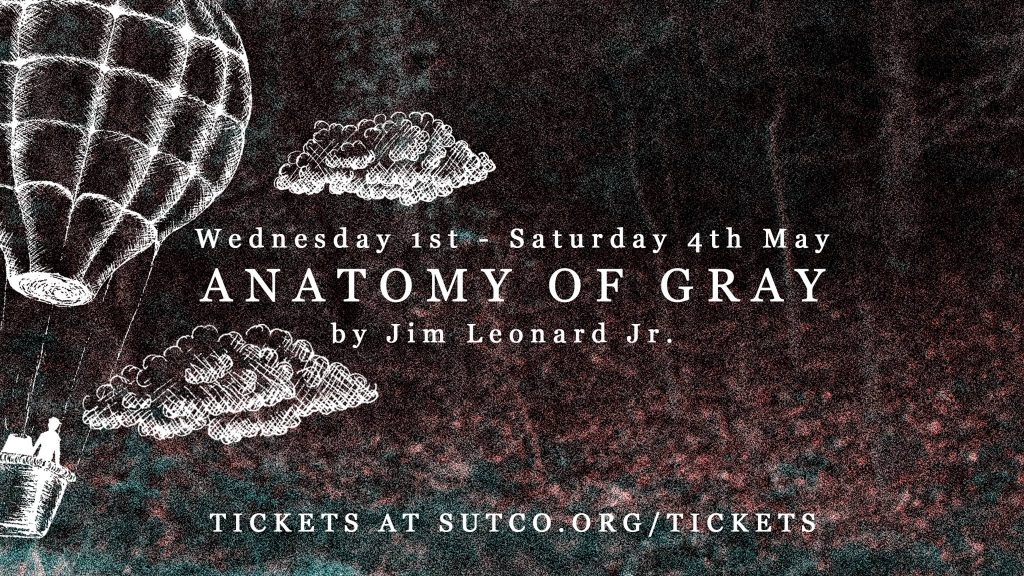 ***** Coming of age stories are something I usually associate with film and literature rather than the stage, so when Sheffield University Theatre Company invited me to the opening night of their final production of this semester, which promised to be a unique coming of age story, I was delighted to accept.
Written by Jim Leonard Jr, Anatomy of Gray tells the story of what happens when June's father dies and she prays for a healer to come to the small town of Gray, so that no one will ever suffer again. The next thing she knows, there's a tornado, and a man in a balloon blows into town claiming to be a doctor. At first, the new doctor cures anything and everything, but then the town is struck with a mysterious illness that begins to spread. Set in Indiana during the late 1800's, the play promises to deal with death, loss, love, and healing.
Powerful and intense theatre at it's best, this production is a superb finale to this semester of productions by SUTCo, not only wonderfully bringing to life the characters, accents, attitudes and passions of the residents of a small town Indiana in the late 19th century but with The National Theatre quality direction bringing the absolute best out of all of the cast, thanks to director Kane Lawrence, lighting and third wall breaking, which makes the production unmissable for all fans of top quality theatre in Sheffield and a superb showcase for the talents of all involved.
We are massive fans of the incredible acting talent of Matthew Bevan on this website and are running out of ways to express it, but his role as Doctor Galen P. Gray in this production is surely his perfect audition piece for The National Theatre, with the part feeling like it could have been written for him, as he is a natural as the charismatic, passionate healer, with a hint of 1800s America Doc Martin.
Isla Robertson as June Muldoon and Ellen Trevaskiss as her mother Rebekah Muldoon are perfectly cast both in terms of their excellent acting ability, but also in terms of looks and mother daughter chemistry with strong hints of Sophie Turner and Maxine Peake respectively in their performances that would make them easily interchangeable in their roles. And whilst Ellen's bump grew even quicker than my own, Isla delightfully portrayed in June as the classic All-American female teenage heroine up there with the likes of Little House on the Prairie's Laura Ingalls.
Other cast members I must give a special mention to include Will Turner as Pastor Phineas Wingfield whose performance possessed all the characteristics you would expect from an all-American preacher, and the sight of whom upside down in his satin bloomers will stay with audience members for a long time to come; and Xander Gillespie as the lovable, soda drinking, simpleton Homer, who instantly had the entire audience on his side and rooting for him to get his girl.
The cabaret style seating allowed the cast to interact and have improvised conversations in character with the audience before the production started and also gave the auditorium and saloon bar feeling. However cabaret style also means seating is very limited for this outstanding production so we recommend booking in advance and also if possible arriving early to sit at one of the tables nearest the front to get the very best view.
Anatomy of Gray will be performed at Sheffield University Drama Studio at 7.30pm until Saturday 4 May. Tickets are £6 in advance and £7 on the door. To book visit www.sutco.org/tickets.
The award winning SUTCo perform four shows a semester. For further information visit www.sutco.org.