Avenue Q – 15 December 2017, Sheffield Hallam Students Union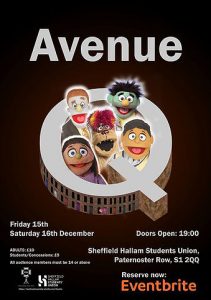 ***** As a fan of the Muppets, comedy and musicals, a few years ago I discovered that Avenue Q was the perfect combination of all three in one show, so I couldn't wait to see what HSU Theatre Company's production.
Avenue Q tells the story of a recent college graduate trying to find his way in the world. Set in New York City all the way out on Avenue Q (he couldn't afford anything better), the audience are introduced to fresh-faced Princeton as he struggles to find his purpose: meeting friends, finding love, losing love, and finding it again, along the way.
The Christmas music playing whilst the audience came in reminded us that there is not only 10 days until Christmas but only nine days until one of the show's characters Christmas Eve (more about her later) before one of the company dedicated the show to his late grandmother, who passed away a week a go and missing this wonderful achievement of a performance.
Alex Dickenson as Princeton was my stand-out performance of the night and proved himself as an amazing all-rounder, displaying throughout a Broadway worthy singing voice and fantastic stage presence, with his acting and puppetry skills so great you almost forgot Princeton was attached to him.
Georgia Gregory as Kate Monster and Max Marriott as Rod, were not far behind Alex, both brilliantly at one with their puppets and acting and singing with wonderful voices full of emotion, comedy and attitude. Amy Parker and Annie Bolstridge's interpretation of the Bad Idea Bears turned the puppets into weird and strangely cute devils we would all like on our shoulders; whilst Scott Walsh as Trekkie Monster captured his inner, giant Cookie Monster (but for porn not cookies).
All of the non-puppet lead roles also deserve a mention, including Rob Eagle as Brian who created a likable character we'd all love to be friends with and who we hope achieves his dream of a career in comedy and who had great chemistry with his on-stage fiancee/wife Christmas Eve, with Emily Capp pulling off the stereotypes of her Chinese therapist character with more than enough comedy, personality and heart not to offend; and Sammy Shaw as Gary Coleman, who captured the essence of the former television star despite having been way before his time.
The ensemble of Elliot Hunter, Elizabeth Rose, Pippa Inskster, Rachel Brittain, Natalie Brown and Melanie Hopkins most also be congratulated, not only for their puppetry skills with some of the smaller characters but also for their crisp harmonious voices and dancing skills, which were evidence from the opening number "The Avenue Q Theme".
Other musical performances in the show that deserve a special mention include "Purpose", which showcased Alex wonderful Broadway worthy singing voice and stage presence; and the combination of the great voices of the cast and ensemble, crisp choreography (thanks to co-producer/choreographer Christie Ivens) and fun musical arrangements (thanks to musical director Heather Richmond) that turned "Everyone's a Little Bit Racist" into a brilliant showstopping routine.
"The Internet is for Porn" wonderfully mixed the innocent West End deserving voice of Georgia with the hilarious, booming voice of Scott to perfectly highlight the show's mix of comedy and passion; before "Special" introduced the audience to Lucy the Slut, for who Lucy Smith-Jones brought out her inner Miss Piggy and Jessica Rabbit to make her entrance, before performing the number with attitude and successfully hit high notes.
In "You Can Be As Loud As You Want (When You're Making Love)" Sammy Shaw displaying a great soul voice un-distracted by Alex and Georgia proving that there is no sexual position puppets cannot achieve, before the number ended on a orgasmic high operatic note from Georgia; whilst "My Girlfriemd, Who Lives in Canada", showed off all of Max's great musical, puppetry and acting range.
"There's a Fine, Fine Line" was sung beautifully and with pure emotion by Georgia, turning it into the perfect break up ballad for people and monsters everywhere; before, continuing on the romantic note, "The More You Ruv Someone" provided a great showcase for Emily's operatic voice whilst maintaining her Asian accent.
Georgia, Alex and Thomas Hudson (as Nicky) gave a powerful and passionate performance of "I Wish I Could Go Back To College" way beyond their current student years; before "The Money Song", performed by Thomas, Alex, Rob and Emily, turned into a jazzy, showbusinessy number that all charities should employ, and even led to me getting poked by Princeton at one point, whilst he was interacting with the audience.
I most also praise the set crew of Joseph Hanley, George Faulke, Hannah Henley and Lauren Gibney for the set, which perfectly captured Avenue Q with mismatched doors, a battered dustbin, a New York phone box and the residents laundry hung above the audience heads, including some hot pink g-strings, which I presume belong to Lucy the Slut; and Joshua Gregory for the lighting, especially during Princeton's nightmare at the end of Act One.
I cannot praise HSU Theatre Company enough for this production, which proved that students and puppets can work together, with the company pulling of a professional production that brilliantly captured the characters, comedy, charm, music and friendship that the show is all about. I am thrilled that this is the final production I am reviewing before Christmas, can't wait to see what the company offers next year and love that a new generation of students has been introduced to the show's side-splitting comedy, fantastic songs and amazing characters, and that at least some of them may end up spending time living on Avenue Q.
Avenue Q is on at Sheffield Hallam Students Union until Saturday 16 December. Tickets are £10 (£9 concession). Please note that there is no admission to under 14 year olds. To book visit www.eventbrite.co.uk/e/avenue-q-tickets-39590328739?aff=erelpanelorg.
For further information on HSU Theatre Company including their forthcoming shows visit https://hsutheatresociety.wixsite.com/theatre.
P.S. Big Bang Theory fans should watch out for a lovely "Soft Kitty" moment between Georgia and Max.