Paul Heaton and Jacqui Abbott – 9 December 2017, FlyDSA Arena, Sheffield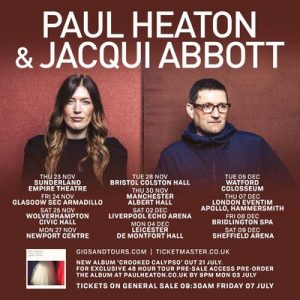 It's becoming a bit of a tradition for me to spend one of the first Saturday's in December at an amazing music gig at FlyDSA Arena and this year was no exception with Paul Heaton and Jacqui Abbott, whose back catalogue between them includes solo and duo albums and two of the UK's greatest bands, The Beautiful South and The Housemartins.
Supported by The James Hunter Six, this evening marked the final date of their 2017 tour, which coincide with the release of Paul and Jacqui's third album as a duo Crooked Calypso.
The set list, including two encores, for the evening combined all aspects of Paul and Jacqui's musical careers, from much loved to forgotten classics and wonderful new discoveries.
The Lord Is a White Con
Moulding of a Fool
Five Get Over Excited
The Fat Man
Rotterdam (Or Anywhere)
The Austerity of Love
Sheep
I'll Sail This Ship Alone
He Wants To
I Don't See Them
Liar's Bar
She Got The Garden
Me and the Farmer
DIY
Old Red Eyes Is Back
Perfect 10
I Gotta Praise
Don't Marry Her
Good as Gold (Stupid as Mud)
You Keep It All In
Encore:
A Little Time
Happy Hour
Encore 2:
Song for Whoever
Caravan of Love
The set from the James Hunter Six combined great vocals, lyrics and style and my two favourite instruments, the double bass and not one but two saxophones, to transport the arena back to a 1960s Soho nightclub with added rock and roll and just a hint of ska.
But the evening was all about Paul and Jacqui, and they didn't disappoint and even threw some giant streamers, gold glitter and indoor fireworks in for good measure, though at its heart what the entire audience enjoyed was a great performance full of great lyrics that can't help to make you smile and singalong (even after the gig on the packed tram back into Sheffield the passengers managed a singalong of "Caravan of Love".
Paul, an unlikely pop star in the traditional sense but loved even more by the audience for this, combined a great singing voice, impressive mouth organ playing, his own unique dance moves and wonderful banter, looking like he was loving every minute on stage as much as the audience were loving every minute of his and Jacqui's performance.
The audience could hardly tell Jacqui was struggling with a sore throat, though helped her out when it came to singing along "Rotherham (Or Anywhere)", "Don't Marry Her" and "Song for Whoever". Whilst her performance of "DIY" showed off her fantastic British country and western singing voice to it's full potential.
I must also mention Paul and Jacqui's outstanding backing band and the obvious friendship between them, right down to Paul introducing the band members not as themselves but as the celebrities they had drawn in the "I'm a Celebrity…" sweepstake.
Stand out songs for me included "The Austerity of Love", which remains my favourite song from their albums as a duo and was wonderful to hear live; the full audience singalong of "Perfect 10", which continued for the rest of the set; the jazz arrangement feel of "A Little More Time", the remix and vocal arrangements on "Song for Whoever", which Jacqui brilliantly took the lead on; Paul and Jacqui's entertaining dance moves during one of the best songs of all time "Happy Hour"; and the gospel choir-like feeling of the very last track of the evening "Caravan of Love".
I left the amazing night of feel good music with the important lesson to remember of carrying on regardless and desperate to order "Crooked Calypso" on vinyl.