Babes in the Wood – 17 January 2019, Montgomery Theatre, Sheffield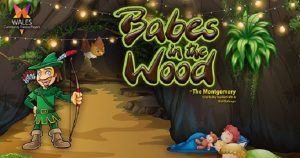 Christmas might be behind us but panto season is still in full swing in Sheffield so we were delighted that the first show we reviewed of 2019 was the rarely performed but delightfully told panto story of Babes in the Woods.
Performing by the Wales Community Theatre Players, the audience join Robin Hood on his quest to rescue the Babes in the Wood and win Maid Marion's heart along the way, accompanied by everything audiences love about traditional pantos, including hilarious comedy, uplifting songs and superb family entertainment.
Principal boy Alison Wade as Robin Hood possessed wonderful stage presence, stunning vocals and the likability and acting ability required for the role that would not make her performance out of place in a professional panto, as well as beautifully sweet chemistry with Toni Cook as Maid Marion, who channelled her inner modern Disney princess to portray Marion as a character any girl in the audience would aspire to be, with the Disney princess singing voice to match.
It might be Joseph Bairstow's first year as a panto dame but he proved as Daisy Dumpling that he is well on the right path to great panto damehood, adding youthful naivety to the role, as well as pulling off the essential laugh out loud comedy, connection with the children in the audience and the over the top frocks, with his best of the night being the cheese burger and chips, complete with ketchup shopping bag. Highlights from Joseph's performance included my favourite ever Dame / gorilla chase in a panto; alongside Paul Burgess as Georgy Porgy; and the funniest ever rendition of "Old McDonald" I have ever seen.
My other stand out performances on the night came from Cohyn Wilks and Alana Habergman-Rice as the babes Jack and Jill who both possessed natural and wonderful confidence, attitude, stage presence and comedic and acting talent for children so young as well as wonderful chemistry that would make you believe they were brother and sister in real life.
The other stand out comedy performances for me came from Ann Mann as Milly the Maid who performed the man-obsessed geriatric maid with heavy hints of Sue Pollard; and Martin Crowther as Rascally Richard and Philip Burgess as Dirty Dick, Sheffield's very own version of Little and Large and either of which could happily take over from the Chuckle Brother we sadly lost this year.
Of course a panto would not be a panto without someone to boo, and although Nathan Kennedy portrayed Prince John with rat like smugness, it was Shaun Bradley as the Sheriff of Nottingham who shone, proving he could turn his talents to any villain pantos have to offer with a balance of charisma, fairy tale wickedness and just enough likeability, whilst not letting his sore throat get in his way.
I must also mention the ensemble, who were not only one of the largest and most enthusiastic I have seen on the Montgomery Theatre stage, but also the most wide ranging in terms of ages, proving the company appeals to people of all ages both on and off stage.
Produced by Nick Challenger and directed by Ashley Booker, this production of Babes in the Wood is traditional family pantomime at its best, with wonderful performances from all, a wonderful script by Nick and the late Roy Staniforth MBE, uplifting musical numbers and dance routines perfectly accompanied by a live band arranged by musical director David Burgess and choreographers Jess Lyons and Sam Walker, hilarious verbal and slapstick comedy that will appeal to adults and children of all ages, lots of gentle audience participation and multiple costume changes.
My favourite musical number of the night was the snow filled finale to act one "Once Upon A Time", with both Alison and, as the Greenwood Fairy, Lynne Schofield channelling their inner Elaine Paige, supported by crisp and beautiful backing vocals from the ensemble; closely followed by the innocent childlike singing adding the beauty of the lullaby "Hushabye Mountain".
This is also the only panto in Sheffield offering audiences the classic 3D glasses experience which the audience thoroughly enjoyed and was used to great success to bring the classic singing bench experience into the 21st century.
Babes in the Wood will be performed at the Montgomery Theatre, Sheffield on Friday 18 January at 7.15pm and on Saturday 19 January at 2.30pm and 7.15pm. For further information and to book visit http://themontgomery.org.uk.
The Wales Methodist Pantomime Players was formed in 1945 by Roy Staniforth MBE. In 2017 they formed a new group, Wales Community Theatre Players, combining the efforts of their two previous groups Wales Methodist Panto Players and Musical Theatre Company. They continue to perform this, their annual pantomime each January at the Montgomery Theatre and now sell out almost 4000 tickets over the run. For further information visit www.walesctp.com.
P.S. Although personally I could happily have done without the Tellytubbies scene, I'm impressed by how quickly the "Baby Shark" song has made its way into the panto spectrum, though I did have its lyrics and actions stuck in my head all the way home.