Betty Blue Eyes – 21 March 2017, Montgomery Theatre, Sheffield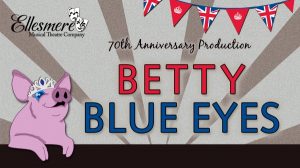 ***** Regular visitors to this website will know that we love Alan Bennett, musicals, comedy and local theatre companies so there was only one place we were going to be on the opening night of Ellesmere Musical Theatre Company's production of Betty Blue Eyes, in the audience at the Montgomery Theatre.
The comedy musical, based on the 1984 Alan Bennett film A Private Function, is set in post war Britain where belts are tightened and the country's long suffering citizens are being told that there will be fair shares for all in return for surviving Austerity Britain.
The show centres on a sweetly hopeless chiropodist and his waspish, socially ambitious wife, who is certain he could do better for himself if he only had the gumption, and a greedy set of self-important local councillors want to celebrate the upcoming royal wedding of Princess Elizabeth and Prince Philip with the best pork from unlicensed pig Betty Blue Eyes, being reared illegally to grace the table, leading all of the audience to want to know if Betty will survive.
The musical superbly captures the language of Alan Bennett and the style, posture, dancing, singing and elocution of the 1940s perfectly alongside brilliant casting and one of the strongest ensemble's I have seen on a Sheffield stage. Stand out scenes for me included the flashback night club scene in act one with the tragic ending, brilliantly choreography and beautiful harmonies from the Lionheart Trio (Alice Goldsbrough, Christina Rice and Gillian Deutsch), and the farce opening scene of act two.
Although it was impossible to fault any of the cast particular credit needs to go to Helen Kempton as Mother Dear of "She's 84" fame who had the stand-out comedy performance of the show and had perfect comic timing throughout; Keeley Kilby as her daughter Joyce Chilvers who demonstrated her West End worthy singing voice and proved that she was definitely a somebody, not just when "sexual intercourse is in order"; Matthew Walker as her chiropodist husband Gilbert Chilvers who continued to prove that he is one of the best and most adaptable actors on the Sheffield stage and perfectly captured the tone of Alan Bennett; Steve Mather who's portray of Ministry of Food Inspector Mr Wormold was part panto baddie, part Allo Allo and part Grange Hill's Mr Bronson; and Neil Kirkman as Henry Allardyce who sweetly took animal loving to a whole new level.
Other cast who deserve an individual mention include Francesca Bray, who puppeteered Betty with emotion and brought her to life; Carol Wibberley as Mrs Metcalf who showed how seductive a butcher's wife can be; Sue Clayton as Mrs Tillsbrook who in her own number "It's An Ill Wind" joined Keeley Kilby in showing off a West End quality voice as well as her inner Cruella De Ville; Cristina Rice who channeled her inner Just William' Violet Elizabeth in her part as Veronica Allardyce; and last but not least Antonis Santos-Cropper who played Princess Elizabeth with royal dignity and grace.
Stand out songs include possibly the only two to have ever been written about chiropody and loving a pig "A Place on the Parade" and "Betty Blue Eyes"; the anthems for Britain both in the 1940s and now "Goodbye Austerity Britain", "Fair Shares for All", "Another Little Victory" and "Since the War"; "Confessions" whose courtroom style perfectly wrapped up the story; "Nobody" which showed as a singer Keeley Kilby definitely isn't, and "Pig! No Pig" that showed Helen Kempton at her very best.
But it wasn't just about the singing, praise needs to go to director and choreography Jeremy Justin and all of the ensemble for the crisp and professional accompanying dance routines throughout and especially during "Upholding the Law", "Nobody", "Betty Blue Eyes", "Lionheart" and "Another Little Victory". Although all of the crew did an amazing job supporting the show, I also need to especially mention the Musical Director Gavin Usher and all of the band, the stage and props team especially for the cleverly moulded spam and the hanging foot and for taking care of Betty off stage; and wardrobe, wigs, make up and hair for capturing the look of the 1940s and coping with some very quick changes.
Celebrating its 70th anniversary this year, Ellesmere Musical Theatre Company perform an annual musical plus a performance of show stopper tunes from musicals at the Montgomery Theatre, Sheffield. For further information on Ellesmere Musical Theatre Company visit www.ellesmeremtc.co.uk.
Betty Blue Eyes is on at Montgomery Theatre, Sheffield at 7.15pm until Saturday 25 March, with an additional matinee performance at 2.15pm on the Saturday. To book visit www.sheffieldtheatres.co.uk/whats-on/the-montgomery-betty-blue-eyes/dates.
P.S. Hang around until after the encore to see what Mother Dear does to poor Doctor James Swaby (David Jefferson).