Neighbourhood Watch – 5 April 2017, University of Sheffield Drama Studio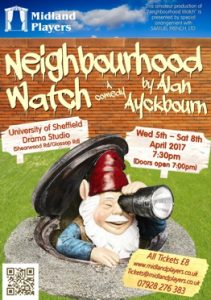 I have never had the desire to join a neighbourhood watch but that doesn't mean that I didn't have the desire to be in the audience for the opening night of Midland Players performance of Alan Ayckbourn's 2011 dark comedy Neighbourhood Watch at the University of Sheffield Drama Studio.
The play questions what might happen in this age of austerity and policing cuts, when the 'forgotten middle' feel neglected, their garden ornamentation is under threat and a properly worded sign is not enough, and what might happen when the friendly neighbours turn out to include an expert in medieval punishment, a (possibly) ex-forces man, a sex siren and a very normal, middle-aged and middle-England brother and sister?
When siblings Martin (John Lowry) and Hilda's (Jan Wright) peace in their new home is shattered by vandalism, they well-intentional form a Neighbourhood Watch committee with their eccentric neighbours. However the situation deteriorates as their actions escalate, and nobody knows where to draw the line.
In a play where the main action is either off stage, comes from a gnome grenade or from a circulating police helicopter (thanks to the sound skills of Tony Kennick and lighting skills of Ed Daniels and Ruth Deller) praise needs to go to Phil Ashton as Rod Trusser for bringing the main comedy to the piece.
I can let the play off for the occasional opening night forgotten or stumbled line and forgotten stage direction and will call upon Jan Wright and John Lowry if ever need a speech given but other than that in a case were for the most part it was hard to see if they were acting extremely well or just playing a slightly more stereotyped version of their own personality, though everyone upped their acting game in the second half, by far the strongest and most outstanding acting talent came from Emma Kenny-Levick as seductress Amy Jenner and the abusive relationship of Lucy Alice Jepson and Steve Martin playing Magda Bradley and Luther Bradley (a character who lived up to his first name). Off stage praise must go to Malik Refaat for his clarinet music, supposedly performed in an unseen room by Alice Jepson.
Overall for me the satirical play was the play equivalent of the Daily Mail (for me definitely not a good thing though seeming to go down well with most of the middle class, middle aged audience) highlighting neighbours and relationships from hell and a society I hope (but am no longer entirely convinced) this country will avoid turning into. As an audience we also got an unexpected guide to medieval torture instruments and a last minute lesbian storyline, which I'm not sure were entirely needed, though it would have been fun for Emma Kenny-Levick to take her bow painted and feathered.
However in the words of the director Phil George: "It was very funny, satirical and contained some important messages and insularity, hypocrisy, the need for communication and understanding, and perhaps even about populism…It also contains important reminders for people of any faith or no faith that our actions should match our words and principles, we shouldn't be distracted by fear of the unfamiliar, and we should always be asking 'is this the right thing to do?'", an opinion which on some levels i am happy to agree with.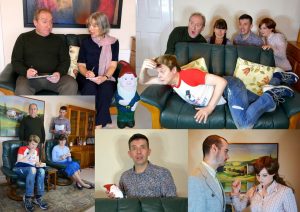 Neighbourhood Watch is on until Saturday 8 April at 7.30pm at University of Sheffield Drama Studio. Tickets are only £8 and are available at www.midlandplayers.co.uk, by email at tickets@midlandplayers.co.uk or on 07928 276383.
Midland Players have been active in Sheffield for over 40 years, performing two plays each year in the University of Sheffield's Drama Studio, plus other projects in smaller venues. Their members come from across South Yorkshire and are encouraged to get involved with all aspects of production, including set design, sound and lighting, stage management and directing, as well as acting. The company holds a social reading at 7.30pm on the second Monday of every month at The Harlequin on Nursery Road, Sheffield, which is open to all.
P.S. The programme for Neighbourhood Watch is the only one I've seen where the cast photographs are photo shopped onto gnomes, though the photos don't do the cast justice.