Cheshire Cats – 14 May 2019, Sheffield Library Theatre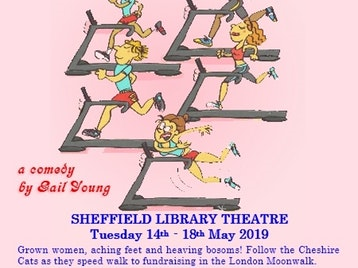 Any production that promises to be a cross between a girls' night out and a real mission to support a cause close to many hearts, with plenty of laughs and a few tears along the way is worth checking out, especially as went enter fun run season, so I was delighted to be in the audience for the opening night of Tudor Players latest production.
Written by Gail Young, Cheshire Cats introduces the audience to five females attempting to walk 13 miles across London in record time in decorated bras and posh new trainers, to raise money for charity, accompanied by a sixth team member who doesn't seem to meet the physical criteria.
Stand out performances on the night came from Jen Aspinall as Vicky and Charlie Russell as Maggie, who frequent Tudor Players audience members will notice have successfully swopped character types for this play, with Jen bringing to life the sexy, confident divorcee and Charlie the frumpy, unfit new mother returning to exercise, played with just a hint of Sue Pollard.
All the Cheshire Cats were at their best during their solo poetic monologues direct to the audience, starting with Jen Aspinall's "Cougar Time" and ending on a moving note and unexpectedly emotional finale with Charlie Russell, that will remind Alan Bennett fans of the final scene of The History Boys.
The audience were left with a real feel of how the Tudor Players women would be if they ever took part in a fun run and with the audience eager to join them, as long as the scary sergeant major of running groups Hilary, brought to life by Edwina Gascoyne was not in charge, though she did also beautifully capture, especially in her own monologue, Hilary's deep emotions and grief. Edwina and Judith Wade also deserve a very special mention for being brave enough to play Jenga in front of a live audience.
Other characters I must mention include Lindsay Walker as Yvonne, who after a 30 year break from Tudor Players came back strong as Hilary's supportive best friend; Marcus Newman as Andrew, who after his triumph appearance as Rene in Allo Allo, proved he was just as talented as the smooth and suave young love interest with natural spark and romance with Jen; Charlie Gascoyne as the enthusiastic aerobic instructor whose brief appearance showed that alongside her acting and improv career she could equally have her own fitness channel; everyone playing race marshalls whose banter was genuinely hilarious, especially Bill Darwin as Marshall 1 for reminding me of former Strictly head judge Len Goodman; and finally John Moran as the charming Handsome Drunk, who should be cast immediately as Freddy if anyone ever decided to produce a drunk version of My Fair Lady.
Behind the scenes, I must especially mention director Rob Duncan for beautifully bringing the women and their story to life; everyone involved in set design and props for their clever use of benches, barriers and a projection screen to bring all the scenes to life; everyone involved in costumes especially for the Cheshire Cats running outfits and Andrew's blonde wig; and Paul Kelly and Kevin Chambers in lighting for bringing the lights of London at night to the stage.
In conclusion and as promised in the publicity materials, Cheshire Cats is the perfect play for a girls night out with strong, likable and genuine, well-written characters, that women everywhere can relate to, brought to life by a talented cast and director. It also, like all great girl's nights had an amazing soundtrack, mainly on a cat and walking theme, including The Cure's "Love Cats", Cyndi Lauper's "Girls Just Want To Have Fun", The Proclaimers "500 Miles", and a warm-up to our next review Madness' "I Was Driving In My Car"
Cheshire Cats will be performed at the Sheffield Library Theatre at 7.15pm until Saturday 18 May. Tickets are £10 full price and £9 concession. To book visit www.tudorplayers.net.
A leading Sheffield amateur theatre company for over 50 years, Tudor Players, named after Tudor Way where the Library Theatre is located, present three full length plays a year. Their remaining plays of 2019 is A Chorus of Disapproval from 15 to 19 October at Sheffield Library Theatre. For further information and to book visit www.tudorplayers.net.
Alongside the production Tudor Players will be fundraising for Weston Park Cancer Charity. For further information on this great charity visit www.sth.nhs.uk/cancer/our-charities