Thestival – 9 to 11 May 2019, Sheffield Hallam University Student's Union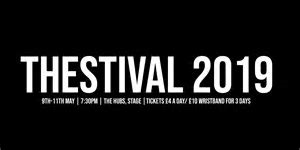 After not being able to make it last year, we were delighted to be in the audience for HSU Theatre Society's three day festival featuring a night each dedicated to individually comedy, drama and music. And, as suitable for three different nights, we had three different reviewers, plus a last minute bonus reviewer for the Friday..
Thursday 9 May – Talk Show & Comedy Section – Reviewed by Claire Chapman
"Heavily influenced by the likes of Drop The Dead Donkey and Alan Partridge and packed full of laugh out loud comedy, from wit to slapstick, and over the top characters, Talk Show featured enough celebrity twists and romantic pentagons to fill a year of OK issues, confirming that everyone involved had a true talent for comedy. I must especially mention Andrew Williamson who had to learn his talk show host role at a day's notice (though if the director hadn't told the audience this as the end of the play we would never have known) and Rob Eagle who provided my favourite character of the play, the long suffering talk show producer, and who I truly hope found his off-stage producing of the play and presidency of the society far less stressful.
After the interval, the comedy section, entitled Apocalypse Now! was completely packed with daft, witty, bonkers and utterly hilarious sketches and musical numbers that proved all involved deserved their own regular sketch comedy night and whose sketches would not be out of place on any late night sketch show. Hoping the show doesn't keep it's opening promise and the apocalypse does not happen before we get to publish this review, I must praise the cast for managing to keep straight faces throughout and the police line-up sketch for making me enjoy a Backstreet Boys song for the very first time. However the biggest laughs of the night, during an evening without a weak sketch amongst them, was the fertility clinic sketch, featuring Daniel Higgins, Rob Place, Hannah Ghotbi-Ravandi and Jack Caley, that if it had myself and the audience in more side-splitting stitches would have led to the need for medical intervention."
Friday 10 May – RIP Mr Shakespeare – Reviewered by Callam Fellows – & Drama Section – Reviewed by Max Marriot
"There was a point where I was quite a fan of Shakespeare's work. Then I was made to study his dramatic work as a university module, which diminished any form of appreciation I previously had for his words. However, RIP Shakespeare has reintroduced his stories and characters to me, reminding me why I enjoyed them and teaching me new information that my university failed to.
Rather than replicating one of The Bard's many famous plays, the narrative instead leans towards famed Dickens's story, A Christmas Carol. In place of the miserly Scrooge is an elderly and slumbering Shakespeare, played by Jack Caley donning a dressing gown and nightcap. Rather than being haunted by ghosts, he is visited by a cast of spirits, all mime-like in appearance, but with their own unique dashes of colour and distinct personalities. These spirits "play many parts", reciting the writer's most famous lines and performing as his iconic characters, from fools to magical immortals. They re-imagine his classic scenes whilst also reminding the dreaming poet what idiom and phrases were of his own invention.
The whole cast possessed a great amount of energy and transitioned seamlessly from one character to another. Together, they all interacted very well with one another, especially when two opposing personalities were made to share the stage. The stand out performances were Libby Allcock and Anthony Dranfield. Allcock, a spirit, gave bold portrayals of a crude Juliet and impatient Macbeth, whilst Dranfield gave a distinguished and entertaining performance as the reoccurring Anonymous Servant (or The Noble Dennis). Both maintained great responses from the audience through their use of humour and characterisation.
I was most impressed by the innovative use of limited props. All the spirits were equipped with black umbrellas which throughout the show were transformed into swords, violins, canes, cauldrons, coffins, and more. The show featured title cards to introduce each scene and a beautiful scenery piece painted by Hannah Ghotbi- Ravandi, that transported the audience into a fairyland (another Shakespearean invention). It's a shame that these well constructed sets did not get to feature more in the show or were granted better visibility for the audience.
Overall RIP Shakespeare is a great success for directors Cait Willis and Charlie Jack. Together they have made creative decisions that paid homage to the skilled titular playwright, whilst also presenting his work as something new. " CF
"As with every year for HSU Theatre's Thestival, there is a "Drama Section," a self-explanatory half of one of the three nights that is specifically dedicated to dramatic scenes from plays, television and film.
This year's Drama Section is brought to us by Becky Cleary, who has previously directed with HSU Theatre's hilarious production of Avenue Q in 2017. This year, she's gone in the completely opposite direction and given us a drama section with a focus on horror. Featuring scenes from the likes of The Silence of the Lambs and The Exorcism of Emily Rose, naturally this section isn't for the faint of heart. However, those who dare come along will find themselves enjoying a spine-tingling and scary show.
One thing that immediately struck me about this section was use of tech such as smoke machines and lighting to create atmosphere. In the show's finale (an homage to The Ring and The Shining) the environment surrounding the audience is used to full effect to submerge the audience in an atmosphere of dread one last time. The use of sound was also fantastic, particularly in the Emily Rose scene which used the constant sound of stormy weather and rain to punctuate the gloominess of the action onstage. The backstage team, sound team and lighting team all deserve a round of applause as much as the actors.
Some standout scenes included The Silence of the Lambs, particularly for Robert Place's performance as Hannibal Lector, completely different from Anthony Hopkins of course but made completely his own, as well as a scene from The Imitation Game, one of the few non-horror scenes in the section but certainly emotionally powerful thanks to Alex Dickenson's performance as Alan Turing.
Overall, another successful Drama Section for HSU Theatre's Thestival, and just one of a number of reasons why Thestival proves to be one of the most exciting amateur dramatic events in Sheffield. " MM
Saturday 11 May – Memento Mori & Musical Section – Reviewed by Artisan Friendly
"I love The Hubs! What a great space it is! It has had and has been so many different characters in a lifetime that hasn't been massively long, really – 20 years or so – and has witnessed many re-inventions. Tonight, it hosts THESTIVAL 2019, an annual event during spring which spans over three nights and offers the opportunity to see a different play and section performed, either comedy, drama or musical. It also gives a chance for members of the HSU Theatre Society to write and direct their own original scripts.
Tonight was split into two halves. The first half provided a series of ten minute dramatic pieces, each of which were punctuated with a blue lit choreographed piece of contemporary movement which assisted in reflecting on what had gone before. The 'play-lets' covered a range of topics including impotence, the end of the world, being mugged, addiction, relationships and self-harm. The dialogue was short and sharp with some strong, challenging material (especially a piece addressing issues around Armed Forces training) which was approached and dealt with in a mature and sensitive way.
The second part of the night focused on songs from musicals. These were solo and whole ensemble pieces and the cast were singing it out loud and working hard together as a tight unit. Especially outstanding were a smoky, husky, soulful version of 'Dreams' by Fleetwood Mac which came across as extremely heartfelt, the seven different interpretations of 'Valerie', delivered with style and panache (how much do we all miss Amy? – her complicated and multifaceted personality was certainly represented well in this version) and a brilliant solo of 'Purple Rain' by Prince. I was also rather fond of 'Does Your Mother Know' by Abba which had an Eric Prydz/Madonna ('Hung Up') vibe and was upbeat and a lot of fun with the cast clearly enjoying every moment.
Having seen quite a few productions in the last couple of months, tonight proved once again how much talent there truly is in Sheffield. "
Thestival is is an annual event hosted by HSU Theatre Society during spring. It spans over three nights where each night will see a different play and section performed, either comedy, drama or musical, giving the chance for members of the society to write and direct their own original scripts and has proven to be a massive success over the years.
Run entirely by students, HSU Theatre are one of the largest non-sporting societies at Sheffield Hallam University Student Union. For further information including their forthcoming shows visit https://hsutheatresociety.wixsite.com/theatre.