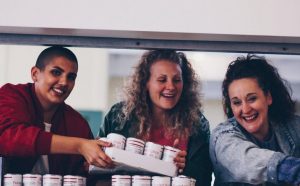 Chicken Soup – 12 February 2018, Sheffield Theatre's Studio Theatre
***** Thanks to a Christmas present from my boyfriend I was delighted that we were both in the audience for the new play Chicken Soup at Sheffield Theatre's Studio Theatre.
Focusing on one of the periods of modern British history and many of the social issues I am most interested in, the production covers two time periods, 1984, five days after Orgreave, when three women keep a struggling mining community standing, running a soup kitchen near the pit heads of Rotherham; and 2016, the day of the Brexit vote, when the breadline is no further away and the soup kitchen is now a food bank, as the country faces a huge decision.
The new play by local writer Ray Castleton and Kieran Knowles, I can best describe Chicken Soup as an all-female, Northern, political and social, friendship equivalent of "One Day", spread over three of Josephine's birthdays over a three year period, including the Queen Jubilee.
As an audience member, Chicken Soup felt less like a play and more like witnessing the real lives of the characters involved, their natural passion, emotion, friendships, families, opinions, humour and moving on (or not) in life. I would recommend it to anyone with an interest in British politics and recent British history, which should be everyone, or who knows and appreciates the importance of powerful women at all levels in society and loves incredible theatre.
My standout performances, in a cast where all of the performances were incredible, were Samantha Power as Christine and Jo Hartley as Helen, whose performances and sister-in-law relationship was the most passionate of the night and both of whom visibly aged before the audience eyes, and Remmie Milner as Katie who perfectly pulled off both the 90s adolescent and the 2016 voice of youth. I cannot also ignore the two remaining cast members, Simone Saunders as Jennifer, whose on stage mother daughter bond with Remmie shone through and Judy Flynn as Josephine whose character developed and changed most throughout the production from friend to matriarch.
As well as the cast, writers, and director Byrony Shanahan, I must also praise the set design, costume and hair and make up teams who perfectly captured the three time periods right down to the smallest details of washing up liquid bottles and fire blankets.
Chicken Soup will be performed at Sheffield Theatre's Studio Theatre until Saturday 3 March. For further information and to book visit www.sheffieldtheatres.co.uk/whats-on/chicken-soup.
P.S. Enjoy the unexpected free soup in the interval using your complimentary food bank coupon for some of the best chicken (or vegetarian) soup I have ever tasted.