Death in High Heels – 13 February 2019, Sheffield University Drama Studio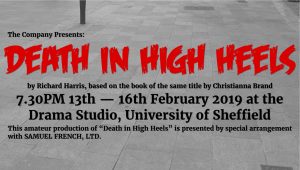 ***** I always get excited when a theatre company I have not come across before approaches me to review their next show so I was delighted when The Company invited me to be in the audience for their opening night of Death in High Heels, which promised an evening of gossip, glamour and murder.
The production transports the audience to Christophe et Cie, a small couture house off Regent Street, where the proprietor Mr Bevan will be announcing which of his staff he is sending to France to be the general manager of a new branch. Events take a dramatic turn over lunch when one of the candidates collapses and dies. The police are sent to investigate the murder at the 1930s fashion house, where secrets and lies are rife as more than one person harboured resentment towards the victim.
As a reviewer you never know what to expect from a company you have not seen before so I was thrilled to find that the company and this production were wonderfully faultless with wonderful performances from all of the cast bringing their own unique characters superbly to life with natural on stage chemistry between them all, that meant as an audience member at times you forgot you were watching a play and instead were viewing up close the real behind the scenes of a pre-war boutique and the relationships between the staff members who had worked with each other for years. This meant that when the death mentioned in the play's title occurred at the end of the first act, the audience were just as shocked as the characters.
The second act provided a classic lesson in how to solve a theatrical crime, whilst allowed the individual cast members who had shone as an ensemble in the first act show they were just as superb when individually under the investigating spotlight, and led to a superb and classic finale reveal scene that could easily, thanks to Lara Bundock's performance as Zelda Gregory have led to the play being renamed "Passion in High Heels".
Although it feels wrong to single out individual cast members in such a strong cast, I must mention Erin Whyte as Rosie Macinerny (aka Macaroni) who strongly reminded me of Maxine Peake at the beginning of her career and Alex Moore who followed in the tradition of this country's great Northern middle-age actors in the same vein of Tom Wilkinson, Pete Postlethwaite and the late Warren Clarke, and I believe that Erin, Alex and the rest of the cast's acting careers deserve to take off and be as successful as these actors have been. I must also mention Kate Spivey as Aileen Wheeler whose performance confirmed that classic blonde bombshells definitely deserve a revival.
Directors Ian Gibbard and Jamie Morgan did an excellent job of bringing Richard Harris's script to life, and with the support especially of the wardrobe, wigs and hair, make up and music backstage crew transported the cast and the audience effortlessly back to the era.
Death in High Heels is by far the best period drama and crime drama I have seen on a Sheffield stage, with the quality of this production so strong and more than able to rival any professional production, I cannot wait to see The Company perform again and only wish I came across them sooner.
I truly encourage fans of great theatre and crime and period drama in Sheffield and beyond to book their tickets for this production and join me in eagerly awaiting details of their next production Cyrano & Roxane.
Death in High Heels will be performed at the Sheffield University Drama Studio at 7.30pm until Saturday 16 February. Full price tickets are £9.50 online and £10 on the door and concessions are £7.50 online and £8 on the door. To book visit www.thecompanysheffield.co.uk/boxoffice.
Formed in 1990, The Company perform three plays a year at the Sheffield University Drama Studio. They are noted for their production of classic plays and adaptations of classic novels. For further information visit www.thecompanysheffield.co.uk.