Dily Guite Players' "Blithe Spirit" – 10 September 2015, Lantern Theatre, Sheffield
---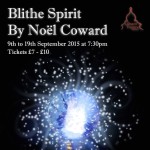 This week I paid my third visit to The Lantern Theatre, a wonderful and tiny theatre in Sheffield so hidden away that my taxi driver on my first visit did not know where it was and dropped me off at the other end of the road in heavy snow.
No snow this time, just a fabulous production of Noel Coward's one-set play "Blithe Spirit" (written in only six short days) by the Dilys Guite Players, whose home is the 84 seater theatre, presented in arrangement with Samuel French Ltd.
As seen on stages in the West End and on Broadway, the classic comedy tells the story of fussy and cantankerous novelist Charles Condomine (played by Matt Medlock with a naive charm almost until the end), who is re-married but haunted by the ghost of his late first wife, the clever and insistent Elvira (performed by Laura Bundock with almost ballet grace and another world spirit) who is called up by a visiting medium Madame Arcati (Sharon Fenwick). 
Other characters in the show include Laura Callaghan as maid Edith (whose physical comedy skills brought the most laughs of the evening), Canan Cahit as Ruth (who reminded me of actress Ona Chaplin and gave me dress envy during the first acts), Steve Peace as Doctor Bradman, and Vivienne Mager as Mrs Bradman (who also needs to be congratulated on her work publicising the show).
As someone who has previously worked behind the scenes at two arts venues, and volunteered at another, I know how hard the back stage staff work, often unrecognised, so wanted to take a moment to thank third-time director Kevin Jackson, Voice Coach Simon Hanna who coached the cast's voices to perfection, Annie Herbert, Alison Glentworth, Jane Spencer, Harry Rowbotham, Phil Claxton, Barry Worthington, Karen Vickers, Owen Jones, Peter Butler, Logan MacDonald, Aileen Westoby, Mica Joynes, Tim Baron and all the staff and their volunteers at The Lantern for making the show such a success.
The unmissable show (for fans of the Oscar winning film and those like me who are new to dead wives returning) is on from now until Saturday 19 September and tickets, which can booked through the theatre's website are £7 to £10. Those attending on Friday 11 September can also enjoy a pre-show talk on the history of the theatre as part of the Nether Edge Festival.
Friday the 11th September features a talk before the performance on the history of the Lantern as part of the Nether Edge Festival, from 7pm.
P.S. Don't forget to check out the toilets at The Lantern, which are decorated with pages from fantastic plays, include one of my personal favourites "Barefoot in the Park".