Dress rehearsal of Ellesmere Musical Theatre Company's Showtune Shuffle – 17 October 2023, Dronfield Civic Hall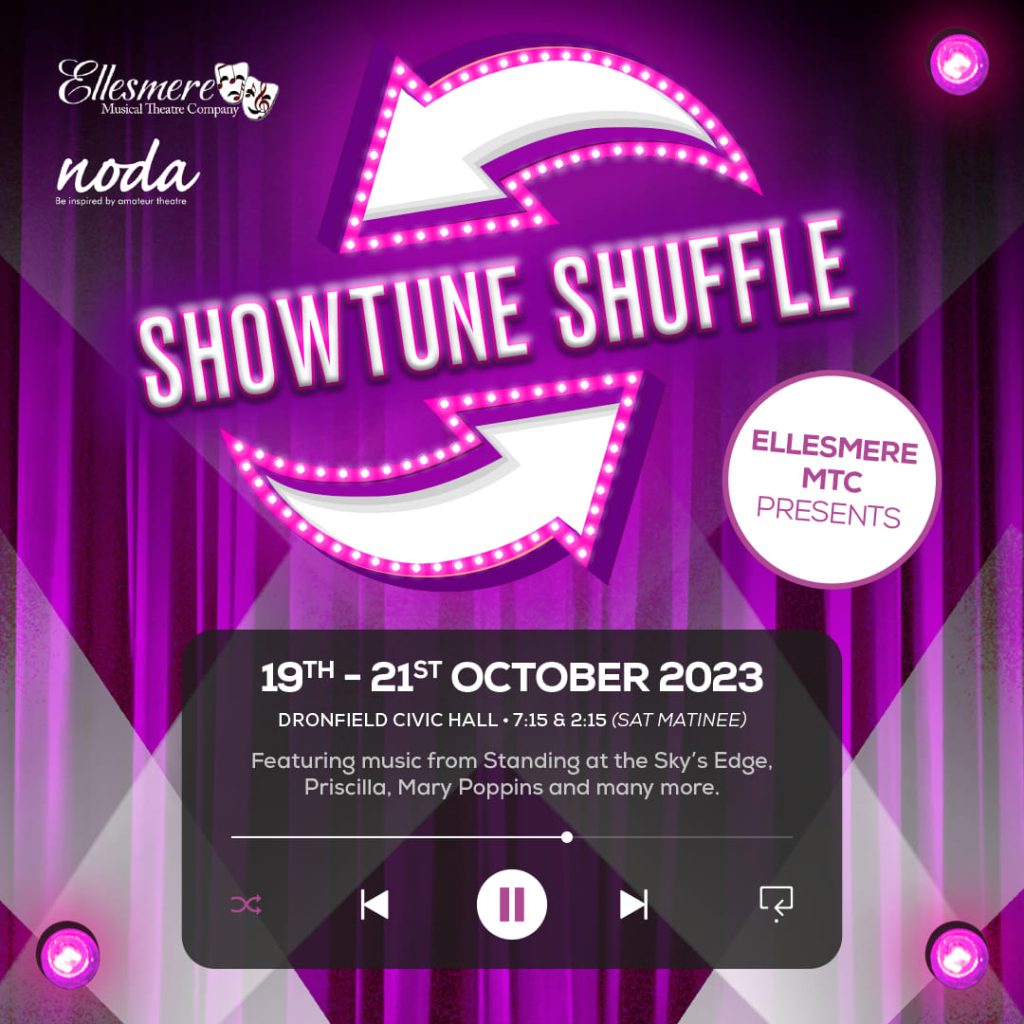 Review by Ellie Needham.
Ellesmere Musical Theatre Company's Shining Showcase was a fantastic night filled with incredible talent. This event was brought to life by a talented team, including Alice Goldsborough as the producer, Gareth Lloyd as the musical director, and Damien and Keeley as the choreographers.
The sound, managed by Paul Minott, was excellent. The microphones were clear and perfectly matched with the music. There were a few missed lines at the start, but it's important to remember that this was the dress rehearsal. We can expect everything to be perfect on the big night!
The lighting, controlled by Tom Dyson with help from Sophie, added a visually stunning aspect to the show. The visual effects were captivating and added a lot to the overall performance.
The performance featured a variety of songs from different musicals, including some less-known ones. Ellesmere Theatre Company put in a lot of hard work to make this happen. Kudos for starting with the lively 'You Don't Even Know It' from Jamie the Musical. Holly did a fantastic job, especially considering she learned the song just a few days before the show.
The SPA Dance Company added an exciting element with their enthusiastic dancing, leaving the audience highly entertained and impressed.
Two transitions between songs stood out, with Lowri smoothly passing the baton to Keeley and Damien seamlessly moving into 'Les Mis.' These creative transitions added to the overall flow of the performance.
Harmonies played a crucial role, and every performer who contributed to harmonies did an outstanding job. Songs like 'Who Will Love Me As I Am?', 'Let Me Be Your Star', 'Still Holding My Hand', 'No One is Alone', and 'Somethings Are Meant To Be' featured breathtaking harmonies. The ensemble's harmonies, in particular, were tear-inducing, showing the strong support and togetherness of the company.
The performance of 'One Day More' from Les Mis was a definite highlight. It gave me chills and brought a lump to my throat as the company worked together to deliver such a challenging song with excellence and emotion.
A big shoutout to Ben and Damien for their comical performances, both in terms of their singing and acting skills. Lowri and Bethan also deserve applause for their powerful singing and harmonious duets. Further congratulations to the entire cast, including Alice, Ashley, Holly, Keeley, Leigh-Anne, Gareth, Lydia, and Isabel for their strong voices and confident stage presence.
In conclusion, a heartfelt thank you to Phil Smith for making the audience of the dress rehearsal feel so welcome. The Ellesmere Musical Theatre Company should be incredibly proud of their remarkable performance and the strong sense of unity and support that was felt throughout the evening. This truly was a shining showcase of talent and dedication.
Ellesmere Musical Theatre Company will be performing their Showtune Shuffle at the Dronfield Civic from Thursday 19 to Saturday 21 October. To book visit Ellesmere Musical Theatre Company event tickets from TicketSource.