Tudor Players' A Christmas Carol – 17 October 2023, Library Theatre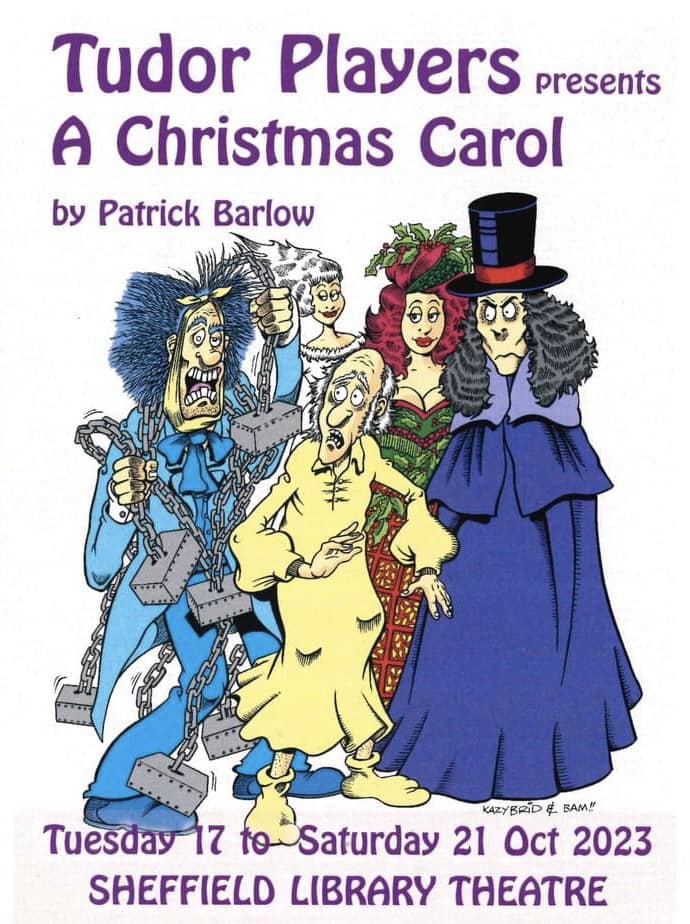 Review by Claire Taranaski.
Yes we are mentioning the "C" word with over two months to go until Christmas but I knew that if anything was going to put me in the Christmas spirit (other than visits from the three spirits themselves) it was going to be the Tudor Players performance of comedic writer Patrick Barlow's adaption of Charles Dicken's classic story, which perfectly combined the traditions of the tale with laugh out loud comedy.
My two favourite performances of the night, in a show where the five main cast performed over 50 characters between them, were Phil Gascoyne as Ebenezer Scrooge, who was born to play the character and when I thought could not get any better was at the funniest I have ever seen him breaking the fourth wall in for me the funniest moment of the night; and Ross Bannister who continues to confirm his place as one of Sheffield's best amateur actors playing a multiple of roles including Bob Cratchit, Marley's Ghost and Young Scrooge, lovely combining an emotional performance with a comedic style reminiscent of comedian Lee Evans. At this point I must also praise the puppetry of Ross Bannister as Little Scrooge and Joe Gascoyne Thompson as Tiny Tim, which had a delightful sweetness that made you wish the puppets were real and straight from a certain Muppets movie.
On the subject of the Muppets (I promise I will only mention it once more after this) Josh Cooper's performances including as Scrooge's nephew Frederick and his old boss Mr Fezziwig was played with a charm and special quality that meant he would not be out of place as the lead human actor in a Muppet film, whilst also being able to perform the darker of his characters.
This leads me on to the three spirits, which I'm going to tackle in reverse. Josh's Ghost of Christmas Yet To Come was truly terrifying (as it should be and helped by one of the two best costumes of the night with Josh's cleverly growing to increase the fear and the other being Ross Bannister's Marley's Ghost); Charlie Gascoyne-Thompson was my favourite spirit of the night as the Ghost of Christmas Present, who I can best describe as a thoughtful but innocent, sarcastic Cockney Christmas elf with attitude; and Edwina Gascoyne who played the Ghost of Christmas Past with a beautiful knowing.
Edwina also had the most wonderful singing voice of the night that would not be out of place in a Cathedral choir, in a show full of beautiful voices singing, in lovely arrangement, classic Victorian carols (anyone else wish they could open a window during the festive season and carol singers automatically appear) accompanied by the talents of musician Steve Mitchell.
Directed by John Moran, who confirmed he is just as talented directing the Tudor Players as performing with them, getting the most of out of the cast and the venue itself, this show made me hope for snow to have landed whilst I had been inside.
I want to see Tudor Players perform this version of A Christmas Carol on Christmas Eve every year for myself and my love ones (clear your diaries now performers as if I win the lottery in the next year this is what I will be using my winnings on) as they gave me one of my favourite adaptations of the story (only beaten by the Muppets) that continued to prove that the company is superb at both dramatic and comedic acting (this time perfectly combining both) and also confirming my desire to see Tudor Players tackle a musical (you know you want to).
Join me in getting in the festive spirit early by seeing A Christmas Carol at the Library Theatre until Saturday 21 October. To book visit Tudor Players | Tickets