The Company's Night Of The Living Dead Live – 28 September 2023, University Drama Studio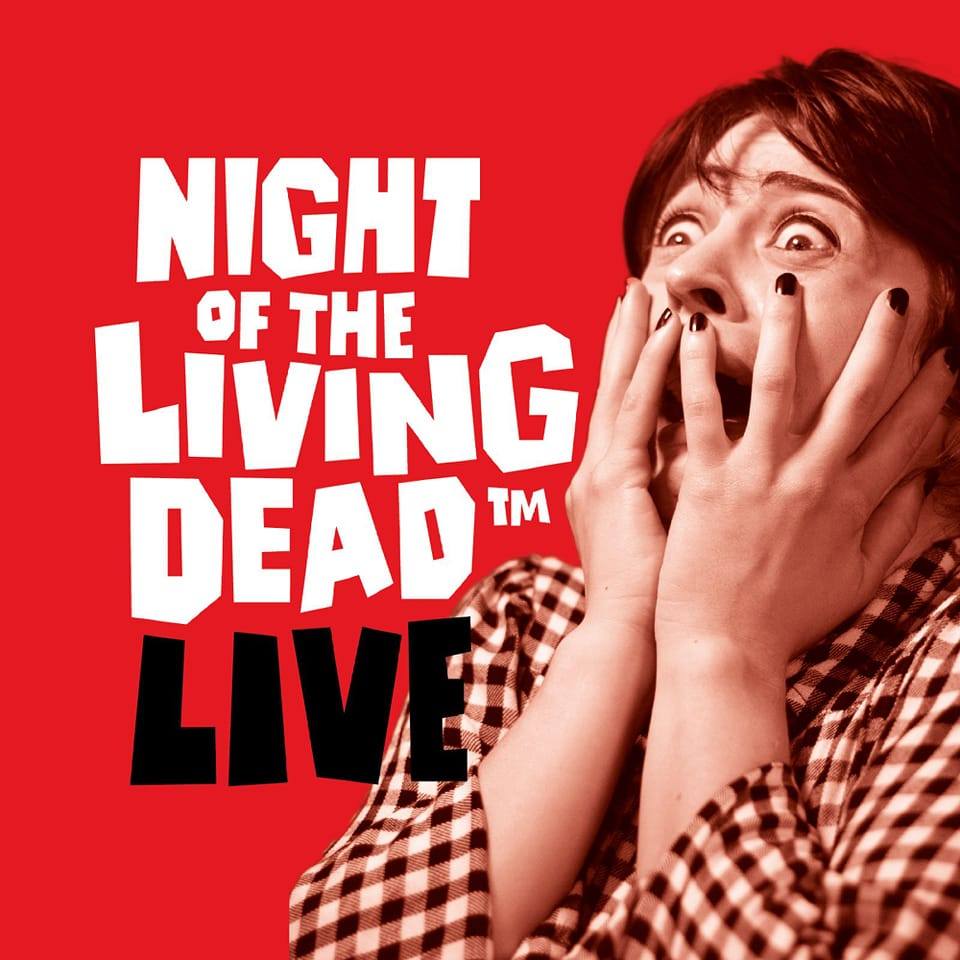 Review by Claire Taranaski.
I have a confession, The Company's latest production was not what I wanted to be. George A Romero's original 1968 horror masterpiece Night Of The Living Dead is one of my favourite films of all time and that's what I was craving on stage and, with a take on Blood Brothers by starting with the closing scene, that's what I thought I was going to get with an evening of terrifying drama and in that headset if I was not reviewing it I should have left in the interval (the whole of the original film was covered in the first half). But this is not the fault of the talented cast and crew and if you are looking for an evening of superb horror comedy to kick off the Halloween season I would urge you not to miss the show, only to miss it if like me you longed for the original to be recreated on stage.
Written by Christopher Bond, Dale Boyer and Trevor Martin and created by Christopher Harrison and Phil Pattinson what this production offers is an American Noises Off and every zombie comedy you can think of (in monochrome) meets Night Of The Living Dead with a pinch of Sliding Doors in the second half performed by a strong cast and with perfect horror farce and comedic timing, thanks to the direction of Monica Gallo and Mark Todd throughout, including some of the best comedic stage slaps I have ever seen.
My favourite performances of the night came from Kate Spivey as "they're coming to get you" Barbra and Hollie Warman as Helen Cooper, whose performances were most like the film's original versions of their characters and would not have been out of place in the stage version I longed for and Fadumo Hassan, who within minutes of being on stage destroyed any concerns I had about a female actor taking on the iconic role of Ben (though apologies Fadumo you may have amazing stage presence but you really can't sing) and Mark Kenny as Chief McCelland who based on this performance could pull off the sheriff in any American comedy film or television show.
I must also mention Lily Luty for her unforgettable facial expressions as she played various newscasters and for reminding me so much of other talented actors, Jake Gyllenhaal look and act a like James Hashem as Tom and Josie Lawrence inspired Lizzie Davis as Judy (I know the joke was that you did not have much stage time but I wish you did). I must also praise all of the cast members as they took on individual zombie roles especially the iconic arm grabs through the window.
The prop, costume and set design team must be praised for bringing the film, iconic for being in black and white, to the stage with the same colour scheme, bringing the 1960s to life in the costumes and the abandoned house to life with the simple but effective living room and cellar set and with the split floor allowing but the audience and police officers and zombies to look in from the outside. Make up must also be praised for their whitening of the cast (apart from Fadumo to highlight the difference and racial tensions of the time) though I wish this had not just been their faces but also their arms and hands, which for me weakened the monochrome effect.
I felt like the only member of the audience who did not love this show but I think I was just going in with the wrong frame of mine so if you love theatrical comedy (I usually do) and are looking for the perfect night out to start the Halloween season don't miss Night Of The Living Dead is at the University Drama Studio until Saturday 30 September.